Shoranur , April 26: 'Taking credit for other works' is Congress Patry's old notorious habit. Following that habit, the Congress party again tried to take credit for Kerala's first Vande Bharat Express just hours after Prime Minister Narendra Modi flagged off the semi-high-speed train.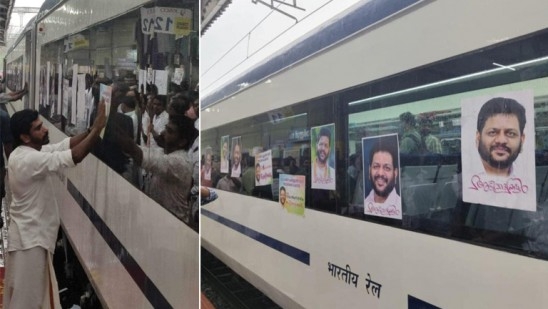 As per the reports, Congress workers pasted posters praising Congress MP V K Sreekandan allegedly pasted on the Vande Bharat Express when the semi-high speed train reached Shoranur Junction. The poster congratulated the Palakkad MP for ensuring the Vande Bharat train stopped at Shornur rail.
A video of the incident has been making rounds on social media. In a video, people were seen pasting posters of Congress MP V K Sreekandan on the train in praise of his role in ensuring a stop at Shoranur Junction.
However, a Railway Protection Force (RPF) personnel tore down the posters, which led to an argument between the worker and the officer. Railway Protection Force has registered a case in the incident and an investigation is underway.
It should be noted that, Prime Minister Narendra Modi inaugurated Kerala's first Vande Bharat Express train in the state capital Thiruvananthapuram and the country's first water metro in Kochi on Tuesday. Vande Bharat, the semi-high-speed train from Thiruvananthapuram to Kasaragod, will cover the distance between the two places in just eight hours which otherwise would take 12-13 hours for transportation.