Fuelling anti-India narrative in the US, the Press Counsellor of the Embassy of Pakistan in Washington, Sarfraz Hussain has called on the international community to not remain silent while praising Rana Ayyub for her anti-India narrative opinion published in The Washington Post.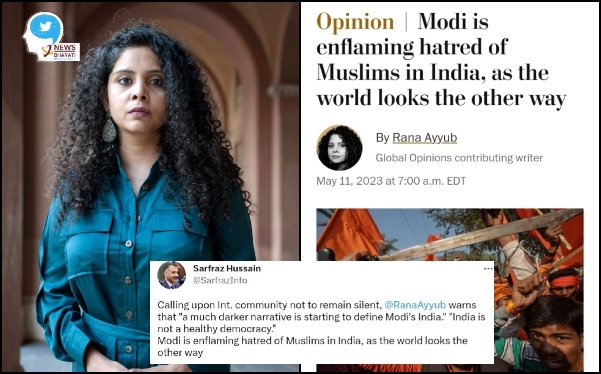 The Pakistani diplomat's hate comments came as India is to host several G20 events in Jammu and Kashmir. Last month, India released a full calendar of events leading up to the summit, which included G20 and Youth 20 meetings in Srinagar and in Leh, in the region of Ladakh, in April and May. Pakistan has "vehemently condemned" India's move, saying such a move was "self-serving" on New Delhi's part.
Writing in her opinion for the Washington Post against India, and PM Modi, Rana Ayyub ranted the same stuff like a tape recorder saying, "But a much darker narrative is starting to define Modi's India. The government has been systematically oppressing, marginalizing and inciting hatred toward its 220-million Muslim minority. This campaign has been slowly gathering momentum over the years and has reached new levels of intensity today. India is not a healthy democracy."
Of course Rana Ayyub being Rana Ayyub, she has mentioned the Ram Navami violence and the "Islamophobic" The Kerala Story in her own twisted words. In short, she just wanted to spread hatred against India and PM Narendra Modi on the global platform. And, guess what praising her was the Pakistani diploma.
Taking sides with the Washington Post's columnist, the Pakistani diplomat has called for the support of the global community, fueling the hatred against India, and Prime Minister Narendra Modi even more.
Taking to his Twitter handle, the Pakistani councillor shared an opinion by The Washington Post Columnist Rana Ayubb. He said it warns of a much darker narrative to define "Modi's India", calling the country's democracy an 'unhealthy' one. "Calling upon Int. community not to remain silent, @RanaAyyub warns that "a much darker narrative is starting to define Modi's India." "India is not a healthy democracy." Modi is enflaming hatred of Muslims in India, as the world looks the other way," he tweeted.
This has evoked sharp reactions from journalists, audience from India saying that a Pakistani supporting the so-called journalist Rana Ayyub is match made in heaven saying that "Pakistan is built on hatred and lies and that is all Rana Ayub can offer".
Besides, this year, India will host the G20 summit under its presidency, and under Prime Minister Narendra Modi's administration. The prospect of hosting a G20 summit in Jammu and Kashmir presents unparalleled opportunities for the region, instilling hope for renewed stability and prosperity.
Hosting the G20 summit will position Jammu and Kashmir at the heart of diplomatic relations and foster cooperation. Delegates will gain first-hand knowledge of the region, providing valuable insights into the challenges and growth potential. The summit will provide a platform for Jammu and Kashmir to showcase its resources and potential, establishing connections that can bolster sustainable development.