Defending champions Gujarat Titans became the first team to qualify for the IPL 2023 playoffs, defeating Sunrisers Hyderabad by 34 runs in Match 62 at the Narendra Modi Stadium in Ahmedabad. Also, after the win, Gujarat have also been assured a top-two finish in the league phase. With few matches remaining, there are still chances for LSG, MI, RCB, and CSK to qualify for the IPL play-offs. However, Sunrisers Hyderabad has been eliminated from the mega-cricket league. It seems it is highly confusing who will earn the IPL trophy this year!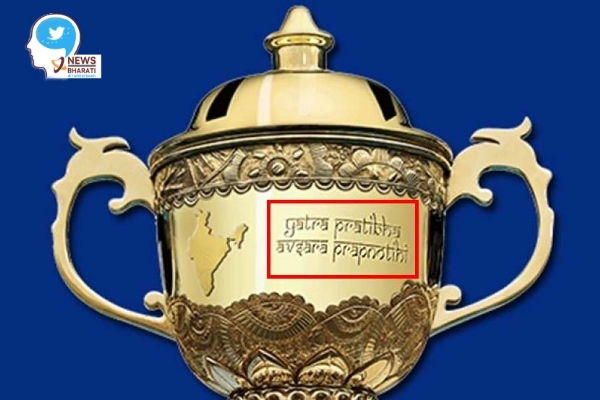 Amid this, an opinion has emerged about the IPL trophy.
Every year, a dazzling golden trophy is presented to the champions and it stays with them for one year until the next edition of the league commences. The opening edition saw a very uniquely designed trophy which had the map of India and a batter playing a shot. It was, however, later changed to a design similar to that of the 1983 World Cup with a Sanskrit phrase carved on it.
Along with the name, Indian Premier League, a script in Sanskrit is engraved on the trophy. Though the script is quite visible on the trophy, not many are aware of its meaning. The lines written in Sanskrit depicts the motto of the IPL which is, "Where talent meets opportunity."
A vedic school had posted the meaning of the script with the caption, "Not many of us know, the motto of IPL is in Sanskrit; same is inscribed on IPL trophy as well. #IPL It is "Yatra Pratibha Avsara Prapnotihi", means "Where talent meets opportunity". Hindi – जहां प्रतिभा अवसर प्राप्त करती है ।"
However, the Sanskrit quote carved on the trophy is done in a different format which lends a roman look to it and it was only done to enhance the design element of the silverware. "It still is a Sanskrit quote and only the font resembles a bit of roman. Some design element there," said an IPL official who has witnessed the evolution of the trophy from close quarters said the whole idea to have the quote was to highlight the theme of the competition and emphasise on it.
A Twitter user who is retired Surgeon commander of Indian Navy has asked the same. He said, "Wonder why the #IPL trophy carries a Sanskrit quote in the Roman script. Is that the way ahead? Besides, it should be यत्र प्रतिभा अवसरं प्राप्नोति – if one can discern the difference."
So, is it right to have the Sanskrit quote on the IPL trophy in Roman font with millions of fans looking at it?