Ujjain, May 19: In a joint operation, Ujjain Municipal Corporation (UMC) and the police administration razed down illegal constructions of six listed criminals on Thursday. One of these miscreants is also accused of raping a 9-year-old girl, whose illegal construction was removed.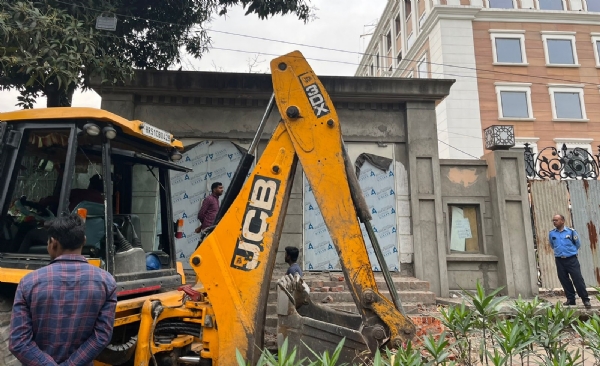 The removal drive was conducted under the Chimanganj Mandi police station and Mahakal police station limits in the district. After briefing all the teams of police, administration, and a municipal corporation in the police control room, action was taken to remove the encroachment.
During the proceedings, the police monitored the entire area with drones and a high-rise system, and the illegal constructions of 6 criminals involved in criminal activities were demolished. Also, the illegal encroachment of 3 miscreants was measured with the help of the Municipal Corporation.
"On the direction of Chief Minister Shivraj Singh Chouhan to take strict legal action against criminals and goons in the entire state, illegal constructions of six criminals were identified under Chimanganj Mandi police station and Mahakal police station area limits. There were various cases registered against them in different police stations of the district under various sections," ASP Akash Bhuria said.
"Today, about 150 officers-employees of the police force and the team of Municipal Corporation, Revenue Department were involved in the action," he added.