The Special Task Force (STF) of Odisha police has arrested three persons, including an ITI teacher, as well as 2 more associates of them, for their alleged involvement with Pakistani intelligence operatives and ISI agents & sedition charges are also slapped on them.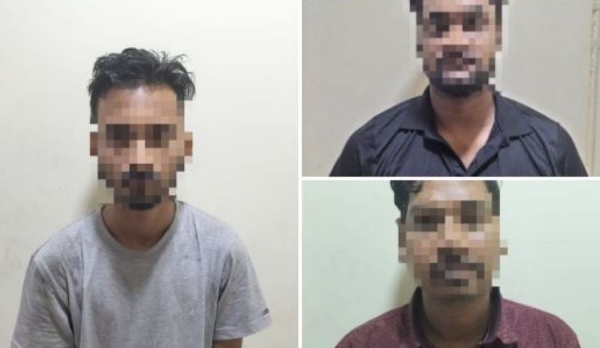 The accused were identified as Pathanisamant Lenka (35) of Badapandusar in Nayagarh district; Saroj Kumar Nayak (26), an ITI teacher from Dasapalla area in Nayagarh district; Soumya Pattanaik (19) from Sujanpur area in Jajpur district.
The three were arrested following raids by the STF personnel on charges of sharing OTP to anti-national elements. Various incriminating materials, mobile phones, pre-activated SIM Cards, laptop were seized from their possession.
Lenka's links with two Pakistani intelligence agents have been established. He was in direct contact with one Guddu Kumar and was absconding after the latter was arrested by West Bengal Special Task Force in December last year for passing on sensitive information, including photographs of certain strategic locations in north Bengal, to his handlers in Pakistan.
The STF had also ascertained Lenka's link with a Patna-based woman, who was arrested by Rajasthan police recently for her alleged ties with some Pakistani agents, sources said. The STF would be taking Lenka on a five-day remand from Monday(today) to elicit more information on the scam. It has already shared all information with the National Investigating Agency (NIA) and Intelligence Bureau (IB).
STF officials said the accused were fraudulently procuring huge numbers of SIM cards in the name of others and used them to sell the OTPs (linked/generated using the SIMs) to various clients including some Pakistani Intelligence Operatives (PIO)/ ISI agents in Pakistan as well as in India.
In return, they were paid by some Pakistani agents based in India. Moreover, they were in touch with a woman PIO agent, who was arrested in an Official Secrets Act/ Honey-Trap case in Rajasthan last year, STF said.
The OTPs were used to create various accounts/ channels on social media like Whatsapp, Telegram, Facebook, and Instagram and on online shopping sites like Amazon, Flipkart, etc. These are also used in opening email accounts. Most thought that these accounts are owned by an Indian but were being operated from Pakistan.
These social media platforms will then be used in various kinds of Anti-India activities like spying, communication with terrorists, radicalisation, running anti-India propaganda, fuelling anti-India/ divisive sentiments on social media, sextortion, honey-trapping, etc.
As these accounts are registered/linked to Indian mobile numbers, people find them trustworthy. The accounts opened on online shopping platforms are also used to supply items to terrorists, anti-India elements, etc.
Apart from these they were also in business of creating and selling mule accounts through social media groups which are again used in various kinds of crimes.
Among the seized articles were 19 costly mobile phones(Apple Iphones), 47 SIM cards, 61 ATM cards, and 23 SIM covers, the STF added.
-Jyotiprakash is keen observer of World defence news and writes passionately about Indian defence capabilities & make in India Defence Products.