In a very special gesture of respect, Papua New Guinea prime minister James Marape touched the feet of PM Narendra Modi, who arrived in the island nation on Sunday. PM Modi arrived in Papua New Guinea for talks with Pacific leaders marking the first visit by an Indian premier to the island nation. He is in the country to attend the Forum for India-Pacific Islands Cooperation.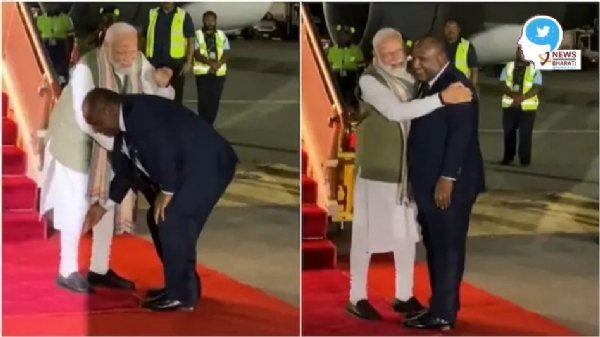 BJP national spokesperson Sambit Patra reacted to James Marape's "remarkable gesture" for PM Modi tweeting, "The Prime Minister of Papua New Guinea pays respects to the Hon'ble PM Shri @narendramodi Ji by touching his feet. This profound visual exemplifies India's growth and influence under the leadership of PM Modi."
As he arrived, PM Modi was greeted by Marape who then bent down to touch his feet.
Papua New Guinea has a tradition of not welcoming anyone post sunset but PM Modi was given a gun salute, a red carpet welcome and was personally welcomed by Marape. PM Modi is in Papua New Guinea to host the third summit of the Forum for India–Pacific Islands Cooperation on May 22, jointly with his counterpart James Marape.
It should be noted that James Marape has been serving in the position since 2019 and belongs to the PANGU Pati political party. The 52-year-old especially made an exception for PM Modi and has not done the same for any other leader of the world.
Following the talks with James Marape, PM Modi tweeted, "James Marape and I had very productive talks, covering the full range of bilateral relations between India and Papua New Guinea. We discussed ways to augment cooperation in commerce, technology, healthcare and in addressing climate change."
After the video of Papua New Guinea PM touching PM Modi's feet went viral, netizens hailed it as unprecednted gesture.
The PM's visit to Papua New Guinea on the second leg of his three-nation tour is the first ever by any Indian prime minister. He arrived here from Japan where he attended the summit of the G7 advanced economies and held bilateral meetings with several world leaders.
"I am grateful that all 14 Pacific Island Countries (PIC) have accepted the invitation to attend this important summit (FIPIC)," PM Modi had said earlier.
The FIPIC Summit will see participation from leaders of 14 countries. Normally all of them rarely converge together due to connectivity and other issues. PIC includes Cook Islands, Fiji, Kiribati, Republic of Marshall Islands, Micronesia, Nauru, Niue, Palau, Papua New Guinea, Samoa, Solomon Islands, Tonga, Tuvalu and Vanuatu.