According to reports, 63 idols have been vandalized and destroyed at the ancient Avinashi Lingeshwar temple in Tiruppur, in Tamil Nadu last night (May 22). The news is based on a tweet tweeted by a user named Sunanda Roy.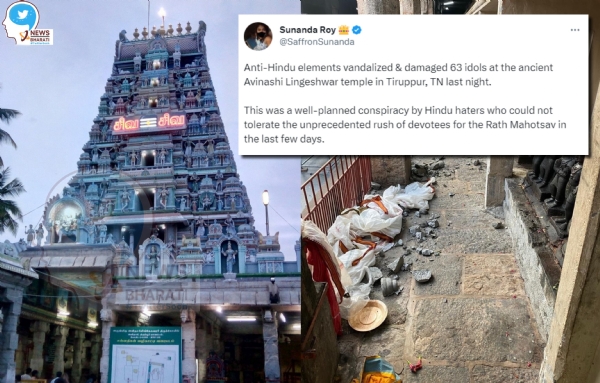 The tweet mentions, "Anti-Hindu elements vandalized & damaged 63 idols at the ancient Avinashi Lingeshwar temple in Tiruppur, TN last night. This was a well-planned conspiracy by Hindu haters who could not tolerate the unprecedented rush of devotees for the Rath Mahotsav in the last few days. Hope Tamil Nadu Police will take strict action against the culprits."
The Avinashi Lingeshwar Temple is a prominent Hindu temple located in Avinashi, a town in the Tiruppur district of the Indian state of Tamil Nadu. The temple is dedicated to Bhagwan Shiva, one of the principal deities in Hindu dharma. The Avinashi Lingeshwar Temple is believed to have been built several centuries ago and holds great religious significance for the local community.
The anti Hindu elements have attacked precisely what the temple is most renowned about as it is known for its beautiful architecture & intricate carvings, showcasing the rich heritage of Dravida style of temple architecture. The presiding deity of the temple is Bhagwan Shiva, worshipped in the form of a lingam, which represents his abstract and eternal nature. Apart from the main shrine of Bhagwan Shiva, the temple complex is known to house several other smaller shrines dedicated to various Hindu gods and goddesses.
Another user has responded "Unbelievably shocking! If it was Church or Mosque, it was an international headline, and probably a riots on street. I don't expect anything from TN Police, extremely biased, anti Hindu state." The user's response represents the fears that exist among the Hindu masses of Tamil Nadu. And the fears are not baseless.
According to a report, the news that a mosque that was built on temple land faced threat of demolition in Chennai made headlines in 'The Hindu', dating Aug 11, 2022. In another incident where the idol was vandalized from inside a church in Coimbatore had made news in the media in Jan 2022. However, the news of 63 idols being vandalized in a temple as ancient as the Avinashi Lingeshwar temple is yet not covered by the media giants.
--