New Delhi, May 25: Indian Navy has achieved yet another historic milestone as it undertook the maiden night landing of MiG-29K on INS Vikrant. According to the Indian Navy, the move is indicative of the Navy's impetus towards self reliance.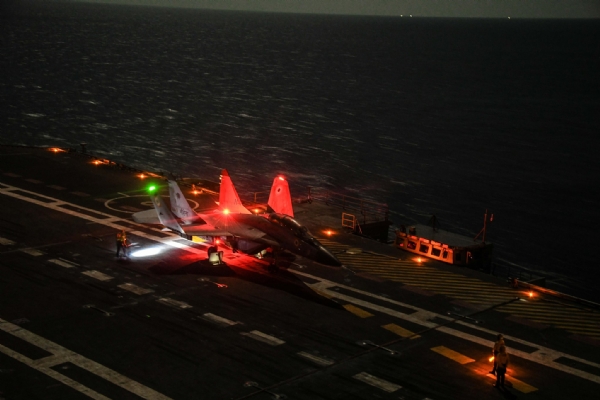 As per what the Indian Navy mentioned in its tweet, "This challenging night landing trial demonstrates the resolve, skill and professionalism of the Vikrant crew and the Naval pilots." Being the first such landing of MiG-29K on INS Vikrant, the naval ship has earlier witnessed the successful landing of the Naval variant of the indigenous Tejas fighter aircraft.
The Indigenous Aircraft Carrier – 1 (IAC-1) which began its construction in 2013 and entered into service with the Indian navy by 2022. INS Vikrant belongs to the Aircraft carrier variant. INS Vikrant, also known as Indigenous Aircraft Carrier 1 (IAC-1), is an aircraft carrier constructed by Cochin Shipyard in Kochi, Kerala for the Indian Navy. It is the first aircraft carrier to be built in India. Work on the ship's design began in 1999, and the keel was laid in Feb 2009.
The carrier was floated out of its dry dock on 29 Dec 2011 and was launched on 12 Aug 2013. The basin trials were completed in Dec 2020, and the ship is expected to start sea trials by the end of 2021 and enter into service in end of 2022 or early 2023. The project cost has escalated, by 2014, to ₹19,341 crore. With an additional ₹3,000 crore authorised for phase III, in 2019. It is 262 metres (860 ft) long and 62 metres (203 ft) wide, and displaces about 40,000 metric tons (39,000 long tons). It features a STOBAR configuration with a ski-jump.
Vikrant is powered by four General Electric LM2500+ gas turbines on two shafts, generating over 80 megawatts (110,000 hp) of power. The gearboxes for the carriers were designed and supplied by Elecon Engineering.
--