The presence of heads of government of all 10 member countries of the Association of Southeast Asian Nations (ASEAN) at India's 69th Republic Day is a monumental event in India's 'Act East' diplomacy. Never before has India hosted so many presidents and prime ministers at one go in its annual showpiece event. That ASEAN responded unanimously to Prime Minister Narendra Modi's invitation to participate as a combined chief guest in such a seminal celebration reflects how much it, as a group, values India's rise.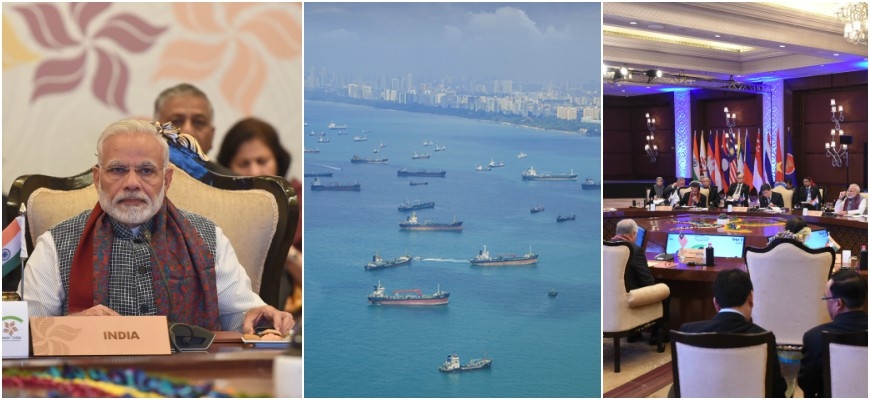 India offers ASEAN a useful alternative vis-à-vis China. The list of Padma Shri awardees for 2018 also includes one recipient from each ASEAN country.
Southeast Asia is trapped in a Chinese rise in the economic realm but is building more robust military links with India and hedge against the strategic uncertainty spawned by the USA.
A and N islands India's Southeast Frontier
India's forward presence in the eastern Indian Ocean is due to the A and N Islands. The location and geography of these islands impart India with immense strategic importance. The archipelago forms India's southeast frontier. It is nearer to Southeast Asia than to the Indian mainland. The 780 km linear extension of the islands gives them an extensive north-south spread in the Bay of Bengal, ideal for generating domain awareness, which could be utilized for countering traditional and non-traditional threats.
The nearness of these islands to the busy shipping lanes, especially Malacca Strait, not only provides India with an opportunity to play an important role in the security of the sea lines of communication but also to use these islands as a trans-shipment hub, a bunkering facility or a duty-free port. The proximity of the archipelago to the Southeast Asian countries enables India to foster friendly relations by engaging them through joint operations. It also helps India in keeping abreast of the political and military developments in its extended neighbourhood.
The A and N archipelago act as the first line of defence and four unsinkable aircraft carriers at Diglipur, Port Blair, Car Nicobar & Campelbay. The island chain can play a greater role towards securing India's vital interests in the East beyond merely protecting itself.
Geography of islands
A and N Islands is an archipelagic chain of 572 islands, in the Bay of Bengal. Oriented North-South geographically. While its separation from the Indian mainland is as much as 1,200 km, its northern-most part, Landfall island, is only 18 km from Myanmar's Coco islands further north. Its southern-most part (Indira Point) is located only about 160 km away from the northern tip of Sumatra (Indonesia). The A and N contribute about 30 percent of the EEZ to India's total EEZ area.
Its adjoining waters contain various species of untapped marine life that are highly prized as seafood and for a variety of other uses in the international market. There is a high potential for economic activity through export of seafood products to Singapore which is located only 920 km from Port Blair.
Port Blair should be developed as an international trade centre.An oil terminal and trans-shipment port should be developed in Campbell Bay (Great Nicobar), to cater to increasing maritime trade in the region.
The distance between the A and N and Southeast Asia could be translated into a strategic advantage, to forewarn and ward off a possible extra-regional intervention in the East. It would facilitate the engagement of the extended neighbourhood by realising the politico-diplomatic role to build confidence and foster interoperability for joint operations with the maritime neighbours in SE Asia.
The geographic disposition of the island chain also makes it a frontier to secure vital sea lines since it creates a series of choke points, the Ten-degree channel between the A and N Island groups, and most importantly, the six-degree channel.
ASEAN partly to counter the influence of China, and also to bring stability to the region in addition to countering illicit drug trafficking, poaching, piracy and pollution. The ASEAN Regional Forum(ARF), East Asian Summit(EAS), Bay of Bengal Initiative for Multi-Sectoral Technical and Economic Cooperation(BIMSTEC) and the Mekong Ganga Cooperation(MGC) are instruments of India's outreach to the ASEAN.
Advantage India
According to 2016 estimates, there are over 60,000 ships that use the Malacca Straits annually both ways carrying critical energy products and also other items for trade and commerce. A and N group, therefore, provides the geographic advantage of being a base close to Malacca Straits and other straits in South East Asia to provide any advance information and warning about impending movements through the choke points.
The volume of Chinese goods moving in and out of Malacca Straits is the highest in the region and China can ill afford to have any disruptions affecting its trade and transit. This gives tremendous advantage to India of choking China when required.
India's Response
India is developing The Asian highway project in South Asia to link Singapore with New Delhi via Kuala Lumpur, Ho Chi Minh City, Phnom Penh, Bangkok, Vientiane, Chiang Mai, Yangon, Mandalay, Kalemyo, Tamu, Dhaka and Kolkata.Construction of the Kaladan Multi-modal Transit Transport will establish connectivity between Indian ports and Sittwe port in Myanmar through Mizoram. Also, construction, upgrading and resurfacing of the 160 Km long Tamu-Kalewa-Kalemyo road is in progress.
Numerous naval bases have been established in peninsular India: Karwar, Kochi, Mumbai, and Vizag. We are also training the Vietnam military personnel. As per media reports, we are also training the submarine crew. Intelligence gathering missions could also be launched in the South China Sea with the help of Vietnam.
Piracy Control Centre
Piracy in the Strait of Malacca has for long been a threat to shipping owners who ply the 900 km-long (550 miles) sea lane. In recent years, coordinated patrols by Indonesia, Malaysia, and Singapore along with increased security on vessels has resulted in a downturn in piracy, according to the International Maritime Bureau (IMB).Indonesia is not adequately equipped to patrol the Strait.
The IN and ICG agreed to join the multinational piracy patrol in the Strait of Malacca in 2006. India has also built a UAV-patrol base in the A and N Islands to monitor the Andaman Sea adjacent to the Strait of Malacca.
Breaking the Narco-Trafficking Network
The 'Golden Triangle' comprising Myanmar, Thailand and Laos, which is the eastern core of global drug production, acts as the principal connection. All movements are nourished by narco-trafficking via the sea with the help of criminal syndicates in a complex web of "symbiotic" relationships. The cash generated from the sale is used to buy small arms in Cambodia, where they are available in plenty at low prices, left over from conflicts of the past. The port of Ranong in Thailand is the hub of the clandestine arms market. From here, the weapons are shipped to the coasts of countries infested with terrorism and insurgencies, including Bangladesh and Myanmar. From there, the militants in India's Northeast receive these arms overland routes.
This must be countered by proactive bilateral agreements.
India's Role in Malacca Strait
The Malacca Strait has become a gateway to "Act East Policy" and for regional cooperation with ASEAN.The Indian technology power empowers the region by sharing technical and satellite information for different operations. India's capability in surveillance and monitoring the Malacca Strait has been increased by the infrastructural development of the tri-command in ANC. It provides a gateway to the South China Sea and the Pacific Ocean. Without pushing for a security role in the Malacca Straits, the following points must be conveyed to the Straits littorals through formal, informal discussions:
India's operational involvement in the security of the Straits would only take place if requested by the littorals.
Their sensitivities over sovereignty issues would be taken care of. Various options in that direction need to be explored, one of which could be to have the IN or ICG vessels patrolling the Straits with law-enforcement officials of the littoral states embarked onboard. India's interaction with Myanmar is on the rise, particularly in terms of port calls by warships, reciprocal visits by senior officials and defence sales. Myanmar government even "expressed its keenness to deepen the Indian involvement for its shipbuilding know-how and maritime expertise".
Malacca Straits
In order to prevent illegal fishing and migration, agreements for coordinated patrols with Myanmar (and Bangladesh) could be considered on similar lines as those with Indonesia and Thailand. Efforts also need to be made to develop the fishing industry. This would serve as 'human intelligence' and supplement these operations. Although the maritime surveillance and policing capability of A and N have lately been improved considerably, particularly after the induction of UAVs and the FACs, it needs further augmentation.
A radar network across the island chain linked real-time to the Joint Operations Centre at Port Blair needs to be put on the fast track. Larger patrol vessels with integral air capability need to be based on A and N, for a possible operational role in the Malacca Straits in the future. Greater speed and firepower of these vessels would also be necessary.
For this, it would be necessary to upgrade the technical and logistics support infrastructure, accordingly. Ports and airfields would also need to be developed in other parts of A and N to support permanent basing of assets. In order to improve the response to natural disasters, the sealift and the airlift capacities should be augmented.
Recommendations
The main aim of India in A and N region should be to assess the threats from China and build measures to counter them.
A highly efficient surveillance network is a must to monitor non-conventional threats.The communication network needs to be developed to carry out efficient surveillance and monitoring. Biological threats, diseases like malaria, SARS, etc. should also be considered as part of non-conventional threats.
India could consider offering its assets, namely, the Dornier aircrafts based at Port Blair. This would also serve as a goodwill gesture and reinforce confidence. The surveillance and intelligence infrastructure in the A and N islands could be employed to keep abreast developments with regards to insurgencies, terrorism, piracy in SE Asia.
The surveillance and intelligence infrastructure in the Andaman and Nicobar( A and N )Islands should be employed to keep abreast developments of insurgencies, terrorism, piracy in the Bay of Bengal and the Indian Ocean.
India must also broaden its mindset of its conception of 'neighbourhood'. The pageantry and pomp of Republic Day can help illustrate the simple reality that ASEAN is next door and that door is open for India to enter. India's ASEAN overtures a calculated answer to China's unrestrained expansionism in the Asia-Pacific region.