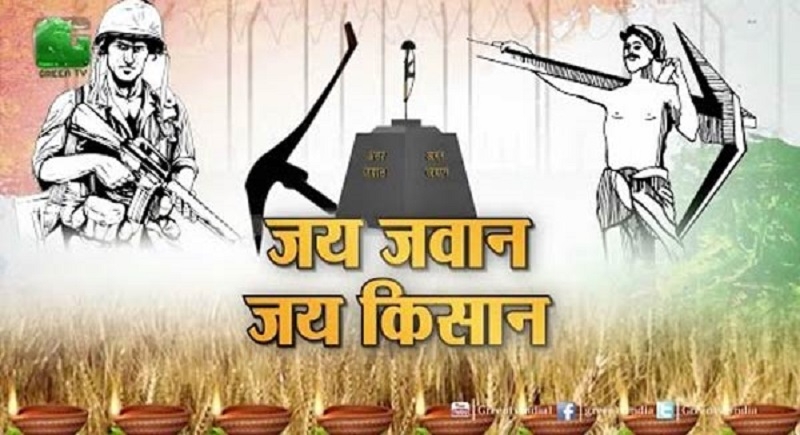 Scant or utter disregard to address the demands or grievances of "Jai Jawans, Jai Kisans" is the prime reason for the electoral reverses suffered by Modi-led BJP in the recently concluded five-State Assembly elections.
If ruling political parties pay lip service to "Jai Jawans, Jai Kisans' woes, then they should be prepared to face voter's wrath against them.
Remember all alike, particularly political leaders and bureaucracy that "Jawans" and "Kisans" are the mainstay or backbone of national security.
Earlier ruling regimes realized the significance of the slogan "Jai Jawans - Jai Kisan (Hail the Soldier, Hail the Farmer)", the better it is for their political survival. No longer, the slogan can be invoked merely during pre-election campaigning season to sway them emotionally and sentimentally to extend voter support only. The duo too wants ruling political parties to care for their interests to lead and sustain improved livelihood and life-styles.
Nowadays, even the "Jawans and Kisans" are well aware of the enhancement of pays, free perks, privileges, pensions even for a five-year term MPs/MLAs and so on.
If elected representatives supposedly in "service" of the society can appropriate for themselves bulk of the tax-payers money with the "Babus" too flexing their clout for annual and periodic enhancements, the fury building up among the "Jawans and Kisans" fraternity at denial of corresponding enhancements to them.
After all, the Preamble of the Constitution guarantees socio-economic justice. How can the gap between the rich and the poor continue to widen?
So, high-sounding slogans like "Gharibi Hatao", "Jai Jawan, Jai Kisan", "Incredible or Shining India and so on" cannot anymore fool the "Jawans and Kisans".
Let me provide a perspective of the strength of "Jawans and Kisans" interest groups and their voting clout. The vote bank power of the "Jawans" interest group (Around 51 lakhs personnel) : Active Armed Forces strength -14,50,000; Reserve Armed Forces Strength – 11,55,000; Para Military Forces Strength – 87,000; Central Armed Police Forces and Others Strength – 14,03,000 and Reserve – 10,00,000.
Add to the active strength the pensioners: Armed Forces around 25 lakhs; and, pensioner's strength of PMFs/CAPFS may also be over 25 lakhs.
By criteria of 4-members as family size, the "Jawans" – active, reserve and pensioners – can be computed around 4 crores, which is quite significant to determine electoral outcomes, which is mostly concentrated in the Hindi-heartland belt.
Next, the strength of farmers and dependent agricultural labor force levels includes: 54.6% of the population (around 60 crores) engaged in agriculture and allied activities (census 2011) contributing 17.4% to the country's Gross Value Added for the year 2016-17 (at current prices); and their old age numbers living in pecuniary conditions in rural areas.
Viewed in the totality of numbers, the "Jawans" and "Kisans" vote bank power is very crucial in determining the fate of political parties. Most important, their aspirations and demands are multiplying not merely limited to provision of crop loans and their waivers, Minimum Support Prices enhancement, crop insurance, life insurance, market facilities facilitation, and so on.
Earlier Modi-led BJP realized its failure to meet the demands of "Jawans and Kisans" as the root cause for the electoral reverses suffered in the recently concluded State Assembly elections, the better it is for their survival chances in 2019 elections.
Modi-led BJP must take a cue from KCRs pro-farmer initiatives like "Rythu Bandhu" and "Rythu Bhima" besides the focus on completion of irrigation projects on fast-track basis. Add to them, Telangana farm loan waivers to the tune of Rs. 17,000 crore by 2017. KCR led TRS is also providing free electricity to the farmers.
As a consequence, voter's confidence in KCR-led TRS has soared high. The result is simple - KCR led TRS returned to power with a thumping majority of 88 out of 119 seats despite Mahakutami coalition effort.
Furthermore, "Jawans and Kisans" are also fully aware that over a period of roughly three and one half year period (mid 2014-December 2017), Modi-led BJP has written off Non Performing Assets (NPAs) of public sector banks (PSBs) written-off loans worth Rs 2,72,558 crore. Of course, most defaulters are the rich and neo-rich industrialists and businessmen who in connivance with the Banks are engaged in "looting and scooting".
Of course, Modi made a grandiose announcement of enhanced MSP for farm products announced with a lot of fanfare. What about effective delivery? As per reports in public domain, not even 20% of farmers have benefited from the MSP. And, the farmer's suicides are continuing which is the yardstick to judge the farmers plight.
Making grandiose announcement may be good political gamesmanship. However, if their effective delivery to the end-user/customer is not ensured, then one must be prepared to face political backlash in the way protests finally culminating in voter's fury.
Similarly, the outstanding demands of "Jawans", particularly the NFU status on par with bureaucracy and "Veteran Interest" group's demands must be addressed with utmost expedition. Otherwise, Modi and the BJP must be prepared to face the voter's wrath in the Hindi-heartland where every family has at least one family member in uniform.
To sum up, "Jawans" and "Kisan" cannot anymore be expected to blindly vote in favor of Modi led BJP based on trumpeting "Ram Mandir" polarization. If Modi led BJP remain insensitive and turn a blind eye to their demands/grievances, they must be prepared to perish at 2019 polls.
For "Kisan" of BJP-ruled states, they must all follow the example set by KCR in Telangana. Otherwise, "Kisan" will desert them too.
Similarly, the long standing demands of "Jawans" and the "Veterans" must be met without haggling over minor issues.
After all, the slogan of "Jai Jawan, Jai Kisan" must be meaningfully implemented on ground to reap political benefits.