New Delhi, July 10: Drawing the attention of the session by highlighting the deliberate increase in 'illegal immigrants', BJP's young blood Member of Parliament Tejasvi Surya urged that the National Register of Citizens (NRC) should be extended to Karnataka and Bengaluru to 'weed out' Bangladeshis from the state.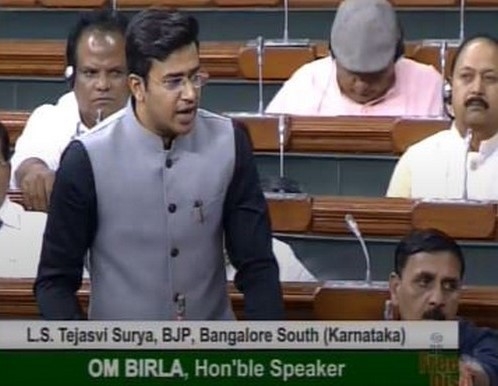 Speaking in the Lower House, the first time MP Tejasvi Surya grabbed attention as he spoke how the immigrants are posing a security threat to the state of Karnataka. He said, 'Illegal immigrants are a security threat to the state. Yesterday a terror module that operates from Bangladesh was busted in Bengaluru. I call upon the Centre to extend NRC to Karnataka and Bengaluru to weed out Bangladeshis who've come here illegally.'
The crackdown which Tejasvi Surya highlighted, took place in Bengaluru on Tuesday wherein the National Investigation Agency (NIA) busted a terror module of one Jamaat-ul-Mujahideen Bangladesh (JMB), which reportedly carried out the 2014 blasts in Burdwan in West Bengal. Giving details about the same NIA stated, "We have recovered five fabricated hand grenades, a timer device, three electric circuits, a suspected explosive substance, different components for making IEDs or rockets and several other incriminating materials from Bengaluru on July 7. These hand grenades were fabricated as part of a conspiracy to commit terrorist acts in different parts of the country."
This demand from Surya for NRC comes on the backdrop of an ongoing furore against NRC, the draft of which was released in July 2018. While the Centre has clarified that no genuine Indian citizen would be exempted from NRC, BJP and Trinamool Congress clashed over the issue in the run-up to the Lok Sabha elections 2019.