The India International Science Festival (IISF) is the largest national Swadeshi science movement, a mega-event, and a mega-expo. The IISF is supported by Vijnana Bharati, the Ministry of Science and Technology, Ministry of Earth Sciences, the Ministry of Health and Family Welfare, and the numerous constituent research institutions and universities from across India.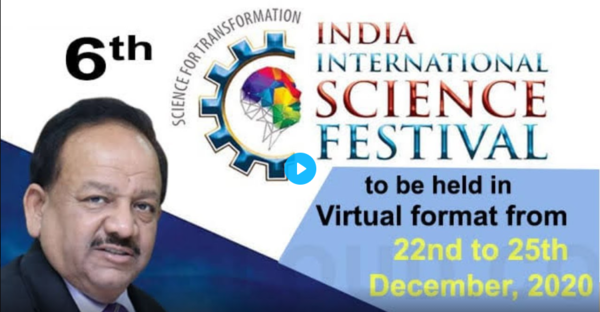 Since its inception in 2015, the IISF has travelled around India. From Indian Institute of Technology Delhi in 2015, the National Physical Laboratory in Delhi in 2016, in the Chennai research and development ecosystem (IIT Madras, National Institute of Ocean Technology, Central Leather Research Institute, Structural Engineering Research Centre) in 2017, at Lucknow's Indira Gandhi Pratishthan in 2018, and in Kolkata's Science City in 2019. Being a traveling festival, the IISF intends to touch our country's vast geography and connect our mammoth young population promoting scientific temper and combining it with our civilizational Bharatiya heritage and futuristic Swadeshi interests. The festival has emerged as a scientific and cultural melting pot bringing hundreds and thousands of scientists, students, academicians, performers, artists, policymakers, and science enthusiasts.
The IISF caravan faced a mammoth health security challenge in 2020 due to the COVID-19 pandemic. This, however, was no reason to skip the much important expo. To keep the flame of vijnana (science) burning, the IISF patrons decided to take the expo into the virtual world.
Thanks to the enormous efforts put in by IISF volunteers from across India, the IISF2020 is being held with greater pomp
on a secure and easy-to-use virtual platform.
Since the event is not limited to the physical world's confines, the IISF2020 logistics have focused on reaching out virtually to an even larger number of participants and eager viewers across the country and the world.
The virtual platform has also allowed the expansion of the diversity of events organized. Typically, IISF had organized around 20 events of various kinds during the earlier physical-world festival. However, with the virtual platform, the festival has now expanded to 41 diverse events. These include virtual panel discussions with sectoral experts and champions, a virtual exhibition of newly-developed and grass-roots technologies, artisanal handicrafts and historical artefacts, performing arts events, live demonstrations, prototype competitions, science book fair, science film festival, essay writing competitions, science poetry and song-composing competitions, a teacher's congregation, spectacular technology shows, lec-dem concert sessions, and much more.
The IISF event themes are wide-ranging so that they rouse interest from diverse professional groups and students aiming for varied careers. These include a Young Scientists Conference, Women Scientists, and Entrepreneurs Conclave, Wellness and Health Research Conclaves, Water Segment Conclave, Waste Management, and Sanitation, a mobile Vigyan Yatra, Students Science Village, State Science, and Technology Minister's Conclave, Science Education in India, Science Diplomacy, Science and Technology Media Conclave, Philosophy and Science, Overseas Ministers and Diplomats Conclave, North-East Students Conclave, Building of New India Conclave, Start-up Conclave, National Social Organization and Institutions Meet, National Science Teachers Congress, Mega Science Technology and Industry Expo, Industry-Academia Conclave, History of Indian Science, Urban and Rural Habitat Conclave, Global Indian Scientists and Technocrats Meet, New Frontiers of Science Conclave, Energy Conclave, Clean Air Conclave, Biodiversity Conclave, Assistive Technologies for Divyangjan Conclave, Agri-tech and Agriculture Scientists Conclaves, among many.
Although the COVID-19 pandemic has taken away the meet-and-greet possible with a physical-world IISF, it has not deterred the spirit. The IISF aims for several world records in the domain of science popularization through a virtual platform and promotes the temper of 'Science for Self-Reliant India (Aatmanirbhar Bharat) and Global Welfare'. To monitor and accomplish these exciting targets, the IISF has a dedicated team for the Guinness Book of World Records.
India is a knowledge-venerating civilization. Science and arts are indispensable to our grand heritage. The IISF aims to make these two vital for India's splendid future. IISF is a celebration of democracy and its success depends on the participation of students, teachers, start-up professionals, artists, writers, scientists, academicians, politicians, policymakers, and professionals of various skills and backgrounds. The greater the exchange of ideas and creativity, the more robust India's scientific and technological progress will be, and even more organic will be our bond with the well-being of nature.