New Delhi, Oct 8: The Vishwa Hindu Parishad has announced a nationwide protest on October 9 against the targeted killing of seven Kashmiri Hindus by the Jihadi terrorists in the last five days. On Friday, the VHP in a statement stated, "that the best way to end Islamic terrorism in Jammu and Kashmir is to safely rehabilitate the exiled Kashmiri Hindus and provide them free mobility in the valley".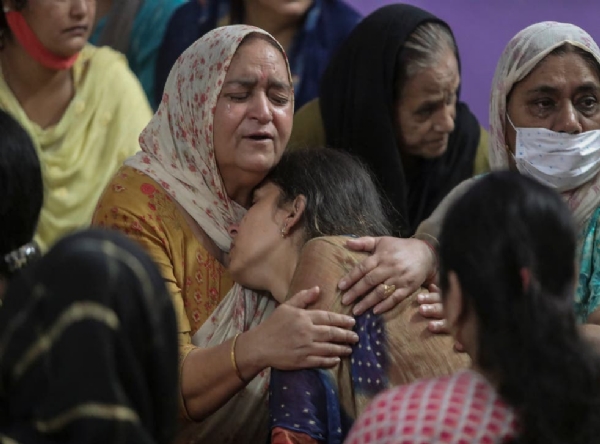 The Central General Secretary of VHP Milind Parande has condemned the brutal killing of 7 civilians in the valley. He also expressed deep concern about the targeted killings of Hindus in the valley and urged the Central government to take necessary steps to tackle the Islamic Jihadists spreading the terror in Kashmir.
Further, he wrote that the government should teach a lasting lesson to the terror state of Pakistan and the government should encourage the rehabilitation of the indigenous Hindu migrants back to the valley. According to the statement, Hindu organisations such as the Bajrang Dal and the VHP would stage protests across the country on October 9 in which they will burn effigies representing Pakistan's terror regime.
Slamming the Islamist apologists, the General Secretary of VHP remarked that when Hindus or Sikhs are mercilessly butchered, these apologists of Islamic terrorism say nothing. In conclusion, the VHP statement added, that it stands in solidarity with the families of those who have been systematically targeted in Jammu and Kashmir. "Every VHP worker and entire Hindu society stands with the families of the victims. Their sacrifices will not be wasted. Indians will now etch the grave of Islamic terrorism in the country".
Also Read: 'If you have guts, come and face me': Murdered Kashmiri Pandit's daughter challenges terrorists
Two teachers were shot dead on Thursday after unidentified men entered a school in Srinagar's historical old town Iddhah and gunned down them. The victims have been identified as the principal of Boys Higher Secondary School, Satinder Kour and Deepak Chand.
This attack came in less than 48 hours after the killing of Makhan Lal Bindroo, the Kashmiri Pandit who stood his ground and refused to leave Kashmir even during the heights of Islamic terror in 1990s. The brutal killing of Makhan Lal Bindroo took to seven the number of civilians killed by militants in Kashmir Valley in five days.