- Kinjal Yogesh Dixit
Marachi Subburaman was one amongst the several incredible people who won the Padma Shri this past week. The 71-year-old social worker, who has been pouring in efforts for years to help reform the sanitation in the rural areas, has now received a well-deserved national recognition for the same.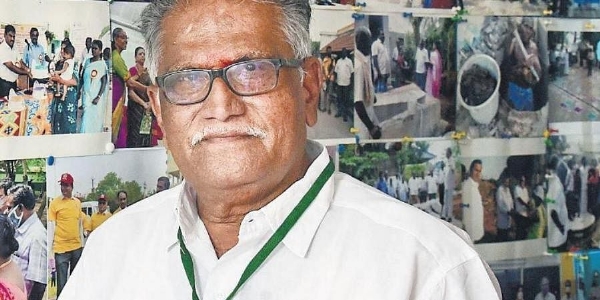 Subburaman's NGO - Society for Community Organisation and Peoples Education (SCOPE), has focused on improving sanitation in rural India from the year 1986. He was born in the village of Inungur Pudupatti, Kulithalai and was the first graduate from his village. He witnessed the struggles faced by villagers, only when he himself started working. The turning point came in 1976. He had just started his first job at the Village Reconstruction Organisation. He had to travel to various villages to study them, before constructing houses there.
When he was deputed to the village of Madagam, Pudukkottai, he was shocked to find that a tank near which he was directed to relieve himself, was actually used for all kinds of purposes. When he enquired further, he was horrified to learn that the water he consumed the previous night, had come from the very same tank. He immediately dug a pit in the village, bought a toilet pan for Rs. 25 and fit into the pit. That makeshift 'toilet' still stands in that village!
However, SCOPE was initially started to help young widows and women. The first few years were focused on training women in tailoring, weaving and other income-generating activities. After 2-3 years, a study conducted showed how the income was being used. They realised that a lot of the income went into hospital expenditure, due to infections which contaminated drinking water and improper sanitation caused. That's when they shifted focus to sanitation and drinking water.
Also Read | Passion for cooking turns Rajni Bector into Padma Shri awardee!
In Musiri, the groundwater level is very high, which is why normal toilet pits didn't work properly. That's when Subburaman thought of
ECOSAN toilets (Ecological sanitation),
which are dry toilets, having no flushes and septic tanks. Each outlet connects to different pits at the bottom, which alsos reduces wastage of water. It later turns into compost, which is excellent for the soil, he says.
Interestingly, he personally tests every new form of toilet before constructing it into any village. He himself uses an ECOSAN toilet at his own place. He first tried this model at the training centre at Thaneerpandal village in Musiri. They tested it for a couple years before giving it a green signal. Hence, they built the first ECOSAN community toilet in Musiri in 2005.
They then became the resource centre for ECOSAN in India.

Also Read | Passion speaks it all! Visually challenged man who authored over 200 books, Balan Putheri, bags Padma Shri
The important point is that you cannot simply build a toilet anywhere. A location-specific toilet is very important. Solution to any problem shouldn't lead to a new problem. SCOPE is also the recipient of the best NGO Award for clean villages in 2005 and the Nirmal Gram Puraskar Award for Best NGO in Sanitation in 2006.