People dream of being on top of the world. Mother of two Anshu Jamsenpa has done it not once, not twice, but five times. Now, achieving historic feats, Dr. Anshu Jamsenpa, last week joined the illustrious list of woman mountaineers like Bachendri Pal, Santosh Yadav, Premlata Aggarwal, and Arunima Sinha to have been conferred the Padma awards. What she has earned and made India proud on an international platform is hardly one's cup of tea! Want to know what she has attained so far, head into this story of her successful journey-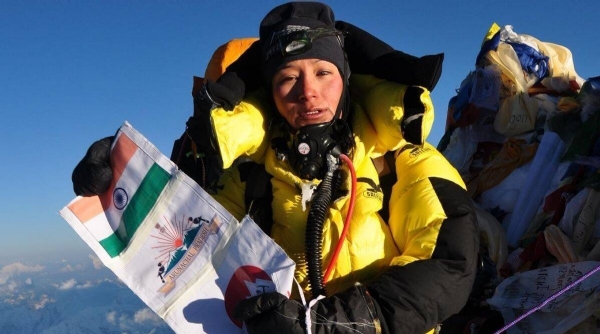 Daughter of an Indo Tibetan Border Police officer, Jamsenpa's interest in mountaineering only grew post her marriage to Tsering Wange as her husband Tsering Wange is the president of All Arunachal Pradesh Mountaineering and Adventure Sports Association. The couple is based in Bomdila, the headquarters of West Kameng district of Arunachal Pradesh. Three years after she started climbing, Jamsenpa would summit Mt Everest twice in ten days in 2011. She would scale the world's highest peak once again in the 2013 North East India Everest Expedition led by Surjit Singh Leishangthem.
However, she grabbed another achievement in 2017, when Jamsenpa became the first woman in the world to scale the summit of Mount Everest twice in a season the first to do so within 5 days. It is the fastest double ascents of the tallest crest by a woman. This was her fifth summit and thus she became the most time climbed Indian woman. This is after she took the blessings of 14th Dalai Lama and began her Everest climbing expedition from Guwahati on 2 April 2017.
At 9.15 am on 16 May along with 17 other climbers, she climbed up to the mountaintop and unfurled the Indian National Flag. She started her second arduous trek with Nepali climber Furi Sherpa on 19 May. She continued climbing almost without any pause in hiking, till 10 pm. Again the next morning, she began climbing and took a brief break prior to summit hike, and finally reached the apex at 7.45 am, on 21 May 2017. However, in 2017, she took 118 hours and 15 minutes to finish her 5th mission after 4th one. Apart from the summits, Anshu has also been training mountaineers and has trained over 3,000 aspirants at her own capacity.
Scaling the world's tallest mountain doesn't happen just like that. "I did all kinds of training - running, gym, yoga, aerobics, hiking etc. I also climbed several other peaks in order to get myself prepared for the big one,"
she was quoted as saying.
Apart from the summits, Anshu has also been training mountaineers and has trained over 3,000 aspirants at her own capacity. Scaling new heights, she has been a role model for all Indians!