New Delhi, Nov 24: President Ram Nath Kovind will lead the 'Constitution Day' celebrations in the Central Hall of Parliament on November 26 (Friday). As part of Azadi Ka Amrit Mahotsav, the central government said "India will be celebrating Constitution Day on 26th November with great fervor and gaiety in the Central Hall of Parliament House."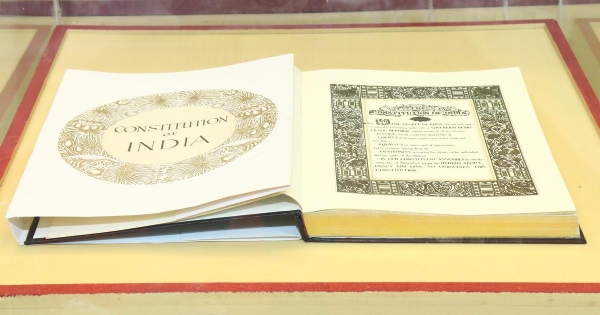 As the curtain-raiser for the event, Union Minister of Parliamentary Affairs Pralhad Joshi along with Union Minister of State for Parliamentary Affairs V Muraleedharan and Union Minister of State for Information and Broadcasting Dr. L. Murugan briefed the media about the preparations for Samvidhan Diwas as part of Azadi Ka Amrit Mahotsav.
Joshi informed that President Ram Nath Kovind will be leading the celebrations of Constitution Day live from Central Hall of Parliament on Friday. The occasion will also be graced by Vice- President Venkaiah Naidu, PM Narendra Modi, other dignitaries. He said after the President's speech, he will read from the Preamble of the Indian Constitution and the whole country will be invited to follow.
To make this a public campaign and to ensure public participation, the government has developed two portals; one that facilitates an online reading of the Preamble to the Constitution (mpa.nic.in/constitution-day), available in 23 languages from November 26 onwards, and which contains a calligraphed copy of the Preamble that audiences can download and print after registering themselves on the portal.
A second portal, Joshi said, is an online quiz on Constitutional Democracy (mpa.nic.in/constitution-day) and will be launched on November 26 in the Central Hall. "It is a simple digital quiz with the purpose of 'jan bhagidari (public participation)' having very simple and basic questions on India's Constitution and its democracy with special reference to fundamental duties enshrined therein," a statement by the ministry said.
"Anyone can participate in this quiz by simply registering the name, telephone number and age group. Participant can check correctness of their answers too," the ministry further states. "However, even on simple participation, everyone would get certificate as the purpose of quiz is to popularise the basic values of Indian constitution and parliamentary democracy and not to test their knowledge," the statement said.