Malda (West Bengal), Mar 2: With an aim to unseat the Trinamool Congress (TMC) in the state, Uttar Pradesh CM Yogi Adityanath , being one of the star campaigners of BJP, addressed a public rally in Malda ahead of West Bengal Assembly Elections. He is the first heavyweight BJP leader to campaign in the state after the Election Commission announced the dates for the Assembly polls last week.
"West Bengal has always been a land of cultural nationalism in India. It has been the land of the revolution for India's freedom struggle. Today it hurts us, the entire country, when we see an environment of anarchy here", said the CM.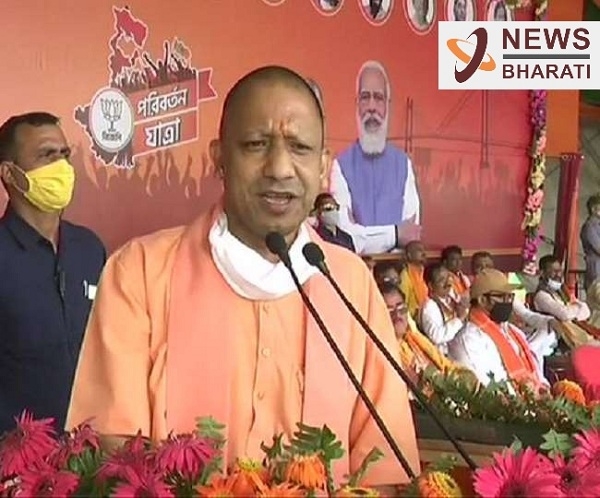 Further, taking a dig at the TMC govt, Adityanath said, "Bengal, which had once led the nation, is now facing the lawless situation. The national leadership of BJP & every worker of the party has come here to connect to the Bengali brothers and sisters to re-establish the identity of Bengal and carry forward a new change through this."
He also picked up the issue of cow slaughtering that is being practiced in the state. "Durga puja gets prohibited in Bengal today, cow slaughter is forcefully started during Eid. People's sentiments are toyed with through cow smuggling. The state government remains silent. Now it's attempted to ban slogan of 'Jai Sri Ram' & attacks are executed," Adityanath said.
"I'd like to tell the Bengal govt & request Mamata didi that there was a govt in UP that used to fire bullets at Lord Ram devotees in Ayodhya. You can see the condition of that govt now. Now it's TMC govt's turn in Bengal," Adityanath added.
Later, he also spoke about 'Love Jihad' . "'Love jihad' is being executed here. We made a law in Uttar Pradesh. But there is appeasement politics here [West Bengal]. So the state government is unable to stop cow smuggling and love jihad -- dangerous activities that will show results in the time to come."
It should be noted that in the 2019 general elections, Adityanath's rally in West Bengal was slated to begin from the Malda district. However, the state administration had denied permission for his chopper to land, triggering a massive political row.
Last week, the Election Commission announced that West Bengal will go to polls in eight phases starting March 27. The counting of votes will take place on May 2. The contest for the 294-seater Assembly is likely to be a bipolar battle between the BJP and TMC.
From being non-existent in the state, the BJP emerged as a major political force in West Bengal in 2019, when, in the general elections held that year, the party bagged 18 of the 42 Parliamentary seats. While the BJP is determined to end CM Mamata Banerjee's 10-year rule, the TMC has claimed that the BJP will not be able to cross the double-digit mark in the state.
.
.