New Delhi, Apr 7: The Vice President of India M Venkaiah Naidu graced the colourful closing ceremony of the 25-day long commemorative Dandi Padyatra, which was a part of Azadi Ka Amrit Mahotsav. The closing ceremony took place near the National Salt Satyagraha Memorial in Dandi, on Apr 6. The Ministry of Culture and Gujarat state govt had organized the event.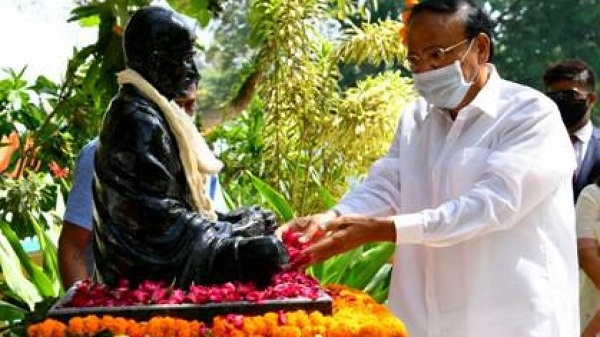 During the Vice Presidential address to the event, M Venkaiah Naidu said that Gandhi's iconic Dandi Salt March was a watershed moment in our freedom struggle and that it altered the course of Indian history. He said, "The Dandi March we are symbolically revisiting today signifies our nation's ability to stay united when we are faced with challenges."
The Vice President asked everyone to take inspiration from Mahatma Gandhi who always used polite and respectful language even for his opponents and said "Gandhi Ji's principle of non-violence was not limited to physical violence alone, rather it encapsulated non-violence in words and thoughts too."
The
Prime Minister of India Narendra Modi
flagged off
"Azadi Ka Amrit Mahotsav"—a 75 week festival to commemorate 75 years of India's Independence,
from the historical Sabarmati Ashram, on Mar 12, 2021.
The festival celebrates the rapid strides India has taken in the past 75 years.
Vice President Venkaiah Naidu said that it is a festival that encourages us to rediscover our hidden strengths and prompts us to take sincere, synergistic action to regain our rightful place in the comity of nations.
During his address to the event, Union MoS for Culture Prahlad Singh Patel said that 91 years ago, Mahatma Gandhi started this journey for the awakening of self-reliance and self-respect of the country, and now 91 years later, the symbolic Dandi Yatra which started on Mar 12, marks the revival of our journey of self-reliance and self-respect. However, this journey does not end here, it is the beginning of 'Azadi ka Amrit Mahotsav.'
The Minister expressed his gratitude to the 7 ministers, 11 MLAs and 121 people who undertook this journey with him. Prahlad Singh Patel further said that it is the responsibility of every citizen to make it a Jan Mahotsav through mass participation in Amrit Mahotsav. During the program, the Vice President also released the Special Envelopes on Geographical Indication (GI TAG) Products of Gujarat State Handicrafts Development Corporation.