New Delhi, April 07: Noting that India is keenly working on its climate policies, US Special Presidential Envoy for Climate John Kerry praised India and Prime Minister Narendra Modi. He said that India has already emerged as the world leader in the deployment of renewable energy.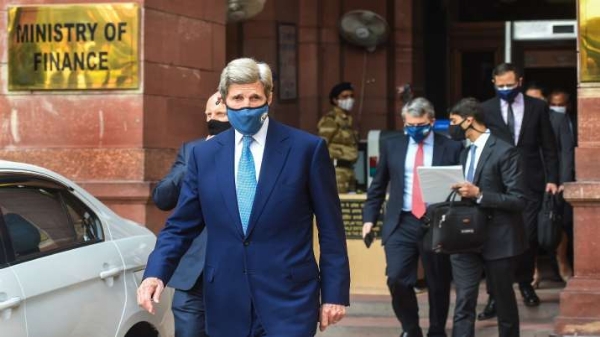 After holding a meeting with the Prakash Javdekar, Kerry made this statement and said, "India is getting the job done on climate, pushing the curve." He added, "You (India) are indisputably a world leader already in the deployment of renewable energy."
The praising India he said that India is undergoing a remarkable transformation, lifting millions out of poverty. It's a major player on the global stage. Decisive action by India in partnership with the rest of the world will determine what this transformation will mean for generations to come.
Also Read: Prakash Javdekar discuss range of issues including climate finance with US Special Envoy
Citing International Energy Agency's special report on India that has noted that India is becoming a global market leader in solar & storage by 2040, he said, "Prime Minister Modi's announcement of a target of 450 GW of renewables by 2030 sets a very strong example of power how to power a growing economy with clean energy."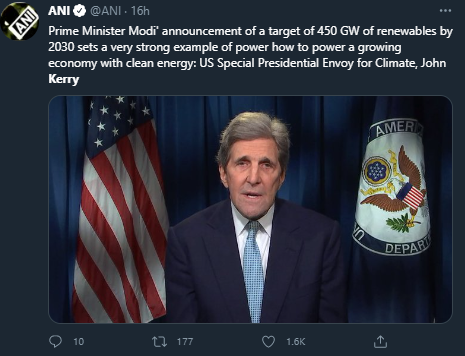 Apart from that Kerry, also talked about India's Budget 2021. He said that he was glad to see the recent budget by the Indian government focus heavily on clean energy and to propose a National Hydrogen Energy Mission (NHEM).
A
lso Read: मंदिर रक्षा, धर्म रक्षा! Freeing temples from Sarkar... the Science, the Law, the Purpose!
Taking about the International Solar Alliance, he said that India's International Solar Alliance promises to advance clean energy across India & other dynamic growing economies around the world. He further said that the Indian industry is already stepping up & demonstrating leadership and, he was very pleased to hear that dozens of India's biggest companies recently signed a declaration on climate change, pledging to go carbon neutral.
'India, in particular, is a red hot investment opportunity because of its clean energy transition," he added.
.
.