"We're committed to fight this ideological battle and the activities of TMC which is full of intolerance. We are ready to fight democratically", said BJP National President J P Nadda on Tuesday adding that he would the So to the South 24 Parganas later today and visit the houses of those workers later whose lives ended a few hours after the results.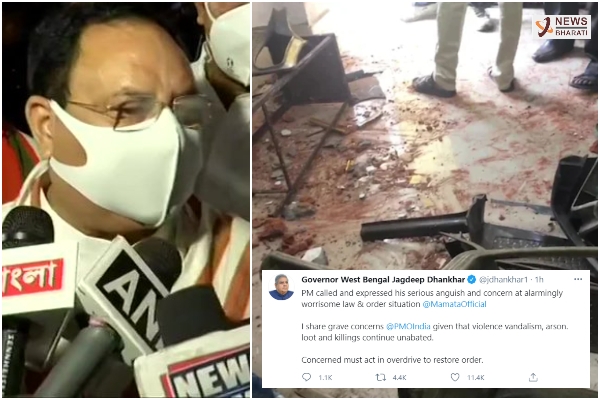 Within 24 hours of elections results, at least a dozen of people have been reported dead in post poll violence in the state of West Bengal, a figure that may be higher than the number of those killed during the month-long polls. "The incidents which we saw after the results of #WestBengalPoll shock us & make us worried. I had heard of such incidents during India's partition. We had never seen such intolerance after the results of a poll, in independent India", Nadda added.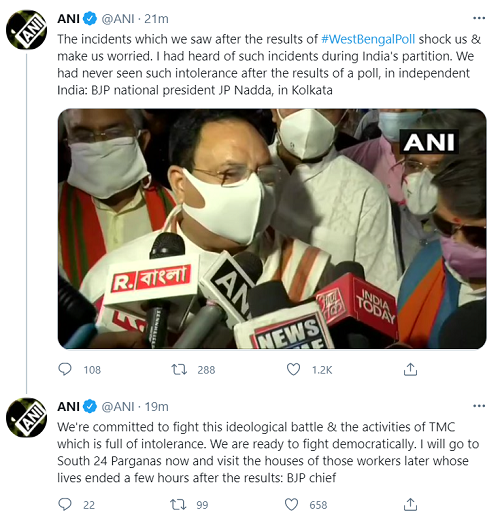 Prime Minister Narendra Modi also called up West Bengal Governor Jagdeep Dhankhar today and expressed his concern over post-poll violence in the state. In a tweet on Tuesday, the Bengal governor said PM Modi spoke with him and expressed his serious anguish at law and order situation in the state. It is informed that the BJP has moved the Supreme Court over violence and BJP's Gaurav Bhatia in his petition has demanded a CBI probe into violence.

After the results of the Bengal Assembly election were announced on Sunday, the BJP said one of its party offices in Hooghly district was set on fire and some of its leaders, including Suvendu Adhikari, were harassed by TMC activists in other parts of the state. A local BJP leader claimed that TMC workers, shortly after the defeat of their party candidate Sujata Mondal, set on fire the BJP's Arambagh office. "The TMC, in a bid to avenge the defeat of its candidate, indulged in acts of arson and torched our party office," the local BJP leader claimed.
Further it is yesterday that the Bengal wing of BJP claimed that at least six of its workers were killed across the state since the assembly results were announced. The BJP has noted that a hundred party offices and houses of BJP workers were ransacked across the state as the counting progressed, and the trends became clearer. In a tweet, BJP general secretary Kailash Vijayvargiya, the party's in-charge for Bengal, said its four workers were killed and over 4,000 houses ransacked in incidents of post-poll violence.
.
.