New Delhi, June 11:
Slamming the Mamata Banerjee-led government, Supreme Court has directed the West Bengal government
t
o implement one nation-one ration card immediately 'without any excuses."
The SC ruled out the order saying that govt can't give excuses as the scheme is meant for migrant workers at this time of coronavirus pandemic and lockdown.
"You can not cite one or the other problem. This is for migrant workers," the court told the state govt. SC further said that they can't cite one or another problem for not implementing the same.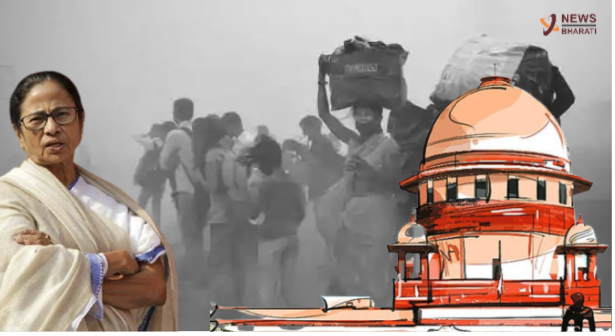 During the hearing, the counsel for West Bengal said that they have not implemented the scheme due to the Aadhaar seeding problem. However, the court rejected that claim and said that they have to implement it as other states have already implemented it. To this, the counsel replied that they are in the process of implementing the same. SC also gave a warning to the Mamata-led government, that the state can't delay implementing the scheme any longer.
Apart from it, SC also reserves its order on the case relating to problems faced by migrants during the lockdown and on the registration process of unorganised workers so that they can avail the welfare benefits given under various government schemes.
It should be noted that 34 States/UTs have adopted the 'One nation, One ration card' scheme, only three states Assam, Delhi, and West Bengal have not implemented the One Nation One Ration Card scheme. This scheme by the central govt enables people to access items distributed under the Public Distribution System using a single ration card.
This scheme will be instrumental in the welfare of migrant workers and play a vital role in averting the migrant crisis. Its implementation ensures the availability of ration to beneficiaries under the National Food Security Act (NFSA) and other welfare schemes, especially the migrant workers and their families, at any Fair Price Shop (FPS) across the country.
Under the ONORC, the beneficiaries from one state can get their share of rations in other states where the ration card was originally issued. The reform especially empowers the migratory population mostly laborers, daily wagers, urban poor like rag pickers, street dwellers, temporary workers in organized and unorganized sectors, domestic workers, etc, who frequently change their place of dwelling to be self-reliant in food security
.
.