New Delhi, September 14: India and the United States jointly launched the "Climate Action and Finance Mobilization Dialogue (CAFMD)" on September 13.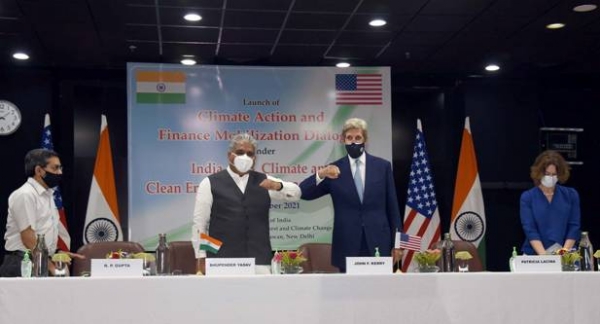 CAFMD is one of the two tracks of the India - U.S Climate and Clean Energy Agenda 2030 partnership launched at Leaders' Summit on Climate in April 2021, by PM Narendra Modi and US President Joe Biden.
At this launch, Yadav said that the dialogue will strengthen the India - US bilateral cooperation on climate and environment. It will also help show how the world can align swift climate action with inclusive and resilient economic development, (taking into account national circumstances and sustainable development priorities).
The Environment Minister, emphasizing on deep ties which the vibrant democracies share, said, "India and the United States are natural partners with shared values and our agenda encompasses all major pillars of our strategic priorities - including defence, security, energy, technology, education and healthcare."
Speaking at the launch of Climate Action and Finance Mobilization Dialogue (CAFMD),
Kerry applauded Prime Minister Narendra Modi for setting an ambitious target of achieving 450GW renewable energy by 2030
. He also congratulated India for achieving 100 GW already.