Bengaluru, Jan 13: Showing that he is in no mood to follow governments order, Karnataka Congress president DK Shivakumar, left for day 5 of the party's 10-day Mekedatu padayatra, a day after the state government ordered an immediate ban on the opposition party's protest march.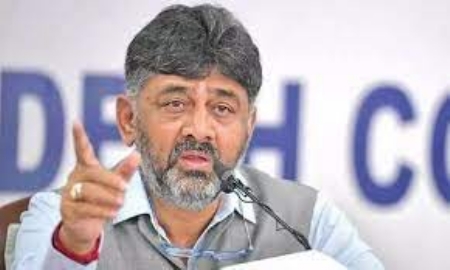 "Day 5 of #Mekedatu Padyatra begins- with prayers and seeking blessings to win this historic fight. #NammaNeeruNammaHakku (our water, our right)," tweeted Shivakumar in Kannada.
It should be noted that yesterday state the Basavaraj Bommai led government has prohibited the Karnataka congress's ongoing Mekedatu Padyatra with the immediate effect in view of the COVID situation in the state.
In its order on Wednesday evening, the government said that "all, inter-district (within Karnataka) and intra-district (within Ramanagara), movement of vehicles and persons for participating in "Nama Neeru Namma Hakku" padayatra, or whichever name it is called with similar purpose from Mekedatu to Bengaluru, is prohibited with immediate effect and will be in force until further order for strict implementation by all Deputy Commissioners, Superintendents of Police, all Police Commissioners of the State."
"The transport commissioner is directed to take adequate measures to implement this order and aid the district administrations and police commissioners of the state. Any person violating these measures will be liable to be proceeded against as per the provisions of Section 5l to 60 of the Disaster Management Act, 2005, besides legal action under Section l88 of the IPC, and other legal provisions as applicable," the state government's order said.
Following the order, the Bruhat Bengaluru Mahanagara Palike (BBMP) has also canceled the permission given to Congress for a programme that was to be held in Bengaluru, Karnataka to end the Mekedatu Padayatra on January 19.
DK Shivakumar himself has already been under fire for not wearing a mask, as well as refusing to undergo testing for Covid-19. Yesterday Karnataka HC also chided the Karnataka Congress Party for holding its 'padayatra' for the Mekedatu project, defying COVID-19. The court also sent a show-cause notice to the Karnataka Pradesh Congress Committee on the matter.
.
.