They say "Unexpected journey makes a better story". The same quote suits when one gets to know the story of Om Paithane who was once an Ola driver and has now become an Indian Army officer. Now, why do I say this unexpected journey? To know, let us just dig into the story.
Coming from a humble background with only limited resources in your hands, he has surely set an example who are in need of motivation. His family hails from Limbarui village in the Beed district. His father was a driver who unfortunately lost both his legs in a road accident. His father had undergone knee replacement surgery for both legs, but only one surgery was successful. They moved to Pune and his father started working as a watchman.
Now, around this time, he had to support his family while pursuing BSc computer science stream in the final year but failed in some subjects. As his friend Rahul Bhalerao owned a cab, he started driving his cab for Ola. He did this for about six-seven months.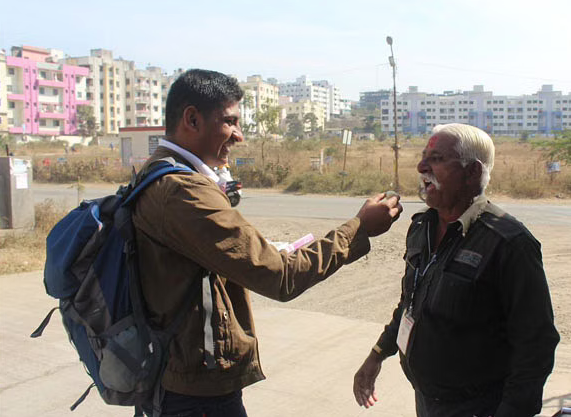 A life-changing ride:
One fine day, he stumbled upon a retired Colonel Bakshi who hired his cab. He definitely would have not thought that this will be his life-changing ride. With a bright smile on his face, he started talking with the retired colonel and in reply, the latter responded well. Both had a meaningful conversation. The veteran colonel spent some quality time to tell the driver about the opportunities in the defence services examination.
"I used to talk to passengers and while talking to Col Bakshi, he told me about the Combined Defence Services (CDS) examination and the endless opportunities it brings. He asked me to meet Lt Col Ganesh Babu, Director, Armed Forces Officers' Selection Orientation Programme (AFOSOP), who guides students," said Paithane.
Paithane appeared for CDS in 2016 and cracked the exam in the first attempt. After clearing the Service Selection Board (SSB) exam at Bhopal, he joined the OTA and after a year-long training. Paithane was among the 257 cadets who passed out from OTA on March 10, 2018. Om Paithane's success story from a cab driver to an Indian Army officer is well and truly inspiring.
After he came through with flying colours, he contacted the retired officer to tell him a good news. "I made the first call to the retired officer when I got through. He was guiding me throughout. I remember the careless version of me. Though I enjoyed it, this life is better. The training has taught me discipline and manners, which I am proud of," he added.
For those thinking only Army kids can get into Indian Army, hear it out from Paithane. He believes that neither your background nor coaching institutes make a difference when it comes to joining the armed forces. "It is just an assumption that mostly Army kids get into the armed forces. If you are determined to serve the country and work hard, you can clear the exams. A famous coaching institute in Pune, which is run by a retired Army officer, was not impressed by my background in academics and sports (as I played mostly village games). But he told me that he will do some 'pinky ponky' and help me, but I left the institute on the same day as they were making students to become 'parrots' who can mug up information and manners," Paithane said.