New Delhi, Jan 17: The Nepal government asked India to stop "unilateral construction and expansion" of roads after an outrage had flared recently after a proposal to widen the road to the Lipulekh Pass area in Uttarakhand was put forth by the Indian government. This development came a day after India insisted that the ongoing construction fell in Indian territory but proposed that any dispute could be settled through dialogue in the spirit of bilateral friendship.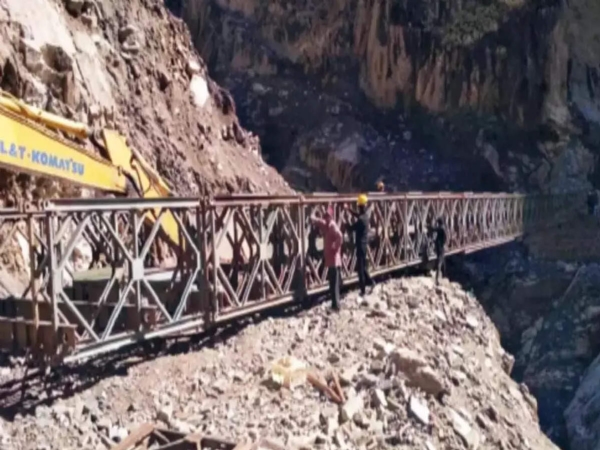 Reports
suggest that Nepal's minister for Information and Broadcasting and Cabinet spokesperson Gyanendra Bahadur Karki said territories, including Limpiadhura, Lipulekh and Kalapani East of Kali River, are an integral part of Nepal and any construction or expansion of roads thereby India must be stopped.
Prior to this,
the Indian Embassy in Kathmandu
on Saturday had stated that the mutually agreed boundary issues between India and Nepal can always be addressed in the spirit of close and bilateral relations between the two countries.
Also Read: 'Will bring back Kalapani, Limpiyadhura, and Lipulekh', says Nepal PM Oli
"India's position on the India-Nepal boundary is well known, consistent and unambiguous. It has been communicated to the Government of Nepal," said the Indian Embassy here on Saturday in response to media queries regarding recent reports and statements in Nepal on the question of the India-Nepal boundary.
"It is our view that the established inter-governmental mechanisms and channels are most appropriate for communication and dialogue. Mutually agreed boundary issues that are outstanding can always be addressed in the spirit of our close and friendly bilateral relations," read the statement.
Also Read: India never invaded any country but Forces capable to give befitting reply if provoked: Rajnath Singh
The widening of roads came as PM Narendra Modi's had announced to expand the road across the Lipulekh area, which Nepal claims as its own. Earlier too, Nepal had protested the Indian government's ongoing construction of roads in Lipulekh and Kalapani areas, including in May 2020 when Defence Minister Rajnath Singh virtually inaugurated the newly-constructed road in Lipulekh.
As the controversy raged, the Nepal government had even issued new maps including Lipulekh, Limpiyadhura and Kalapani in their territory. Soon after, the neighbouring country had sought bilateral talks to amicably resolve the issue of the territory 'encroached' by India.