This article is a summary of important events that have taken place in last one week affecting, India's national security
Winning Proxy War Launched By Pakistan
Anantnag encounter: Colonel Manpreet Singh, Commanding Officer of 19 Rashtriya Rifles; Major Ashish Dhonack, Deputy Superintendent Humayun Bhat killed in encounter
An Army colonel, a major and a deputy superintendent of Jammu and Kashmir police were killed in a gunfight with terrorists in Kokernag area of Kashmir's Anantnag district,. Senior army and police officers, GoC 15 Corps Lt General Rajiv Ghai and including DGP Dilbag Singh have rushed to the spot to assess the situation. A search operation is being carried out in the area. The operation against the terrorists had begun on Tuesday evening in Gadole area but was called off during the night. This morning, the hunt for the terrorists resumed after information started trickling in that they were spotted at a hideout, the officials said. Colonel Manpreet Singh, Commanding Officer of 19 Rashtriya Rifles; Major Ashish Dhonack, and Deputy Superintendent Humayun Bhat were critically injured in the gunfight with terrorists that ensued in the Garol area of Anantnag district in the morning hours of Wednesday. The colonel, leading his team from the front, attacked the terrorists. However, the terrorists fired upon him and he was critically injured.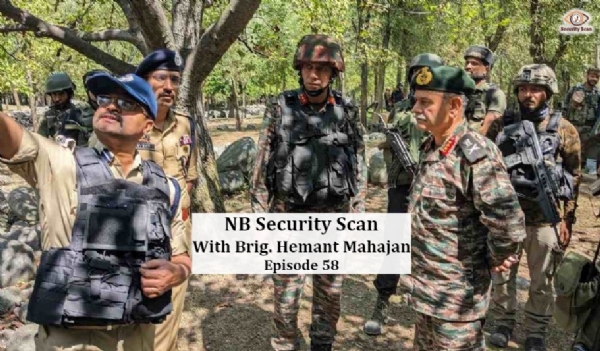 The three later died in hospital during treatment. The banned Resistance Front, believed to be a shadow group of Pakistan-based Lashker-e-Taiba, has claimed responsibility for the attack. It is the same set of terrorists who had carried out the attack on army personnel on August 4 killing three jawans in the higher reaches of the Halan forest area of Kulgam district.
Meanwhile, two terrorists were killed by security forces during an encounter that began in the Narla area of Jammu and Kashmir's Rajouri on Tuesday. Army also recovered a large quantity of warlike stores, including medicines, with Pakistan markings during a search amid the encounter that continued on till last reports.
Pakistan making full efforts to infiltrate foreign terrorists into J-K: Northern Army commander
On the death of sniffer dog Kent in gunfire by ultras, he said, "Our Kent laid down his life to save his handler. He attacked the terrorist by moving ahead first." Two terrorists were killed in an encounter in the remote Narla village. An Army personnel and Kent, a six-year-old female Labrador of the Army's dog unit, also died while three security personnel were injured in the gunfight.
Over 600,000 Afghans came to Pakistan since Taliban takeover -
According to official Pakistani government estimates, 600,000 Afghans seeking asylum have arrived in the country since the Taliban returned to power.
Hundreds of trucks stuck as Pakistan-Afghanistan border remains closed after clashes, A Pakistani official while speaking on condition of anonymity said it was surprising the way the Afghan Taliban government was behaving,
Taliban gives a warm welcome to China's new ambassador to Afghanistan - Al Jazeera.
External Security
India unveils 90 key border projects worth Rs 3,000 cr to counter heavily-fortified Chinese military posts
India's Defence Minister, Rajnath Singh, inaugurated several key border infrastructure projects, including a strategic airbase in Eastern Ladakh and a tunnel on the Tawang axis in Arunachal Pradesh. These projects aim to enhance infrastructure in the border areas and improve the movement of troops.
The key projects include the construction of tunnels, airfields, helipads, roads, and bridges. The enhancement of the Nyoma advance landing ground, situated near the Line of Actual Control, is part of these projects. The development of border infrastructure is crucial in light of China's fortified military positions along the border.
BRO to construct world's highest fighter airfield in Ladakh's Nyoma.
Manipur: Dormant terror groups becoming active, stoking tension
The warning has come after a Lt Colonel of the army was injured last week during a standoff with a group of people, including Meira Paibis (women vigilantes), who attempted to attack tribals at Molnoi village near Pallel in Tengnoupal district but were stopped by the army and Assam Rifles.
All political parties united when it comes to national security: Defence Minister Rajnath Singh
Defence Minister Rajnath Singh emphasized the importance of civil-military fusion and the unity of political parties in safeguarding the nation. He praised the Border Roads Organisation (BRO) for completing infrastructure projects along the borders and inaugurated 90 more projects worth Rs 2,941 crore. Singh stated that the responsibility of protecting the country lies not only with the armed forces but also with civilians. He also highlighted the BRO's role in the socioeconomic development of far-flung areas and commended their dedication and hard work.
Ladakh L-G says not an inch of Indian territory occupied by Chinese
Speaking to media persons who asked him to comment on Congress leader Rahul Gandhi's statement that the Chinese have occupied large areas of Indian territory in Ladakh, Mishra said.
Union minister Lekhi lays keel for Navy's stitched ship in Goa, says it is country's intangible cultural heritage
Union Minister Meenakshi Lekhi laid the keel for a "stitched ship" in Goa, which is a representation of India's ancient maritime trade routes. The Indian Navy plans to undertake a unique voyage along these traditional trade routes using ancient navigation techniques once the ship is completed.
The Indian Air Force (IAF) refueled the Mig 29 M and Rafale fighter aircraft of the Egyptian Air Force In Exercise Bright Star-23.
The exercise has now moved to its last phase, which will involve assets from all participating forces and more complex joint missions. The IAF IL-78 air-to-air refueling aircraft also refueled aircraft from the Egyptian Air Force earlier this month.
Not far when we will be one of major defence producers: CDS General Anil Chauhan
Chief of Defence Staff (CDS) General Anil Chauhan expressed confidence that India will soon become a major defence producer in the world. He highlighted the progress made in the 'Aatmanirbharta' (self-reliance) initiative and emphasized the potential for India to become a major equipment producer.
India speeds up work on local marine gas turbine production
There is a sense of urgency to create a domestic ecosystem for such equipment given the war in Ukraine that has impacted Zorya-Mashproekt, the primary supplier of the MGTs to the Indian Navy. According to officials aware of the development, public sector undertaking Bharat Heavy Electricals Limited (BHEL) and Bharat Forge from the private sector are said to be among the companies that have been individually consulted for developing and supplying the MGT suited to the Indian Navy's needs.
India gets its first C-295 transport plane
The aircraft, capable of performing various missions, marks a milestone for the IAF, which is set to become the largest operator of the C-295. The delivery of the first aircraft, ahead of schedule, took place in Spain. Under the contract, 16 of the 56 C-295 aircraft will be manufactured in Spain, while the remaining 40 will be produced by a joint venture between Tata and Airbus in India.
Aeroflex in talks to enter aerospace sector – executive
The company is in talks with Hindustan Aeronautics Ltd (HAL), Bharat Heavy Electricals Ltd (BHEL), and the Indian Space Research Organisation (ISRO). Aeroflex aims to diversify its revenue stream and increase its total revenue by 35% in the next three to four years, with at least 5% coming from aerospace.
BAE Systems, L&T join hands to bring all-terrain vehicle to India under 'Make in India' programme
Under the agreement, L&T is the prime bidder for the Indian market, with the support of BAE Systems Hagglunds, the Swedish manufacturer of the highly successful BvS10 family of vehicles.
Countering Chinese Multi domain War
'India's delusion', says Chinese media on G20, Pakistan refers to 'Muslim brothers'
Hailed across the world as a success, India's G20 presidency and its outcomes have elicited interesting opinions from the Pakistani and the Chinese media. The Dawn admitted Pakistan was just a "spectator", while Global Times tried to dub it as a "great power dream".
World media hailed India's success in holding the G20 Summit and being able to work through the diplomatic maze to forge a consensus on Russia's war against Ukraine. But opinions from media outlets in China and Pakistan, which consider themselves India's rivals, are diverse and interesting.
From reeking of outright jealousy to trying to downplay the outcome of the G20 Summit in Delhi, newspapers like Pakistan's Dawn and China's Global Times and China Daily offer a glimpse into the mood of our two neighbours.
What Chinese Newspapers Say
China's Global Times on Tuesday carried an opinion piece 'Reality and delusion of India's 'great power dream' from the G20 New Delhi Summit'. The article by Lan Jianxue of the China Institute of International Studies says Prime Minister Narendra Modi's government regarded the G20 Summit as a "golden opportunity" to confirm India as a "global leading power". Global Times is controlled by the Communist Party of China, the ruling party of China.
"However, India's dream of being a great power is idealistic, but the reality and setbacks it encounters are cruel," the Global Times opinion says, citing how the government had to deal with the 'West vs Russia' situation. It goes on to say that India "expects too much from the G20 Summit".
It said the G20 joint declaration was "apparently a compromise arrived at by the various members" as they had differences on the Ukraine crisis. The joint declaration was adopted by 100 per cent consensus and has been an example of India's diplomatic prowess and leadership on the global stage.
Pakistan Is Just A Spectator, Says Dawn
The Dawn doesn't pretend to hide Pakistan's frustration with the economic crisis at home and India's growing influence in the world.
Other than the joint declaration, the Dawn focuses on the launch of the India-Middle East-Europe Economic Corridor(IMEC). It says "geo-economics and geopolitics are also at play", with the new corridor "taking aim at China's Belt and Road Initiative" (BRI) of which Pakistan is an important partner. "The scheme will also come in handy by connecting Israel with the Arab states," it says.
Most interestingly, the Dawn editorial admits that Pakistan has been reduced to just a spectator. "Where Pakistan is concerned, due to our internal issues, we are largely spectators rather than active players in these transnational geo-economic networks."
The Dawn editorial alleges that India has an "atrocious human rights record" but "the West, as well as our Muslim brothers, seem least concerned and are eager to do business with Delhi".
These opinion pieces are in sharp contrast to The Washington Post's 'India forges compromise among divided world powers at the G20 summit in a diplomatic win for Modi' or the UK Telegraph's 'Why India is poised to become the center of the New World Order'.
India's answer to China's Belt & Road Initiative
The G20 summit in New Delhi yielded a significant development in the form of the India-Middle East-Europe Economic Corridor (IMEC). This initiative has garnered support from India, the USA, the UAE, Saudi Arabia, France, Germany, Italy, and the European Union, who have jointly signed a memorandum of understanding (MoU) to establish the IMEC. This expansive corridor project encompasses both an eastern corridor connecting India to West Asia and a northern corridor linking West Asia to Europe. Prime Minister Narendra Modi has characterized this endeavor as a crucial means of economic integration between India, West Asia, and Europe, while US President Joe Biden has lauded it as a transformative regional investment.
The IMEC project is undeniably a response to China's ambitious Belt and Road Initiative (BRI), which President Xi Jinping launched with great fanfare a decade ago. The BRI's grand vision aims to connect China with Southeast Asia, Central Asia, the Gulf, Africa, and Europe through an extensive network of land and sea routes. However, it has faced criticism from various quarters, particularly for burdening smaller nations with unsustainable debt. Italy, a signatory to the IMEC MoU, has notably expressed intentions to withdraw from the Chinese initiative.
China has reasons to be concerned about this new intercontinental connectivity project. In a somewhat ambiguous response, Beijing has expressed its welcome for the IMEC, as long as it avoids becoming a "geopolitical tool." For India, which is enjoying the success of the G20 summit, the IMEC holds the potential to drive economic growth and enhance its geopolitical influence. This new corridor has the capacity to stimulate multilateral cooperation, particularly in the energy sector. With India and Saudi Arabia fast-tracking the implementation of the $50-billion West Coast refinery project, New Delhi is taking strategic steps to bolster its energy security amid the ongoing Russia-Ukraine conflict.
PM Modi pitches for expansion of UNSC's permanent membership
Prime Minister Narendra Modi emphasized the need for data and technology sharing as part of a human-centric approach to growth during his address at the G20 summit. He also called for the expansion of the United Nations Security Council's permanent membership. Modi suggested holding a virtual session of the G20 in November to discuss progress on proposals made at the summit. He highlighted the importance of a sustainable and stable development trajectory and expressed India's willingness to share data and technology with the world.
A seat for India at the UNSC: What Biden's backing means
During the G20 Summit, US President Joe Biden reaffirmed support for India's permanent membership in the United Nations Security Council (UNSC), aligning with India's campaign for reforming global governance structures. China, the only permanent member opposing India's entry, supports UNSC reforms but has not directly responded to India's call for expansion.
G20 declaration calls on states to uphold principles of territorial integrity, sovereignty
The G20 Summit Declaration called on states to uphold international law and prioritize peaceful resolutions to conflicts. It emphasized the need for diplomacy and dialogue, particularly in the context of the war in Ukraine. The declaration also called for refraining from the threat or use of force and stated that the use of nuclear weapons is inadmissible. The G20 leaders recognized that geopolitical and security issues can have significant consequences for the global economy.
Modi-Macron favour early finalisation of the Defence Industrial Roadmap
India and France have agreed to focus on finalizing the Defence Industrial Roadmap as part of their efforts to strengthen defense cooperation. They also aim to expand production in India for third countries in the Indo-Pacific region. The leaders emphasized the importance of collaboration in areas such as digital, science, technology, education, and culture. They also discussed progress and next steps in implementing goals for cooperation in defense, space, nuclear energy, climate change, and more.
US, Vietnam warn against 'threat or use of force' in South China Sea
"The Leaders underscored their unwavering support for the peaceful resolution of disputes in accordance with international law, without the threat or use of force," President Joe Biden and Vietnamese leader Nguyen Phu Trong said in a joint statement, calling for "unimpeded lawful commerce in the South China Sea".
Taiwan says China bolstering air power along coastline facing island
China is strengthening its air power along the Taiwan coast by deploying new fighters and drones at expanded air bases, according to Taiwan's defense ministry. China has increased its military activities near Taiwan in response to alleged collusion between Taiwan and the US and to prevent Taiwan's independence. The ministry noted that China uses realistic combat training to enhance its preparedness against Taiwan.
Australian and Indonesian forces deploy battle tanks in US-led combat drills amid Chinese concern
Thousands of soldiers from the United States, Indonesia, Australia, and other allied forces participated in combat drills on the Indonesian island of Java. The drills, aimed at showcasing armor capabilities, come at a time of increased Chinese aggression in the region. The exercises, known as the Garuda Shield drills, have been held annually between American and Indonesian soldiers since 2009.
Japan elevates Taiwan security ties in move likely to rile China
Japan has appointed a serving government official as its de facto defense attache in Taiwan, a move likely to anger China. This elevates security ties between Japan and Taiwan and demonstrates Japan's support for the island. Japan does not have formal diplomatic representation in Taiwan, but this appointment signifies a strengthening of bilateral relations.
China's arms exports face sharp decline due to defective quality, unreliable performance
China's arms exports have declined by nearly a quarter in the last decade due to poor quality and inconsistent performance. The People's Liberation Army is plagued by low-quality weapons, causing a decrease in demand for Chinese weaponry. Hidden costs and lack of technological compatibility have further impacted China's arms exports. While China supplies weapons to over 53 nations, major importers such as Pakistan, Myanmar, and African and Middle Eastern countries have faced issues with Chinese military gear.
Xi Jinping Invests in Ideological Legitimacy Amid Slowing Economic Growth
General Secretary Xi Jinping recently highlighted a political concept that illuminates the official ideology of the Chinese Communist Party (CCP) and hints at an emerging trend in his governance of the country: the "Two Integrations". The concept, which promotes Marxism and emphasizes its integration with Chinese politics and culture, suggests that Xi is increasingly embracing ideological legitimacy amid growing economic slowdown.
Ukraine War
Russia is turning to North Korea to resupply its arsenal for the war in Ukraine
Russia is seeking to replenish its ammunition supplies for the ongoing conflict in Ukraine, and it is turning to North Korea for assistance. Estimates suggest that North Korea has a significant arsenal of artillery shells and rockets that could be of great value to the Russian army.
Military analysts believe that if North Korea provides artillery rounds and other weapons to Russia for the war in Ukraine, it could help replenish Russia's dwindling stocks of ammunition but is unlikely to change the outcome of the conflict. North Korea is believed to have a large stockpile of artillery shells and rockets that would be compatible with Soviet-era weapons. However, the quality of North Korean ammunition is questionable, as there have been indications of poor quality control and storage conditions. Nevertheless, the quantity of ammunition could still be beneficial to Russia in the short term.
The War in Ukraine: Exacerbating Russia's Demographic Crisis
The invasion of Ukraine has exacerbated Russia's demographic crisis: military recruitment and a wave of emigration have aggravated the reality of the low birthrate and life expectancy. The population is shrinking and its composition has changed. Young educated men are leaving, and Ukrainian refugees, most of whom are elderly, women, or children, have arrived. Under Vladimir Putin, Russia has invested much effort to address the demographic crisis, but with little success. Now that the country is embroiled in the war in Ukraine, it seems highly unlikely that it will be able to reverse the negative trend and overcome the crisis.
--