Virag Pachpore
The ancient system that assured a balanced development of all the four faculties of humankind-body, mind, intellect and atman-finds today embroiled into uncalled for controversy. It is indeed ironical that the most effective discipline of physical, mental, intellectual and spiritual unfolding of a human being is caught in the needless and unwarranted controversy.
And look who is blamed for this? It is not the secular politicians, or religiously rabid Muslims like Owaisi or most un-Indian progressive media but it is the aggressive campaigning of yoga by the Narendra Modi government!
As the d-day for International Yoga Day is approaching the controversy is scoring high and higher pitch. The debates and discussions on television news channels and secular participants there are at their best to show to the world how Narendra Modi government has messed up this yoga day with their zeal to make it a biggest global event and to get it recognition from the Guinness Book of World Records. The media is not tired of telling us how the otherwise universal yoga was being saffronised by the zealots of BJP and lieutenants of Prime Minister Narendra Modi. And how exactly, this saffronization of yoga has prompted Muslims in India to voice their concerns and oppose it branding it as anti-Islamic.
Prime Minister Narendra Modi during his visit to UN General Assembly in September last year proposed to observe June 21 as International Yoga Day world over. In December, the UNGC adopted a resolution to this effect with the support of 170 member nations. Though everyone agrees in principle on the need to widely disseminate the benefits of yoga questions are being raised on the propriety of government initiative in propagating yoga.
Questions are being asked in media as to whether it is legitimate to mobilise tens of thousands of people on the Rajpath in Delhi for a massive yoga demonstration. Apprehensions are being voiced over the circular to government employees and educational institutions seeking their mandatory participation in this mega event of the decade.
Possibilities are also expressed that the presence of the government machinery in promotion of yoga will adversely affect its prospects of converting it into a popular movement. The government should have played a role of a facilitator to promote yoga.
Some elements are busy projecting yoga as a Hindu religious practice and thus taboo for those non-Hindus—mainly Muslims and any compulsion on them would tantamount vilification of their faith which does not permit them to bow in worship to anyone except the Allah.
The Indian Muslim community seems to be divided over the yoga issue. While the Muslim leaders like Maulana Firangi Mahali, Zafaryab Jilani, Asaduddin Owaisi et el are voicing their strong opposition to compulsory yoga branding it 'un-Islamic', as many as six Muslim organizations have supported the yoga day and assured participation in the event. The delegation of these Muslim organizations met the Ayush Minister Sripad Naik and expressed their support and solidarity to the June 21 event.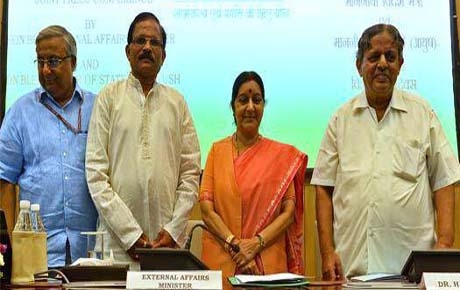 Union Minister of External Affairs Sushma Swaraj had clarified in most clear manner that yoga is aimed at human wellbeing and not a monopoly of any particular faith or religion. It is wrong to associate this system with any religious faith. Allying the fears of the Indian Muslims, she said the 47 Muslim nations - -all members of Organization of Islamic Cooperation (OIC) -- across the globe are co-sponsoring the event which shows that yoga is universal and most secular practice.
Citing the names of such countries she said that Afghanistan, Indonesia, Bangladesh and the UAE are hosting the yoga programmes in their respective countries and even Pakistan is celebrating the event. Except Yemen, all the 192 of the 193 nations of the world are participating in this mega worldwide yoga day celebration.
Swaraj also clarified that there was absolutely no compulsion for participating in the event. She even announced at the Press Conference Wednesday that the "Suryanamaskar" is not part of the yoga day event and that only some simple posture will be demonstrated by the participants.
But this clarification notwithstanding, the leaders of Indian Muslims refuse to understand the dynamics of International Yoga Day vis-a-vis India's reputation in the changed global scenario. They are even refusing to listen to the reason and wisdom expressed by Muslims of India and other countries.
Shamshad Haider, yga Guru of Pakistan had said on record that Pakistan traced back its heritage to the days of Patanjali the great exponent of yoga who was born in Multan. "You Hindus have adopted the yoga from us, therefore, we have the first right over yoga", he said.
Dr Badrul Islam, member of NCERT editorial board and a yogaq practitioner for the past 35 years also said "these objections are based on a misunderstanding of what yoga is". He is instructor of yoga with Kendriya Vidyalaya Sangathan and runs a training centre in Jamia Nagar in Delhi.
"Yoga is a clean thing, it helps you to connect wit yourself, keeps you alert, smart and fit. As for suryanamaskar, Islam enjoins you not to bow in front of anyone but Allah, so don't turn to the sun when doing it".
President of the Nawa-e-Haque, awelfare organization working amongst Muslims, Asad Gazi too expressed similar opinion. "Politicians are trying to give yoga a Hindu colour. It is a means of keeping fit and only a fit nation can be a healthy and strong nation", he added. Gazi even wrote to the HRD ministry for appointment of yoga teachers in schools.
But the leaders of AIMPLB have not budged an inch from their stated position on this issue. The AIMPLB has issued a fatwa against suryanamaskar and appealed to the Muslims to stay away from the International Yoga Day celebrations. Asaduddin Owaisi of All India MIM as expected spewed venom against this move and Maulana Firangi Mahali too joined the score.
Bodies like AIMPLB have no locus standi among the Muslim. Hasan Saroor writes in Firstpost the "grandees (of AIMPLB) who took the decision represent nobody but themselves". Many Muslims in India have been happily doing yoga for their health including suryanamaskars.
Shahani Fatima in Newslaundry pointed to many similarities between yoga and the basic Muslim prayer of salah which also activates the chakras. She reasons that blindly following the postures di not constitute salah, doing yoga asanas for better health do not make it an underground passage to Hinduism.
That yoga has a Hindu or more precisely Vedic or Sanatana origin is beyond any doubt. It is the age-old system and the first record of its existence we get in the Bhagwadgeeta told to Arjuna by Lord Shrikrishna on the battlefield of Kurukshetra some 5000-odd years ago. There was no Islam and Christianity then, nor were there any other religions of the present. So, doubtlessly, yoga is Hindu system.
Asanas and suryanmaskars are not the entire yoga in themselves. They are part of eight-fold yoga system which also includes disciplines for body, mind, intellect and spirit. It is for the beginners that asanas and suryanamaskars are prescribed to tone their body and mind so that they can move up the ladder to a higher level. There is no religious rituals that precede asanas or suryanamaskars.
The Muslims leaders who are opposing this as a Hindu system and see it as imposition on Muslim community must see through the reason and follow their Muslim brethrens in other nations who are supporting and preparing for this mega global event. Indian Muslims are firmly rooted to Indian ethos and cultural values, share same ancestors, same motherland and same culture with Hindus and therefore, are more eligible to accept the yoga culture as compared to their compatriots in other Muslim countries.
There is a welcome move. A delegation of six Muslim organizations met the Ayush Minister Sripad Naik on Thursday and assured their support. Abbas Ali Bohra and Maulana Suhaib Qasmi and other members of the delegation told the Minister that they represented Indian Muslims and extended their support to the yoga day celebrations.
The delegation clearly maintained that yoga does not belong to any particular religion, but pointed that a number of yogic postures are also associated with naamz the daily Muslim prayer. They thanked the Prime Minister for caring for the wellbeing of the entire humanity by proposing to observe International Yoga Day at the United Nations platform.
Will those who still oppose the event mend their ways and fall in line with the rest of the world?