Virag Pachpore
One of my friends shared these following lines on facebook. They most appropriately describe the two events the country had witnessed barely 24 hours ago.
Today is a significant day.
Two souls will be buried.
Both were involved with missiles.
One made us raise our heads in pride and the other hangs his head in shame.
One had a vision and the other was on a misplaced mission.
Scores of people are lining to pay tributes to one man and scores of people want another man to hang.
One was the President and the other's last hope was the President.
Strange are the ways of life.
The country is debating two deaths occurred at an interval of a couple of days. The entire nation is affected by these two incidents and debating them from various angles.
The first incident is related to passing away of former President Dr APJ Abdul Kalam, fondly known as India's Missile Man. And the other one is execution of death sentence by hanging to a terrorist Yakub Memon. Kalam breathed his last in harness in Shillong while delivering a lecture to the students of IIM on Monday evening.
Yakub Memon was hanged till death at Nagpur Jail on Thursday morning. Kalam's mortal remains were laid to rest at his ancestral village near Rameswaram in Tamil Nadu. Yakub Memon's body was flown to Mumbai for last rites the same day under heavy security bandobast.
But for the element of death and religion, there is nothing common in both the incidents, nothing that can be compared or evaluate both personalities. Yet, I am constrained to write this. Constrained because a section of so-called secular politicians, self-styled intellectuals, leftists and their friends in the media started painting Yakub Memon as being discriminated because of his being a Muslims. "They (Government) have a different law for Muslims", one comment read. "He is being hanged because he did not have political support" another leader blurted. These comments went on inviting rage and anger of the nationalist Indians.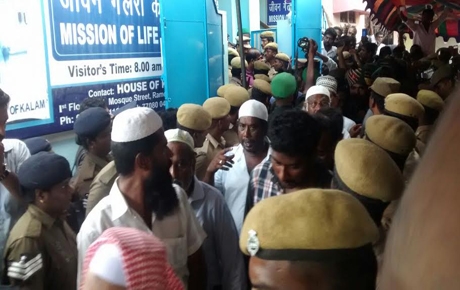 Long queues were witnessed where people bee lined to pay their last respects to the "People's President" braving the hot sun at Rameswaram. Dr Kalam was also a Muslim but each Indian found himself engrossed deep in sorrow as if he lost a very senior member of his own family in Kalam's demise. At the same time with the confirmation of Yakub's sentence every nationalist Indian felt happy.
Dr Abdul Kalam represented that class of Indian Muslims who defied all efforts to colour them in fundamentalist Islamic hues representing what noted author Anwar Sheikh had described the "extended Arab Nationalism".
We have Muslims in India whose ancestors were converted to that religion at some point of time in the history owing to various factors, but who still cherish sharing their Indian cultural past and traditions. These Muslims do not hesitate to visit a temple, play Holi with their Hindu friends and enjoy the festival of Diwali as the Hindus share with them the sweetmeats of Id.
The same Indian Muslims time and again thwarted the efforts of these fundamentalists Islamic schools like Deoband to convert him to fundamentalist Islam. Those whose hearts bleed for invaders like Babur should see at these Indian Muslims who wept for Dr APJ Abdul Kalam – a true Muslim and a nationalist to the core.
On the other hand there is this case of Yakub Memon, a dreaded terrorist and conspirer in 1993 Mumbai Bomb Blast case. Over 260 innocent people lost their lives, thousand others were maimed in those blasts. Yakub Memon was convicted by the court of this country after passing through each and every legal step and finally he was hanged Thursday till death.
In Yakub's case utmost care was taken from the sessions court to High Court to Supreme Court to mercy petition to the President and review petition and curative petition and even midnight oil burning by the Supreme Court. But some people, media men and political leaders are raising a hue and cry over Yakub's hanging.
Remember, Yakub was not sentenced to death by some ISIS or Taliban executioner, but by an independent judiciary of India that grants such capital punishment in the 'rarest of rare' cases. These people tried to paint Yakub's hanging in religious colour. Their argument was when the killers of former Indian Prime Minister Rajiv Gandhi could be pardoned then why not Yakub? Was he hanged because he was a Muslim? Let us examine their argument.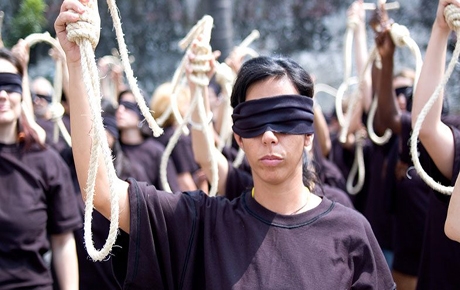 The Amnesty International has gone a step ahead calling Yakub's execution "cruel and inhuman'. "The rejection of Yakub Memon's curative petition in the Supreme Court today, paving the way for his imminent execution, is a disappointing and regressive step towards the continued use of the death penalty in India", said Amnesty International India.
The Mumbai Bomb Blast that killed over 260 innocent people and maimed 1400, was an act of war against the state by any standard. An attack on any political leader or MP was an attack on an individual and would be tried accordingly.
During Khalistan insurgency sponsored by Pakistan, many leaders and common people were killed and the perpetrators were tried for charges of killing and murders. But Yakub's crime was treason and thus needed special treatment though the number of killed was less than those who died in Punjab violence during Khalistan insurgency.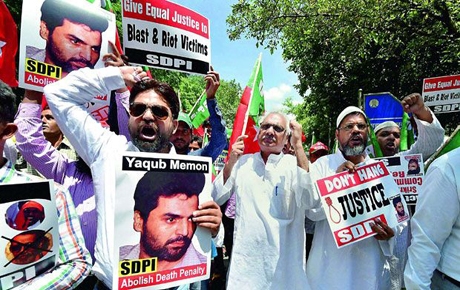 Mumbai blasts were minutely, meticulously planned cold-blooded conspiracy against the state. The conspirators took the help and assistance of the enemy state, sent people for training on forged passports, smuggled arms and Yakub even made bombs in his house, distributed them to various locations and tried to cause serious damage to India. He was not only a criminal but a traitor whose crime and acts of treason are proved in the court of law beyond refutation.
Yakub himself accepted in the court the involvement of Pakistani agencies, his brother Tiger Memon, Dowd Ibrahim and others in these acts of violence and war against state. Even if we accept that he turned to be approver to get relief, the intensity of his crime cannot be undermined.
Suppose tomorrow Dowd Ibrahim offers himself to be an approver and surrenders to Indian Government, but gets a capital punishment for his crimes, would these leaders, the secularists, media men including Abu Azmi, Sachin Pilot, Shakil Ahmad, MIM's Akbaruddin and Asadduddin Owaisi, Prakash Karat and Vrinda Karat, Arvind Kejriwal of AAP, Prashant Bhushan and those who are hungry of Muslim votes, stand for him?
Are those political leaders, save BJP, ready to stoop to such abysmal low to get Muslim votes? Are they not worried over the possible loss of majority votes? Don't they realize that the majority voters of India can reject them once and for all? Is it the responsibility only of the BJP to save and protect India? Don't these leaders and their parties have a duty towards the nation? 'We the people' will be required to look for answers to these questions.
There is one more aspect of this episode. According to Islamic terrorists, those who sacrifice their lives for jihad, go directly to heaven. They need not wait till the Qayamat (end). There they get all sorts of comforts, beautiful palatial houses, tasty wines, 72 Hurs (Heavenly damsels), and many more. Now, the question is when the time to get all these facilities has neared, then why the appeals to condone death sentence were made at all levels? Have they lost faith in the Holy book that vouches all these heavenly comforts to a slain jihadi? Where are those Deobandis now who are not tired of issuing fatwas on every trivial matter? Why they are silent?