Dhaka, October 04:
The Dhaka based Research and Empowerment Organization which is working for Hindu Rohingyas has appealed the global audience and human rights organisations to donate for the refugee Hindu Rohingya families mostly women and children whose husbands and fathers have been slaughtered by the Muslim Rohingya goons.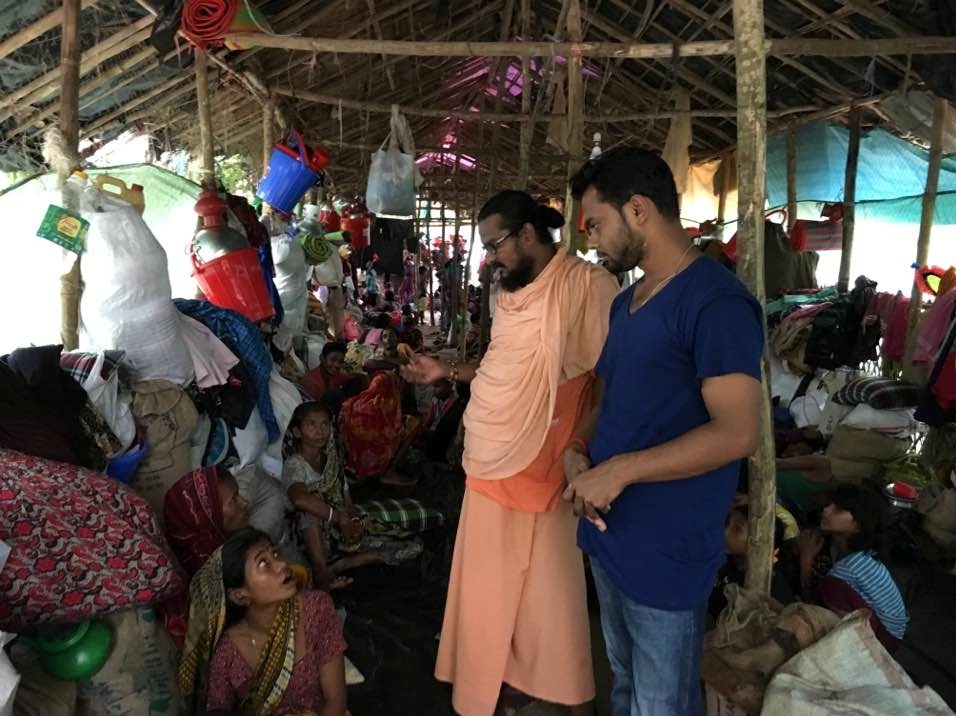 Research and Empowerment Organization is working for Hindu Rohingya. REO is giving food and medical facilities for them. However, REO is working with local people, where they stayed three days with 4 doctors and 19 volunteers to serve the Hindu Rohingya. REO and local people served 1000 people per day for medical facilities and feeding including Muslims Rohingya. Marginalized Hindu Rohingyas are deprived in every aspect in Bangladesh. Even they are not getting relief from government side due to Hindu, this is religious discrimination is going on.
REO Chairperson and esteemed Rights activists Prof Chandan Sarkar says, "We're Distributing Food and Medical Facilities. We're distributing commodity kits, ensuring families have the necessary shelter supplies, hygiene essentials and kitchen kits to keep them safe. We're deploying an advance team from our Emergency Health Unit who will be assessing the public health needs of families caught up in the emergency."
Sarkar told NewsBharati that, the Muslim Rohingyas who actually have bullied and massacred the Hindu Rohingya males and now pressurising Hindu women to convert and marry them, are enjoying global attention, sympathy, support and rehabilitation in every possible way; but the Hindu Rohingyas have become a neglected entity by the global Human Rights bodies and the Hindu organisations too. The situation of Hindu Rohingyas is worsening and now for the REO and local supporters, it's becoming unmanageable to handle the daily expenses to feed and sustain a livelihood for the Hindu families.
The Prof Chandan Kumar Sarkar has started "DONATE TO SEE HINDU ROHINGYAS ALIVE" campaign and appealed the global Human Rights NGOs, Hindu organisations and individuals to donate generously to see the "Hindu Rohingyas Alive" citing the barbaric attacks on them and the campaign of Muslim Rohingyas to 'Surrender and convert to Islam' against Hindu families.
Here are the details for donations:
Bank Name: PREMIER BANK LTD
Name of the Account: Research and Empowerment Organization
Current A/C No: 148-11100000449
Bank Swift Code: PRMRBDDT
Branch Name: Ashkona Branch, Hazi Kamor Uddin Tower (1st floor)
27, Ashkona, Dakkhin Khan, Uttara, Dhaka-1230
The disturbing situation of Hindu Rohingyas: REO tells the tale
There are 532 Rohingya Hindus maximum are female and children, their family men members had been slaughtered. They took shelter in the chicken farm at near Kutupalong Rohingya Camp at Ukhiya, Cox's Bazaar in Bangladesh. A local Hindu man Jogodish Saha gave shelter to the Hindu Rohingya in his Poultry farm.
The government allocated 2000 acres land to the Rohingya people but Hindus are excluded. Even, few local newspapers had published that local MP and local leaders told Hindu Rohingya left to India because India is for Hindus.
Rohingya lives have been turned upside down but do you know regards on Hindu Rohingya those who have no one to see their tears. Research and Empowerment Organization is working for them for feeding and giving facilities for surviving. No one is willing to come to save them; even from Bangladesh, 9 Hindu Rohingya had been kidnapped.
Health concerns are rapidly rising as monsoon rains increase risk of disease
The Health concerns are rapidly rising as monsoon rains increase the risk of disease. Poor access to clean drinking water and basic health services, in addition to the monsoon rains, means that there is an increased risk of water-borne diseases such as cholera.
Such an outbreak could spread rapidly through crowded Chicken Farm where Hindu Rohingya sheltered and informal settlements. We need to scale up basic health services, access to clean water and basic hygiene items.
Dismal condition
"They shot my husband and laws including everyone in front of eyes. The Mask covered people killed and telling marry us and convert to Islam, I agreed to save my life. They took me into the jungle for 2 days. After this covered man brings me to Bangladesh said, Anika Dhar.
Anika Dhar a resident of Chikarjuri, Hindu area in Fakirbazaar, Myanmar- said "I lost my husband; the Black mask covered people slaughtered my husband in front of me. 24 days have gone but I didn't do anything for the ritual funeral for my husband even I am pregnant for six months who will give me shelter as well my children"- She is crying.
Promila Shil told to us "I lost everyone in my family. The Muslim goons slaughtered my laws, brothers-in-laws including 6 members of my family. Somehow I managed myself with my son and fled to Bangladesh".(Promila Shil – Right side)
The children and young girls are affected much. Orphaned Kishore Kumar, Tarpan Shil, Palash Shil are rescued two days back from different camps at Kutupalong. The young Hindu girls also rescued from Muslim camps with the help of local Hindu people.
However, 9 Hindu girls have been raped in Bangladesh by the Muslims even army men do not behave well of the Hindus Rohingya. Even few Islamic groups are working and trying to convert Hindu Rohingya to Islam.
However, Islamic few People visited with relief to Hindu Rohingya people but while they are giving to relief to the Hindu Rohingya, they are inviting them to convert to Islam.
A local Jogodish Saha gave their own farmhouse to stay, even they are feeding to the Hindu Rohingya but they are not able to do for long-term. They are arguing to Research and Empowerment Organization-REO to do help for feeding and long-term solution for Hindu Rohingya. There are 532 people, even two times meals also very expensive. REO argues to the world people please raise the voice as well as please raise your hands to do something for these Hindu Rohingya people not only for the short but also for the long-term solution, unless very soon these people may be converted to the Islam or will die soon.