Mumbai, December 31: Kamala Mills tragedy that took death toll to over 15 has outraged many Mumbaikars as the restaurant 1 Above was illegally functioning for so long. Brihanmumbai Municipal Corporation in a biggest crackdown swung into action by sealing and demolishing restaurants and bars flouting safety regulations across the city.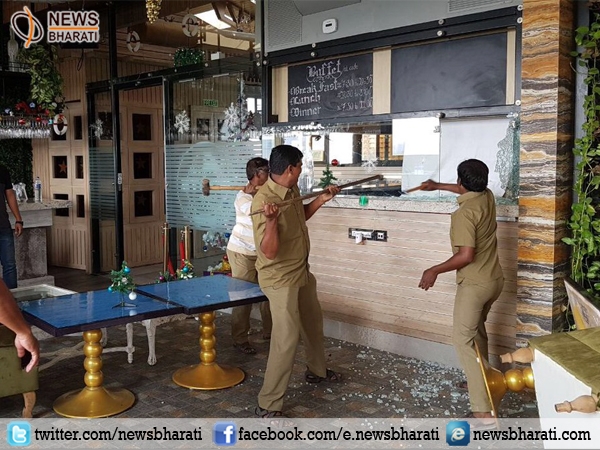 A fire in a restaurant called 1Above on the rooftop of a building in Kamala Mills Complex in central Mumbai's Lower Parel locality had left at least 15 people dead and more than 50 injured on Thursday night. The restaurant, it was subsequently found, did not have a fire exit and possibly even requisite fire-fighting equipment. Some patrons took the staircase to escape while many used the elevator even though this was dangerous. All the 14 people who died had taken refuge in toilets and suffocated to death.
"The unauthorised hotels and restaurants, not only in central Mumbai, but also those located in the distant suburbs, such as Malad and Mulund, are facing action," BMC spokesperson Ram Dotonde said.
"There are 24 wards in Mumbai and each has three teams personally inspecting all the restaurants, pubs, food joints and eateries. Each team has 10 members, including officials from the health and administration departments and inspectors," he said.
The civic administration has asked its entire staff to remain on duty. Leave and weekly offs of the staff of several departments, including the anti-encroachment department, have been cancelled and they have been given a detailed list of restaurants and pubs, where violations were found during the preliminary inspection, the official added.
"The number of eateries and restaurants, where the unauthorised structures have been removed so far, must be more than 100. The action will continue till we remove all such structures," he added.
On Saturday morning, the corporation officials launched an "inspection drive" across the 24 wards of the city to identify, and act against, restaurants and bars violating any provisions of the Mumbai Municipal Corporation Act. In all, 624 establishments were inspected. As many as 314 of them were partially or completely demolished for constructing structures without permission or encroaching on state land. Seven restaurants were sealed.
The BMC's demolition machinery also reached popular restaurants, including Mini Punjab Hotel at Powai, TAP on Andheri Link Road, Kobe and Crystal Point in Andheri, Woodland Hotel Terrace pub at Juhu, Supreme Spice restaurant at Goregaon, Take It Easy at Andheri west, Neelyog Mall and R City Mall at Ghatkopar. The machinery also reached S Bar at Mulund, Heera Panna Mall, Opa Rooftop Bar in Penninsula Grand Hotel near Sakinaka, Sway Hotel in Atria mall in Worli, Peninsula Hotel open terrace on Andheri-Kurla Road, Hotel Shalimar on Grant Road and Zaffran restaurant on D N road in Fort.