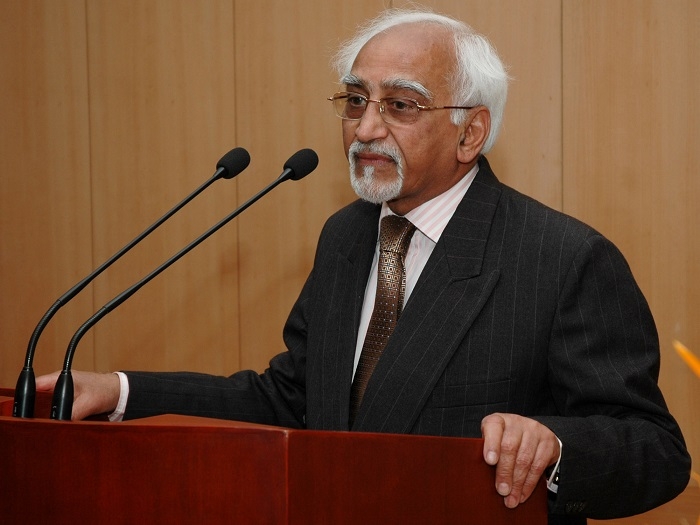 Vice President Hamid Ansari does it again. He did it in 2015 and now repeated that in 2017. He raised the near non-existent issue of insecurity of Muslims in India. In 2015 September, speaking at the Golden Jubilee function of All India Majlis-e-Mushawarat, Ansari had echoed similar feelings as he did on his penultimate day in the office. He had "underline his concerns and stress the need for positive action to ameliorate the overall condition of the Indian Muslim community "trapped in vicious circle".
In his last interview to Rajya Sabha TV before retiring from the top constitutional post Hamid Ansari vented out his concerns and sentiments about the Muslims in India saying that they feel most insecure in the country as they are experiencing a sense of unease.
"A sense of insecurity is creeping in", he said adding, as a result of the dominant mood created by some and the resultant intolerance and vigilantism. Ansari also said he shared the view of many that intolerance was growing. In hard-hitting remarks during the interview he ascribed the spate of vigilante violence, mob lynching, beef ban and "Ghar Wapsi" campaigns to a "breakdown of Indian values" and to the "breakdown of the ability of the authorities" to enforce the law. "…and overall, the very fact that (the) Indianness of any citizen (is) being questioned is a disturbing thought," Ansari said.
His remarks evoked nationwide reactions. It invited a good amount of criticism on the social media. The BJP leaders criticized him and the secular and multi-communal politicians of various hues supporting and welcoming him for his 'bold observations', as expected.
But to his dismay Ansari got a very befitting rebuttal from none other than Prime Minister Narendra Modi who without losing his clam politely reminded him that he might have some desperation, but he henceforth would experience the freedom to express his thoughts and enjoy the independence to work according to his fundamental beliefs.
Modi said in a speech made in the honour of the outgoing Vice –President: "It is possible that there was some restlessness within you as well but from today onwards you will have enjoyed the joy of being liberated and the opportunity to work, think and speak according to your core beliefs" (…कुछ छटपटाहट रही होगी भीतर आपके अंदर भी…लेकिन आज के बाद शायद वो संकट भी नहीं रहेगा…मुक्ति का आनंद भी रहेगा..आपकी मूलभूत जो सोच रही होगी उसके अनुसार कार्य करने का, सोचने का, मार्ग बताने का अवसर भी मिलेगा..")
Prime Minister's remarks must have come as a surprise shock for Ansari and his fellow travelers in the secular bandwagon.
A couple of days ago, he had targeted the concept of 'culture and cultural nationalism' saying that such concepts are not applicable to a vast and diverse country like India. "Cultural nationalism promotes intolerance, arrogant patriotism", Ansari had said addressing a function at National Law School at Bengaluru on August 5.
Read More: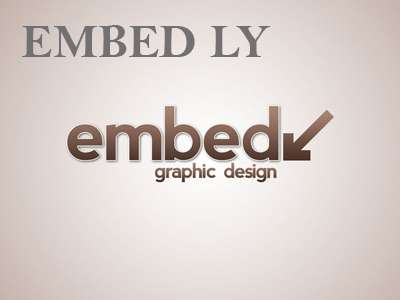 I would like to ask with all humility to Hamid Ansari that if Muslims in India feel insecure and unsafe and harbor a feeling unease then which are countries in the world are they safe and secure and at ease? Are they safe in Afghanistan, Pakistan, Iran, Iraq, Syria or countries of the Middle East? Or any other Islamic country?
In these countries the Muslims are killing their fellow brothers and sisters and even children in millions, or driving them out of their lands forcing them to seek refuge in some European countries. The Sunnis in Saudi Arabia are killing Shia Muslims and in Yemen both Shia and Sunni Muslims are targeting each other. So do they feel safe and secure there?
Those Muslims who became refugees and entered in Europe or Australia are not secure because of their own activities. Their extreme negative and hateful approach towards the 'Kafirs' has made them feel more insecure in these countries. Is Ansari unaware of this ground reality?
In our own country what is happening in Bengal? Hindus in that border state are subjected to most inhuman crimes and atrocities under the very nose of the state police and administration and no one is there to help them? Are they not insecure, Mr Ansari? Don't you feel any sympathy for those hapless human beings who are given the equal status and rights as citizens of India? Because they are not Muslims?
Have you ever raised voice over the intolerant attitude of your co-travelers the Communists in Kerala? Have you ever voiced your concerns over the barbaric and brutal killings of innocent RSS-BJP-Congress workers at the hands of these intolerant Communists there? No, because they were not Muslims and therefore did not bother you.
Mr Ansari, have you ever objected to poisonous speeches and utterances of MIM leader Asaduddin Owaisi and his brother Akbaruddin who openly threatened the Hindus of this land? No, you did not because again both belonged to your religion.
This type of partisan attitude was not expected of a person like you who held such a top Constitutional office for so many years. But then what Prime Minister Modi had said holds true in your respect also.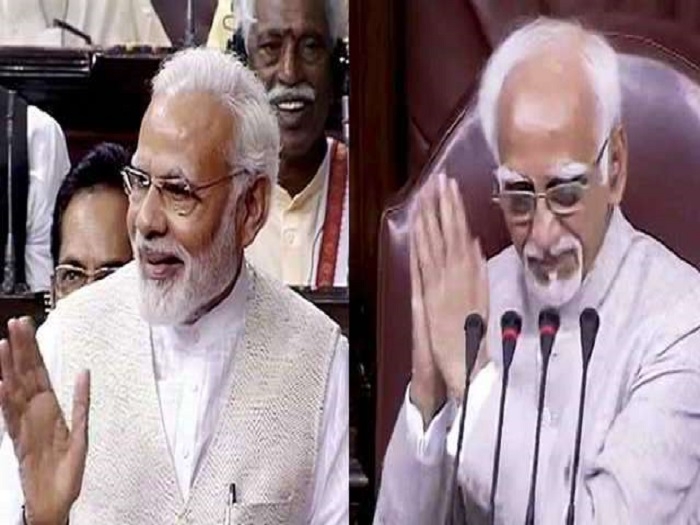 The PM said to Ansari: "You were associated with West Asia for majority part of your career as a diplomat. You spent many years of your life in that circle, in that atmosphere, in that thought, its debate and amid such people. For a major part after your retirement, whether it was in Minority Commission or Aligarh Muslim University (AMU) you remained in that circle. But for 10 years you got a different responsibility. Every moment you had to remain confined to the Constuitution…."
Now that he is free of this responsibility Hamid Assari has come out in his original communal colors forgetting his responsibility and commitment to the Indian society.
His successor Venkaiah Naidu has rightly rejected Ansari's observations as "political propaganda". Compared to the entire world Muslims are safer and secure in India and they get their due", Naidu said. He said that Indian society is the most tolerant in the world becaise of its people and civilisation. Democracy succeeded in India because of this tolerance, he added warning Ansari agasint singling out any community. "If you single our any community then the other communities will take it otherwise. That is why we say all are equal. Appeasement for none and justice for all is our beleif".
In isolating the Muslim community Ansari has erred in committing exclusivism. He excluded other minority communities like Christians, Parsis, Jews, Sikhs and Jains who seldom complained of any type of unease or insecurity or intolerance towards them. Why in our country only Muslims are considered as Minorities when they constitute over 14 per cent of the total population?
In fact, most of the Muslims in India are original Hindus converted to Islam during the course of history of last 1000-1200 years. Their large presence makes this country the second largest country in the world with Muslim population.
Muslims in India should not forget that this is the Hindu country and that they are the descentants of their Hindu ancestors. They share the ancestors, culture and motherland with the Hindus with only difference being their way of worship. They can at best be called as Islamic Hindus.
Indonesia is the best example of this cultural affiliation. It has the majorityof Muslims but there the Hindus do not feel threatened or insecure. On the contrary the Muslims in Indonesia take pride in associating them with their Hindus heritage and ancestors. If they can why can't the Indian Muslims?
The answer is simple. So long as we have leaders like Hamid Ansari who are secular outwardly but diehard communalist to their core there will be no peace and communal harmony in this country. The only remedy to this social ill is rejecting and discarding such leaders 'lock, stock and barrel'. The million dollar question is: "Can and will the Muslims in India do this?"