New Delhi, September 21: Indian art consists of a variety of art forms. Like plastic art, textile art, visual arts, rock arts and many others which can be traced to the pre-historic era of Indian culture. With presence of vibrant art and cultural roots in India, Culture Minister Dr Mahesh Sharma launches a book that describes the eternal Indian art and famous sculptures and paintings.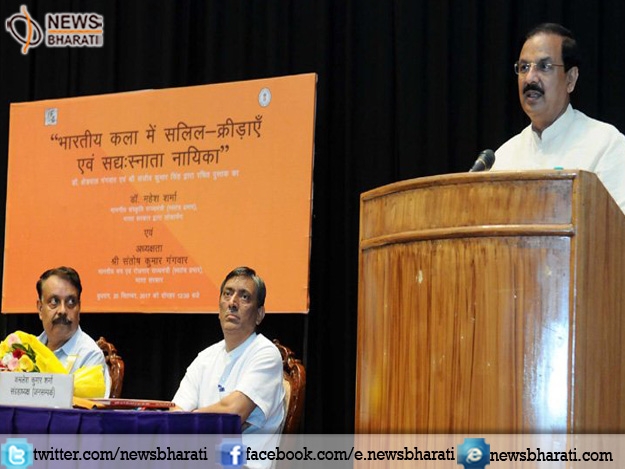 Dr Mahesh Sharma released the book entitled "Bhartiya Kala Mein Salil Kridayen Evam Sadyahsnata Nayika" authored by Dr. Kshetrapal Gangwar and Sanjib Kumar Singh at a function in National Museum yesterday. The art book is based on original research, written in Hindi and published by National Museum after few decades.
Speaking on the occasion, Sharma said that our artists, authors, sculptors and literary persons are the true messengers of our great culture. He congratulated both the authors for bringing out such a valuable book for the masses and especially for the research scholars. He said, "India's culture and heritage is her identity to the world. And authors from centuries have been capturing various art and culture in their work. Such books give a chance to the future generation to know about our country's rich history. I congratulate both the authors for bringing out such a valuable book for the masses, especially for research scholars."
The book is writtento highlight the Indian Art and describes the Water Sports (Salil Kridayen). This form of art has been the part of Indian Art from time immemorial. The literary sources and archaeological evidence proves that it was a dear subject for the artist and literary persons in India. Almost all the famous school of arts in India bears such kind of sculptures and paintings. From a very long time such a book was needed by the readers to go through the history of Indian art, and thankfully it was launched yesterday.