The NRC update is definitively the most important event of this decade that can spark a major socio-political change in Assam.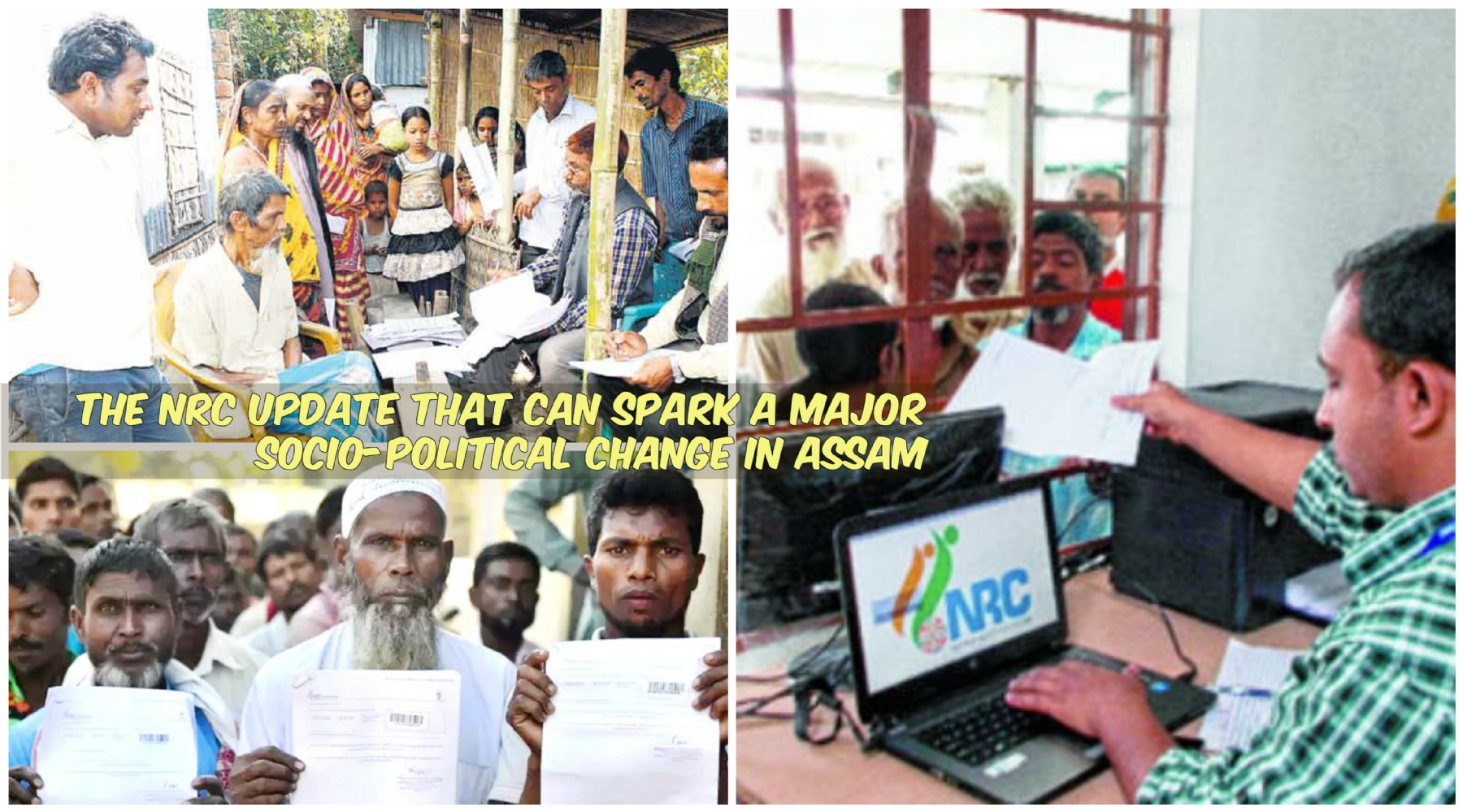 Backdrop
The bedrock for a series of events, from Assam Agitation to today's updating of the NRC all started in the year 1978. The then Member of Parliament from Mangaldoi Lok Sabha constituency late Hiralal Patowary expired all of a sudden, resulting in a by-election.
An unnatural increase in the number of voters was detected by the authorities while preparing the voters' list. This started a six-year-long agitation across Assam (1979-1985) known as the Assam Agitation, which ended with the signing of an Accord famously known as the Assam Accord on 15th August 1985.
NOTE: The entire process of updating the NRC lagged throughout three decades of ups and downs from 1979 with the start of Assam Agitation until publishing of the first part draft NRC on 31st December 2017, which included 1.9 million people of the state The entire journey, up to publishing of the part draft can be divided and understood through various developments throughout the years that have been jolted down in the following paragraph.
Trail of Events (NRC):
In 1951 the first NRC in Assam was prepared on the basis of the census.
18th January 1980, All Assam students Union or AASU raised the demand for updating the 1951 NRC.
2nd February 1980, AASU submitted a memorandum to Indira Gandhi for updating the 1951 NRC.
The signing of the Assam Accord on 15th August 1985.
The inclusion of section 6A, in the citizenship act of 1955. Making base year for detection and deletion of illegal foreigners from Assam to 25th March 1971.
In a tripartite talk held in 1990 modalities for upgrading the NRC was taken up by the Centre.
In a tripartite talk held in 1999, a decision was taken to preserve the 1951 NRC. It was addressed as a milestone by then AASU leadership.
On 5th May 2005, in a tripartite talk was held. A decision was taken to update the NRC on the basis of Assam Accord.
Assam public works filed a writ petition (civil) on the voter list which was later changed to updating the NRC. WP 274 of 2009.
On March 17, 2010, The Assam Assembly passed a voice vote resolution urging the Centre to update the NRC of 1951 by taking 1971 electoral rolls as the basis in accordance with the decision arrived at the tripartite meeting held in the presence of Prime Minister dated May 5, 2005.
The Register General of India notified a pilot project for updating the NRC on 1st June 2010. Pilot projects were launched in Barpeta Revenue Circle and Chaygaon Revenue Circle of Kamrup district.
July 21st, 2010, the pilot projects were temporarily suspended following protests that turned violent in Barpeta with the death of five people and another fifty being injured.
On 16th July 2012, the Assam Cabinet sub-committee on NRC moved the RGI to issue fresh notification for updating the NRC of 1951
On 18th August 2013, intervention petition filed by All Assam Students Union on the writ petition filed by Assam Public works case number 274 of 2009.
On 31st December 2013, the government of India releases an amount of 25 crores to the government of Assam for NRC updating process.
28th January 2014, Shri Prateek Hazel selected as director of census operations and representative of the Register General of India in Assam. In an affidavit submitted by Mr. Hazela a period of three years was sought for completion of updating the NRC. An amount of Rs 288 crore was agreed upon mutually by GOI and GOA for updating the NRC.
4th August 2014, the Supreme Court seeks progress report from GOI and GOA
13th May 2015, the Supreme Court appoints a single man commission to talk of border fencing between the INDO-BANGLADESH border, border roads, floodlights, patrolling etc. Supreme Court appoints Upamanyu Hazarika as the Commissioner. Also directs to submit the report on or before 10th August 2015.
On 5th November, the Supreme Court directs GOI and GOA to constitute a committee with Chief Secretary of Assam and Secretary of Border Management, MHA of GOI For better coordination.
7th February 2017, NRC coordinator seeks additional fund of Rs 159 crore for completing the process.
13th July 2017, NRC coordinator submits affidavit citing the dates for publishing the part draft on 31st December 2017 and complete updated NRC by 31st March 2018.
Major challenges:
With the signing of the Assam Accord, Section 6A was introduced to the Citizenship Act of 1955 where cut- off date for determining a foreigner was set to the midnight of 25th March 1971. While the cut-off date for determining foreigners for rest of India was 19th July 1948. The Assam Accord agreed to this clause granting citizenship until 25th March 1971.During various tripartite talks held after 1985, it was agreed by all the parties to update the NRC of 1951 with 25th March 1971 as the base date.
Assam Sanmilita Mahasangha a little know organization of that time filed a writ petition civil case number 562 of 2012 and later another organization namely All Assam Ahom Association filed a writ petition vide civil case number 876 of 2014 challenging this clause and citing "there is no rational basis for having separate cut-off dates for regularizing illegal migrants who entered Assam as opposed to rest of India", these petitions created atmospheres of uncertainty and confusion among the masses. Many other organizations filled intervention petitions pointing to the probability of generating conflicts in the state.
Law and order a major concern as around 3.28 crore people submitted their applications. Many areas were identified as sensitive and few fringe elements propagated false propaganda to incite communal riots. It is noteworthy that Cachar district saw a spur in cases of dacoity and loot of essential documents required for NRC. Two persons namely Mahibul Haque and Abdul Aziz were nabbed by Cachar district police in a complaint registered by one Alim Uddin on September 13th, 2017.Around 45,000 security personals were deployed across Assam as law and order measures before the publishing of the Draft.
Another Significant challenge that discouraged detection and deportation of illegal migrants Was THE IMDT ACT (illegal migration determination by tribunals act) which was enacted on 12th December of 1983 by an act in the Parliament. The IMDT act was applicable only to the state of Assam; here the onus was on laid on the complainant rather than the accused to prove the latter's citizenship status. This clause was termed a killer clause by many as the accused had to do nothing to prove his nationality. This significantly discouraged detection of illegal foreigners, therefore, failed to be effective in detecting and deport illegal foreigners. In a writ petition filed by Sarbananda Sonowal Vs the Union of India, a three-judge bench of the Supreme Court comprising Justice P.K Balasubramanium, R.C Lahoty and Justice G.P Mathur citing a ruling that The IMDT act was the Biggest Hurdle and is the main implemented barrier in detection and deportation of illegal Foreigners and hence scrapped it on 12th July 2005. Until 30th April 2000 out of 3, 10,759 registered cases only 1481 were physically expelled.It is also noteworthy that whereas around 12 Lakh Bangladeshis had entered India legally with visas but they have managed to subsequently vanish without a trace.
Illegal Migrations:
29700 Number of illegal migrants deported between 1985 and October 2016; the highest (3228) in 1998, according to figures tabled in the Assembly in February 2017.
33 deportations between April 1, 2016, and March 31, 2017. Assam Parliamentary Affairs Minister Chandra Mohan Patowary told the Assembly last week.
55000 Persons declared foreigners between 1985 and July 2012; 61000 names marked 'D" (doubtful) in the electoral rolls, according to a White Paper published by the previous Congress government of Tarun Gogoi in October 2012.
20 million illegal Bangladeshi migrants straying in India, according to the statement by Union MoS (Home) Kiren Rijiju in Rajya Sabha last November.
1.20 crore Illegal Bangladeshi migrants staying in India according to Sriprakash Jaiswal, former MoS (Home); he said 50 lakh of these migrants were staying in Assam.