December 17, Bhubaneswar: Kalinga Stadium in Bhubaneswar on Sunday witnessed a historic win by Belgium against Netherlands at The final match of Men's Hockey World Cup. Belgium, Olympic silver medallists, defeated three times champions Netherlands 3-2 via a penalty shoot-out after the final match of the game's showpiece event ended in a goalless draw.
It was a great day for Belgium hockey as the country registered its second biggest international title after the Olympics silver in Rio in 2016. Belgium became the sixth nation to win the Men's Hockey World Cup. In the last edition of the World Cup at The Hague in Netherlands, Belgium had finished fifth.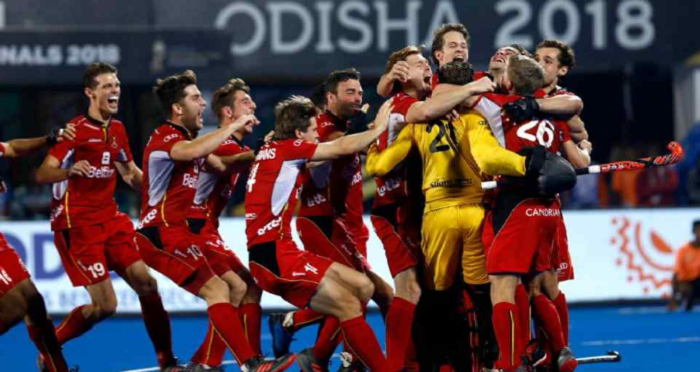 Both the teams failed to score in regulation time. This goal-less regulation period was the first in the history of World Cup finals. Incidentally, it was the Netherlands' second consecutive match that went to shoot-out in the tournament after their victory over Australia in the semi-finals on Saturday. In Sunday's shoot-out though, Belgium goalkeeper Vincent Vanasch outmatched his Dutch counterpart Pirmin Blaak by making four saves to hand his side their maiden World Cup title. Florent Van Aubel also increased the spirits of the team by striking twice in the shootout.
The title clash was witnessed by cricket legend Sachin Tendulkar and Odisha Chief Minister Naveen Patnaik, turned out to be a fierce contest between the two European sides.
Earlier in the day, Australia claimed the bronze medal by defeating England by 8-1.