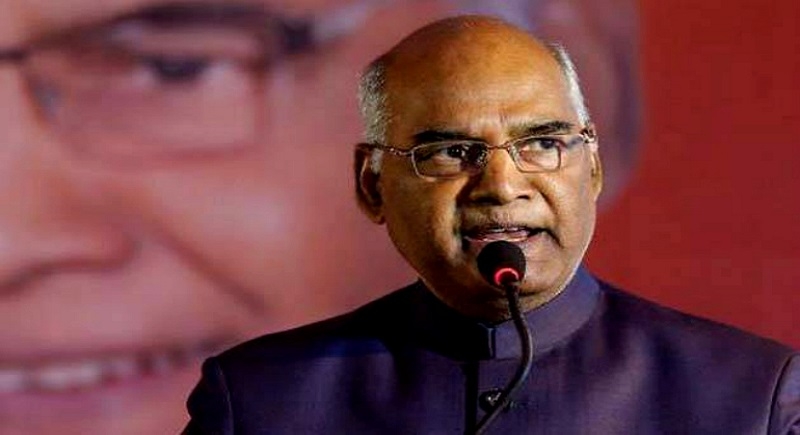 President Ram Nath Kovind has ratifyed the Ordinance on punishment ot rapists. But more stringent laws are needed to contain this culture of rape in India
Heartiest congratulations are to the President of India Ramnath Kovind for ratifying the "Ordinance" awarding death penalty for child rape in the hope of stopping the rot of rapes tormenting society.
High time for President to expeditiously give his assent to execute the four convicts who were awarded death sentences in the Nirbhaya case of 2012.
"Justice delayed is justice denied" is a legal maxim whose attribution to William Evart Gladstone remains to be verified; but quite frequently quoted by legal luminaries world over. Alternatively, it is also attributed to William Penn in the form "to delay Justice is Injustice".
So, the delay by President is unacceptable. He must demonstrate expediency to assert political will to send the right signal to not only people of India, but to the rest of the world.
Had the UPA followed the above sane legal luminaries maxims after the Nirbhaya Case and enacted more stringent and deterrent POSCO Act, perhaps, many rapes that followed like Unnao and Kathua may not have occurred.
"Laws are enacted; but only to be broken or circumvented" is yet another quote that makes rounds. So, fools are those who believe in the latest "Ordinance" to effectively the rot of rapes tormenting society.
However, "Better late than never"! As of now, Modi-led BJP, under public and international pressure, has approved the "Ordinance", which to my belief still warrants more stringent punishments to be more effective as follows:
1) Period of Presidential assent for "hanging" limited to 15 to 30 days.
2) "Hanging" in public place witnessed by people, until the message sinks into people.
3) "Castration" even to those who commit rapes against adults besides life imprisonment.
4) Immediate suspension of elected representatives at all levels from their elected posts and political party membership.
5) EC to disqualify and reject candidatures of persons with charges pending against them in the courts of law and even under investigation.
6) Psychiatrists Committee must carryout in depth studies to identify and determine the root causes for increase in rapes and their barbaric outcomes and suggest measures to ameliorate the deteriorating people's psyche.
In hindsight, therefore, quite a few refinements and reinforcements to "Ordinance" to act as a real deterrent must follow particularly during the debate stage in the Parliament and incorporated into the new POCSO ACT.
Why delay the issue? The Parliament Session must be called immediately to enact a NEW stringent law.
Depending on which side the winds of people's moods and sentiments blow, particularly the women vote banks, there are quite a few fierce advocates championing stringent punishments during the consideration by the Parliament for establishing their own credibility in public perceptions.
Ironic and paradoxical that individuals like P Chidambaram, derisively drubbed as 'Chiddu', former Minister, Rajya Sabha sitting MP of Congress Party, and a legal practitioner of Supreme Court, has recently highlighted that "Gang rape is the ultimate act of impunity"; and "Rape is not about sex." Rape is about the power of the male over the female, in particular over the female body. How stupid are such misleading twists coming from such a personality? And, he lays blame on the "broken criminal justice system". He must squarely accept accountability and responsibility for the "broken criminal justice system" having served as the Home Minister and the Congress Party for having ruled the country for over 60 years out of 70 years.
Also, the former 50-odd IAS bureaucrats, who all served as former Congress stooges, berating Modi led NDA for their dismal failure to frame an effective deterrent policy and to effectively implementing them. What were they doing while service enjoying plum posts, perks and privileges? Having failed or succeeded in bringing the state into such an absurd state, how can they now pontificate on the need for probity and propriety?
Next, the Supreme Court advocates like Vrinda Grover and her likes are in the forefront of criticizing the Ordinance as "a populist gimmick by the government." In fact, Vrinda Grover must also explain as to "Whose fault it is if judges are not trained to handle cases of child sexual assault and gender-based violence?"
Such critics amongst the legal fraternity must explain their failures to suggest and prevail upon law-makers to strengthen the investigation process or the prosecution and create an enabling environment both in the court and outside, and improving the conviction rate, besides the relevance of sentence.
Not to be forgotten are Human Rights activists operating under Amnesty International, claiming to be champions, opposing "death penalty" as it breaches two essential human rights: the right to life and the right to live free from torture; and drubbing the death penalty as cruel, inhuman and degrading.
In particular, Human Rights activists may recount Justice Varma Commission Report to justify their stand against "death penalty would be a regressive step in the field of sentencing and reformation".
Furthermore, 600 Academics, quite laughable it is, have expressed their anguish in a letter to Modi, the Prime Minister. Had they performed their academic roles properly and educated their wards against the heinous rape act, Indian society would not have reached the present infamous state at the global level.
The "civil society" must also accept its failure to spread the right kind of message what with the CBI estimating 20 lakhs already operating (1 for every 600 people) with maximum number in UP followed by Kerala. Majority of them are cronies of the Congress Party.
Accept and admit all such critics alike is that modern India has many extraordinary and complex layers of civilization at all levels – from stone age to space age. Those who claim modern India is an advanced civilized society is only living in a 'fool's paradise'.
As a votary of stringent law, let me reproduce the extract of my article after the Nirbhaya case on the need for deterrent punishments: "Laws and their processes must have deterrence effect. Otherwise, they are useless; worse than a tissue paper; Options are available for making laws. Gang rape followed by murder is cut and dry case of murder. No second thoughts even for judiciary to nurture and interpret or the President to delay execution order; to have deterrence effect, the final verdict must be passed and acted upon within a specific time frame. At the most, six months for execution of hanging; and in a lesser crime of rape, "Castration" will have deterrence effect. It is high time to enact such a law."
Unfortunately, there was no media sensationalism over rapes in 2016 or 2017 and public outrage. Why? No elections or politicization. And, rapes continued to happen as hitherto fore.
Instead of politicization due to electoral politics, elected representatives cutting across the full political spectrum must expeditiously act not only to pass more stringent law replacing the "Ordinance" but also streamline the structures and mechanisms to investigate and prosecute the accused without delay.
Of course, sensitization of society by the Civil Society – NGOs – and academics is an imperative goes without saying.
Watch out for the animal in the men on the prowl and target them to reform them. There are no easy answers to stem the menace of rapes considering the growing imbalance of male vs female ratio and the near naked displays blazing away on the cinema screens, TVs and mobiles besides pornography, which is even watched by elected representative in the House precincts while in session. At best what everyone can do is to mitigate their frequent occurrences damaging the image of the country.