The mighty Brahmaputra river flows throughout Assam dividing it along its length of 700 kms. Located at a strategic location in close proximity to China the Bogibeel bridge can be a milestone in enhancing India's strategic capabilities in the region. The Indo-China boundary stretches around 4000 km and out of which a major chunk runs along the Arunachal Pradesh border. Indo-China border along Arunachal has always remained a matter of dispute for both the sides. In 1962, the Chinese Communist troops violated Indian side of the Boundary and crossed it with mala fide intentions of annexing the region. The rough terrains on the Indian Side and absence of necessary Infrastructure placed a serious challenge to Indian troops in maintaining the supply chain and in ensuring timely re-enforcements. The hard-earned lesson of 1962 sparked a serious strategic introspection within the government and a primordial necessity of better Rail-Road connectivity across the region was perceived. The following years saw three Rail Road bridges namely the Saraighat Rail-Road bridge in 1963, followed by kolia Bhomora Setu in 1998 and Naranarayan Setu in 1998. Even though these three Rail Road Bridges came into existence over the Brahmaputra yet a large section of Assam particularly in Upper Assam region still lacked road and rail connectivity to its northern bank, for example; "a cargo generated in Dibrugarh has to make a 600 km roundabout to reach the frontier Districts of Dhemaji and Lakhimpur".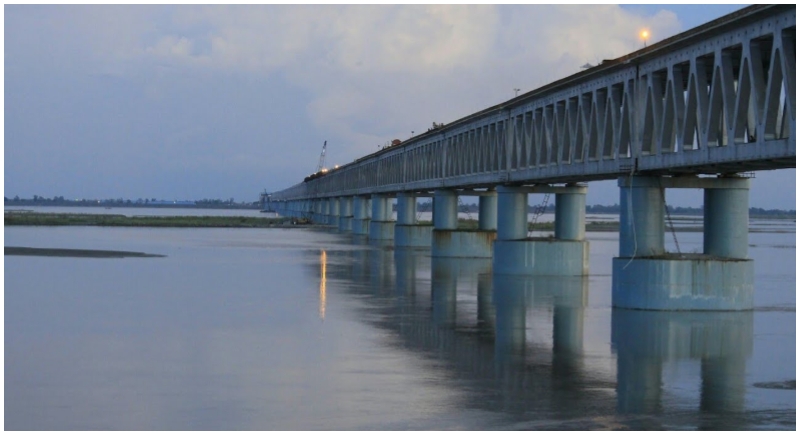 Conspicuously, these two districts run parallelly
along the Bordering districts of Arunachal which share an international border with China, hence the importance of physically connecting these two regions and enhancing the infrastructure becomes even more important. Though the Bogibeel project was initially sanctioned in 1997 but was formally inaugurated only in 2002 by then Prime Minister Atal Bihari Vajpayee. From its inauguration in 2002, the Ambitious project has taken around 16 years so far. The 4.96 km bridge is expected to incur a cost of around Rs 5,800 cores with 42 piers shafts, 42 well foundations and 39 spans. When the 4.96 km bridge will be finally completed in July, it will be the longest Rail-Road Bridge in India and second Longest Rail-Road Bridge in Asia with three road tracks and two rail tracks and with a total of 73 km Rail link.
Challenges: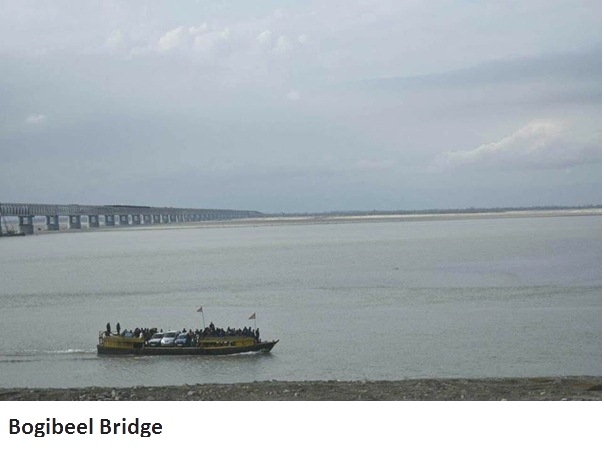 The Bogibeel Bridge is an exemplary engineering Marvel and had to face extreme encounters ranging from hard weather conditions to manpower crunch, from meeting the demand of Raw materials to ecological issues. The story of Bogibeel will stand as a testimony to India's infrastructural commitment. The Bridge was initially projected to be open for public service in 2009 but its progress struggled for another nine years. The colossal amount of raw materials consumed in the bridge can be estimated from the number of boulders it expended in its well foundations' alone. The initial well foundation spent around twenty-two Lakh cubic metres of boulders which took six years until the demands could be finally met. The Brahmaputra River Basin also receives very heavy rainfall followed by long monsoons which further hurdled the progress of well foundations' in the stipulated time. After lagging behind for sixteen odd years, the bridge is finally nearing its completion and as it completes it will stand as India's longest Rail-Road Bridge soaring at a height of thirty-two metres above water level.
IMPACT:
When the bridge finally becomes operational this year, it is expected to significantly boost the manoeuvring capabilities of troops and civilians across the region. It is worth mentioning that Dibrugarh district also houses the prestigious Assam Medical College, once the bridge is finally complete it will also benefit the intra-interstate movement of medical patients seeking treatment in Dibrugarh. Currently, if any emergency of super speciality kind arises along the northern bank, the patients need to rely on boat ferries for transportation which again at times can be very cumbersome and hectic. The Bogibeel bridge will also contribute in enhancing the intra-state and inter-state trade ecosystem as it will be connecting two very important highways of Assam namely the NH37 and NH52. At present, any cargo generated on both the sides consumes around ten to twelve hours before it reaches its destination. The Bogibeel Rail-Road link will significantly reduce this transhipment time and will consume a maximum two hours, thus saving the unnecessary extra cost incurred in transportation.
The Chinese side had always remained reluctant in accepting the LOC as valid and at times been found violating the same. From issuing "stapled visa's" to the residents of Arunachal Pradesh to including the Indian state in China's Map, the hostile Chinese nation has always held clear agendas of upholding disputes in the region. In recent years, China had been seen building rail and road links to its borders and also immensely enhancing its military capabilities. As India is still lagging behind in building up its wartime and civilian infrastructural needs, this Bridge will definitely provide the necessary strategic boost to Indian security apparatus. The Bogibeel bridge is also a centrepiece of the Trans-Arunachal highway that will prove to be another milestone in enhancing Indian civil and Défense needs in the region. With the Indian government recently announcing a Rs 6,000 crore accelerated road building plan for Northeast, it can be concluded that the future of Bogibeel and its related infrastructural attributes will usher the region to new heights of prosperity.