New Delhi, July 18: "We don't wait for majoritarian governments to strike down the offending law. They may enact, repeal or do whatever they want, but the moment we find that a law violates fundamental rights, we strike it down," said Justice Nariman on hearing the argument on Section 377 hampering the Fundamental Rights of the people.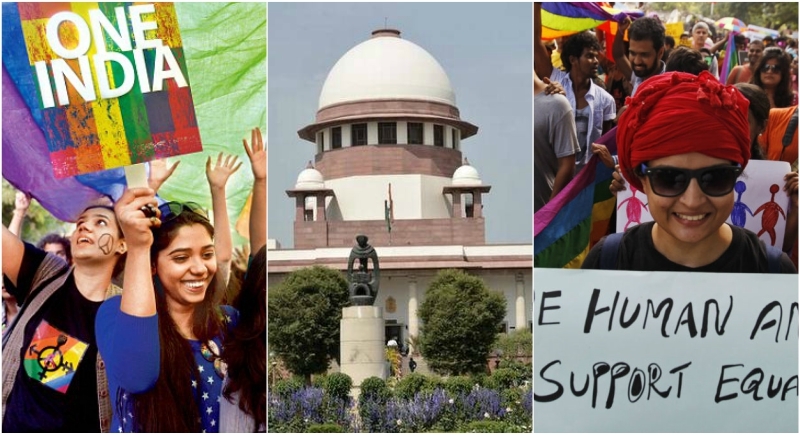 Accepting the LGBTQ community and their relationships and suppressing the arguments in striking down the Section 377, the Constitutional Bench in its decision has reserved its judgment on the petitions to free private homosexual acts between adults from criminality.
A five-judge bench comprising Chief Justice of India Dipak Misra and justices Rohinton F. Nariman, A.M. Khanwilkar, D.Y. Chandrachud and Indu Malhotra had commenced the hearing on a batch of petitions challenging the constitutional validity of Section 377 on 10 July.
The petitioners had argued that Section 377, in so far as it criminalizes homosexuality, violates Article 14 (equality before law), Article 15 (prohibition of discrimination on grounds of religion, race, caste, sex or place of birth), Article 19 (freedom of speech and expression, and to form associations or unions) and Article 21 (right to Life) of the Constitution of India.
Criminalizing Homosexuality:
Section 377 instigated quite a considerable level of argument with some supporting it with the free mindset to accept the community while the others argued how the community and legalizing Section 377 will hamper the social society.
Reacting to arguments that homosexual behavior leads to spread of HIV, Justice D.Y. Chandrachud said, public acceptance of people in gay relationships will help meet health concerns and control the spread of HIV. Same-sex couples living in denial with no access to medical care were more prone to contracting and spreading sexually-transmitted diseases.
The Judge stated that all suppression is wrong.
Stance on sexually transmitted disease:
Justice D.Y. Chandrachud asked lawyers supporting Section 377 of IPC, "The cause of sexually transmitted diseases is not sexual intercourse, but unprotected sexual intercourse. A village woman may get the disease from her husband, who is a migrant worker. This way would you now want to make sexual intercourse itself a crime?"
Taking a cue from Justice Chandrachud's observation, Justice Rohinton Nariman, said prohibitions have never resolved social issues.
Imposing a strong indication that the Bench will declare that Section 377 violates the right under Article 21 of the LGBTQ community to sexuality, sexual orientation, and choice of sexual partner, Justice Nariman said the whole objective of Fundamental Rights is to empower the court to strike down laws like Section 377.