INDO -SEYCHELLES OVERVIEW:
As India gifts a second Dornier Maritime reconnaissance aircraft to Seychelles, the diplomatic bonds between the two enters a new era of strategic partnerships. India established its diplomatic mission in Seychelles right after it secured independence from United Kingdom on 29th June 1976 and formally posted a resident high commissioner in Victoria from 1986, whereas Seychelles had its resident mission in India from 2008. The Indo-Seychelles partnership is one of the most intense as compared to any other nation in the region. An Archipelago of 115 islands, Seychelles has a very large exclusive economic zone encompassing around 1.3 million sq. kilometres and requires intensive surveillance to fend of pirates and at the same time secure it borders. India being a time-tested friend had been providing the Seychelles Peoples' Defence Forces (SPDF) with necessary training and equipment's for long.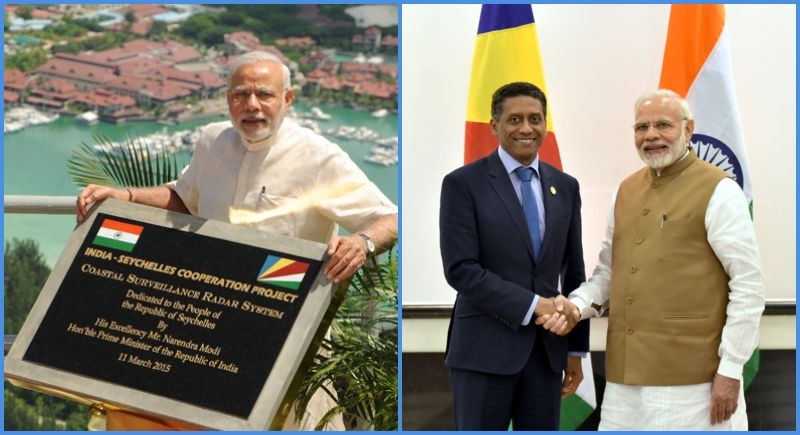 India also gifted a naval ship PS Topaz to Seychelles back in the year 2006 and followed by a Dornier-228 maritime reconnaissance aircraft to shield its EEZ against terrorism and piracy in 2013. In 2014 India presented Seychelles with yet another Naval Ship INS Tarasa that significantly boosted Seychelles Capabilities to long a maritime dominance.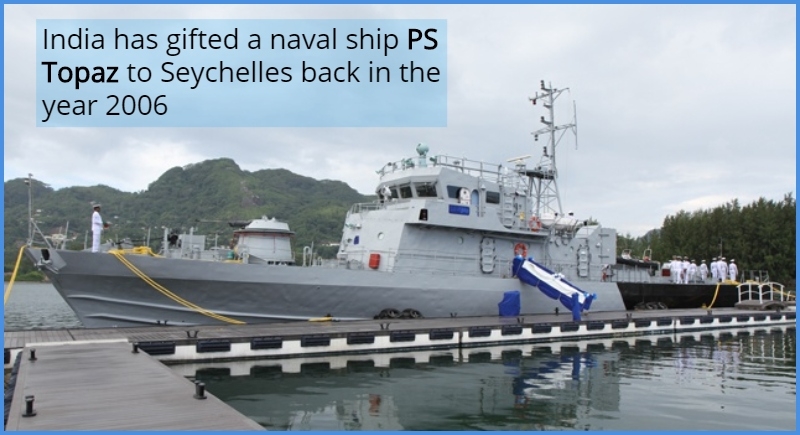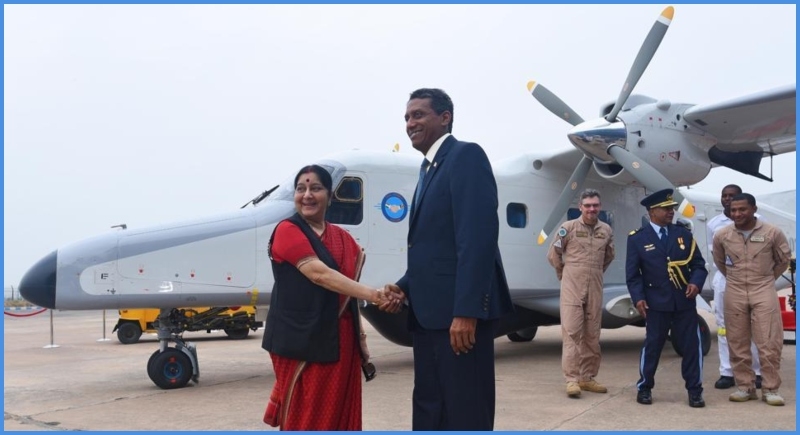 The sparsely populated littoral nation of the Indian Ocean region holds a centre piece in India's maritime diplomacy. The Bilateral received a necessary boost in 2015 after the current prime minister embarked on a maiden journey to the archipelago ending a 34-year old gap of any Indian Prime minister setting foot on the island nation.
As the island nation sits on a major maritime trade route that receives around 80% of worlds energy supply. Therefore having a strategic presence in the region is primordial for India's trade and strategic security. Bolstering Indo-Seychelles' diplomacy, India signed a four-pact agreement during Indian PM Narendra Modi's visit in 2015. During the two-day visit to Seychelles, India signed an agreement to increase cooperation in the fields of Hydrography, renewable energy, sale of navigational charts and electronic navigational charts and infrastructure development projects on the Assumption Island of Seychelles. India plans to set up around six of the total 32 Coastal surveillance Radar Systems (CSRS) on the islands of Mahe, Farqhuar, Astove, and Assumption while another eight in the neighbouring countries of Mauritius. The coastal Radar stations will enable Seychelles to have a better Maritime domain awareness of its very vast Exclusive economic zone. Better domain awareness will help the Island nation to act promptly in an efficient manner to curb illegal activities in and around its border. The Coastal radar System would also be helpful on keeping an effective eye for piracy activities that is posing a major challenge to the global maritime trade traversing through these waters. The CSRS systems will provide a network of eyes and ears that will enable early detection of unlawful activities, even boats that doesn't have an Automated Information system could be tracked and can be kept on surveillance with high resolution cameras. Once India completes its 32 coastal radar stations, India will have the most intensive surveillance capabilities and hence will have an unchallenged dominance in the Indian Ocean region.
ASSUMPTION ISLAND DEAL:
a) Overview:
The Indian Establishment has time and again reached out to nations that had sought its help without any prejudices. Be it in Maldives or in Seychelles, India had reached out to these nations whenever they had requested Indian intervention in preserving harmony and security of their respective nations. Indian Government from early 80's had responded in a prompt manner whenever Seychelles governments had called for help to protect its democracy and territorial integrity. One such particular incident was famously codenamed as "OPERATION FLOWERS ARE BLOOMING" where a group of 44 mercenaries tried to overthrow the incumbent Rene' government but the day was saved by Indian forces who intervened at the request of the Seychelles regime. Since then India had helped Seychelles advert many such threats while continuously empowering the Littoral nation with necessary equipment's and operational capabilities. The Indian Defence establishment had been providing both the Seychelles People's Defence Forces and Seychelles Coast Guard with necessary training. Currently around 70% of all the officers in Seychelles security forces are being trained by Indian Security Forces. Seychelles because of its geographical location and vast expense had been in a constant threat from piracy and coup attempts. Spread across 115 islands and having active strength of only 650 personnel's (2012), the Seychelles government had been continuously seeking Indian help for patrolling its 1.3 million Sq. Km Exclusive Economic zone. Since the Late 80's India is continuously deploying patrol boats for surveillance and reconnaissance mission around the Exclusive economic zone of Seychelles. The part of Indian Ocean region is of immense importance to global trade eco-system as around 80% energy requirement of the world traverses through these waters and hence having a strategic presence in this area holds a primordial importance to world powers. From US presence in Diego Garcia to French presence in the Island of Reunion, global powers have been continuously tried to increase its presence in the India ocean region. Since the Discovery of Assumption Island in 1756, its strategic importance had been realised by many global powers as it sits right in the mouth of Mozambique channel and also has close proximity to the Gulf of Eden. In the early 1960's United States also tried establishing a deep-sea port and a naval base in Assumption Island but the deal was later rejected, in a similar fashion China also tried to establish a naval base on the island but the deal was later rejected owing to concerns raised within Seychelles establishment.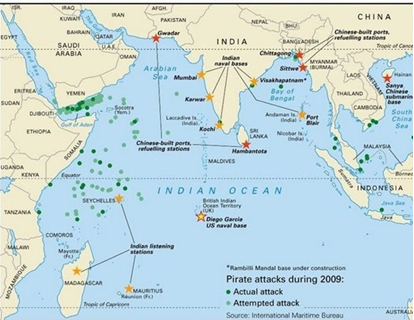 b) The Arrangement
After a maiden visit by the Prime Minister of India to Seychelles, a long-standing deadlock of 34 years in peer to peer communication was broken and also the two natural allies witnessed signing of a MOU bolstering strategic Partnership. In the Pact India and Seychelles vouched from strengthening strategic partnership in the fields of Hydrography, Renewable Energy, sale of electronic navigational charts and Infrastructure development Assumption Island. During his visit PM Narendra Modi also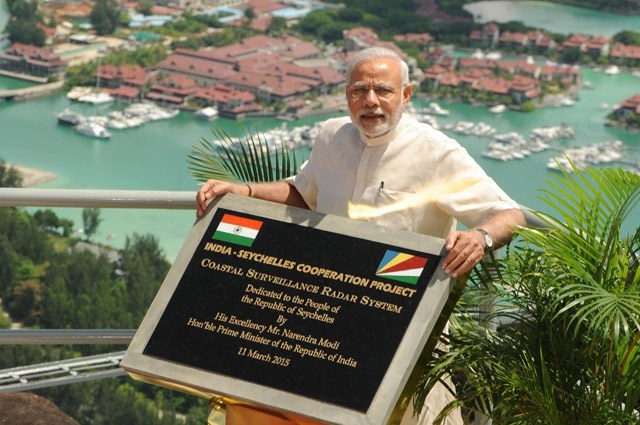 Inaugurated the first radar station out of the total eight coastal radar stations to be set up across Seychelles by India to empower the Seychelles coast guard with state of the Art Maritime Surveillance capabilities, it is also important to note here that these Coastal Radar stations will be manned by Seychelles Coast Guard personnel while the expense of maintenance will be borne by India. Similarly, in the case of Assumption Island deal India had pledged to develop the Airstrip on Assumption Island followed by developing the ST Thomas Anchorage to a full-fledged operational deep sea port. For the same, India would also build housing quarters for Seychelles coast guard while jointly manning the base and maintaining the sole ownership by Seychelles. The deal was targeted at enhancing search and rescue capabilities in the region along with securing the Indian Ocean region of the Growing Piracy threat. International Strategic experts even termed this deal as one of the most Liberal and Holistic Strategic deals as it was based on the needs of a host nation, whereas most of such deals are often based on the wants of the participating nation. Another very interesting parameter of the deal Is that it allows even a third-party nation to use the facilities provided they are not hostile to any of the two stake holders.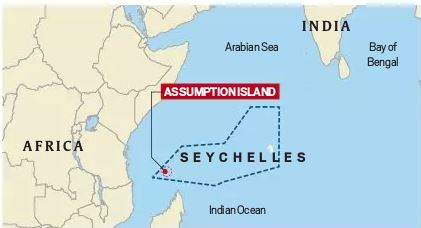 c) Challenges:
The deal regarding Infrastructure development on assumption Island went into a limbo with the current government becoming a minority at the National Assembly in 2016. As Seychelles Law requires the deal to be endorsed in the National Assembly, the Assumption Island deal briefly went into a state of uncertainty with the opposition trying to gain political mileage out of the deal. This also initiated a round of protests and subsequently Victoria saw the emergence of a new creed of self-styled activists whose whole intention was to disrupt Indo-Seychelles emerging strategic relationship. Many International experts in New Delhi suggest the role of Infamous Chinese Agency "The united Front" behind the Spur in protests against the deal. Things became even murkier when on March 6th, 2018 a video was uploaded to YouTube on the pretext of being a leaked video containing insights into the highly classified assumption island deal. The video deliberately tried to quote the entire agreement out of context and also glorified selected portions in an attempt to create further resentments among the masses. The video goes out to the length of accusing the Seychelles government of appropriating the Islands' ownership to India, whereas in reality India is actually developing and bearing the managerial expenses of aviation, maritime surveillance and communications facilities for Seychelles maintaining the Status -quo on the ownership of assumption island by Seychelles. Apart from developing the Seychelles defence forces and empowering it with helicopter, patrol boats, Dornier Surveillance aircrafts and Coastal Radar systems India had been constantly investing millions of dollars in grants to improve civilian infrastructures as well. India had also maintained its commitment towards the Civilian masses of Seychelles and is operating many programs like the India- Seychelles centre for excellence and Indian Technical and Economic cooperation program. An estimated one percent of the total population in Seychelles had already been trained in India through various scholarship programs. To conclude it is necessary to mention that at the request ofSeychelles government India had been maintaining a deployment in the region to assist the Seychelles coast Guard in maintaining its Exclusive economic zone. Hence it is only mutually beneficial to maintain a joint base on the island rather than posing any challenge to the integrity of Seychelles.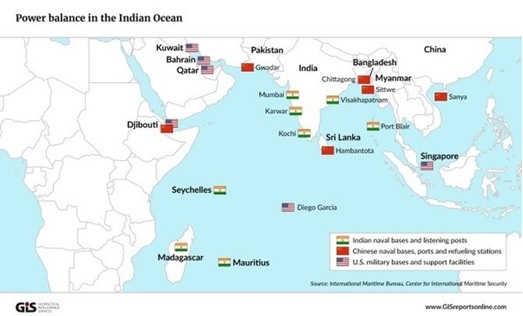 CONLUSION:
As and when India completes its final phase of knitting a network of 32 Coastal Radar Stations, the Indian defence establishment will have unfathomable surveillance capabilities which will be mutually beneficial for both the partner Countries. While on the one hand there is China as a new entry in the region employing monetary hegemony as a tool termed as "DEBT TRAP" to overpower a nations independent policy making capabilities, on the other hand there is India, whose engagement with the world is guided by its core philosophies of "Vasudhaiva Kutumbakam and Sarvajan Sukhaye" I;e world is one family with an inherent wanting for universal Bliss. Indian diplomacy as founded on the core principles of these, have crafted its resources and policies in empowering the littoral nations of Indian ocean region and with India's Increasing influence in the region an era of stability and security will unveil.