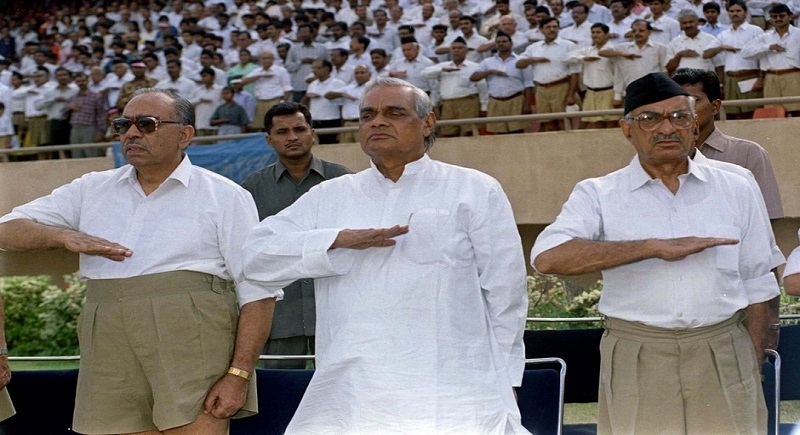 Atal Bihari Vajpayee at an RSS function
"The simple reason for my long association with the RSS is that I like the Sangh. I like its ideology, and above all I like the RSS attitude towards people, towards one another which is found only in the RSS."
-Atal Bihari Vajpayee
"Vajpayee is distancing from RSS". The Reuter journalist told me. That was sometime in the late 90s when Vajpayee was the Prime Minister. He had come to Nagpur to cover the ODI cricket match and wanted to do a story on RSS. A common friend introduced me to him and as we began talking, I wondered as to why he made that statement, so I enquired, "What makes you think like this?"
"This is the general perception in the national capital", he said, citing one incident to support his assertion. That was related to release of postal stamp on RSS Founder Dr Keshav Baliram Hedgewar in New Delhi. Prof Rajendra Singh alias Rajju Bhayya was the RSS Sarsanghchalak then. The stamp release function was not attended by senior BJP leaders L K Advani, M M Joshi and Uma Bharati. And from their absence my friend inferred that Prime Minister Vajpayee was distancing from the RSS because these three stalwarts were considered as "hard core RSS people in the BJP".
However, the very program was attended by the then RSS Sarsanghchalak, Sarkaryawaah and Sah-Sarkaryawah and Prime Minister Atal Bihari Vajpayee himself. And they were releasing the stamp dedicated to the founder of RSS!
But this 'learned journalist' could not consider the very people who headed the RSS as 'hard core' and concluded that Vajpayee was moving away from RSS!
But he was not at fault totally. The general perception created about Atal Bihari Vajpayee was he was a moderate, accommodative and acceptable to all; that he abhorred what is called 'hard Hindutva' and therefore he was a 'Right man in a wrong company' and so on.
But they did not understand the fact that the personality of Vajpayee was groomed in the mould of RSS which he joined in his teens. His expression "The Sangh is my soul" is self-explanatory to all such persons as to how he valued his association with the RSS.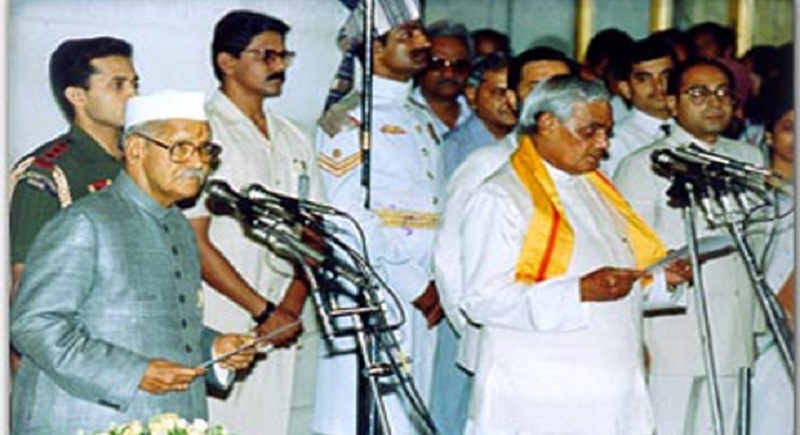 Swayamsevak Vajpayee taking oath as India's 10th Prime Minister on

May 16, 1996
Atal Bihari Vajpayee was the first RSS Swayamsevak to assume the office of the Prime Minister of India thrice lasting for six years (1998-2004) and a short stint of 13 days in 1996. When he was sworn in for the first time in May 1996 the then RSS Sarsanghchalak Balasaheb Deoras was very happy. Vajpayee was instrumental in keeping the morale of the party workers high even during the worst days of 1984 when the BJP could send only two MPs to the Parliament. To rediscover the image of the party and revive its status was not an easy task. But the training he received in RSS made him accomplish this task.
Vajpayee came from the mould of RSS where men of sterling character and strong resolve are made to serve the nation and society. Undeterred he took upon him to restore the lost glory of the party and to earn the confidence of the people. And in his own lifetime he could achieve it. While concentrating on his mission, Vajpayee also groomed the future leaders of the party like the present Prime Minister Narendra Modi and others.
Atalji was always grateful to RSS and expressed his feelings in a letter he wrote. He came in contact with RSS in 1939 while in Gwalior through the Arya Kumar Sabha. Shri Bhoodev Shastri of Arya Samaj introduced teenaged Atal to RSS shakha and later he came in the contact of Narayanrao Tarte, who was sent to Gwalior from Nagpur to spread the work of Hindu consolidation. He liked the games and 'bauddhiks' (intellectual discourses) in the shakha.
Atalji recalled his association with Narayanarao Tarte, whom he considered his mentor. "He was indeed a superb human being, a very simple man, a thinker and an expert organiser. What I am today is the making of Shri Tarteji", Atalji wrote in this letter. It was Tarteji who inspired young Atal to compose patriotic poems and the first amongst his numerous such poems was "Hindu Tan Man, Hindu Jivan, Rag Rag Hindu Mera Parichaya".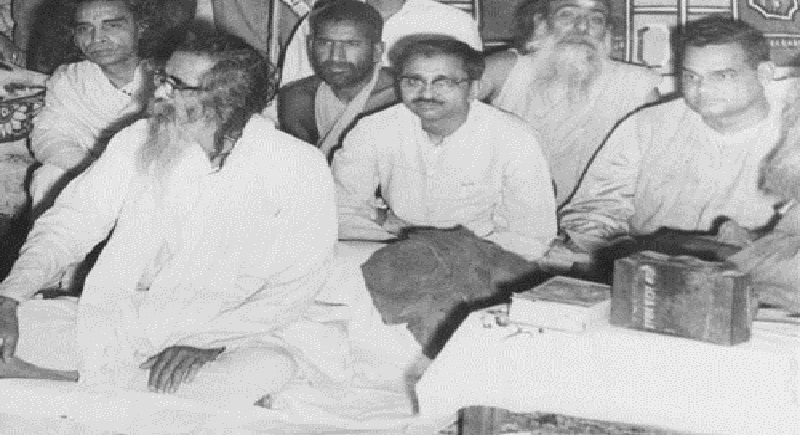 Atalji with Second RSS Sarsanghchalak M S Golwalkar 'Guruji' and Deen Dayal Upadhyaya
Years later, when Vajpayee became Prime Minister he invited Tarteji whom he fondly called 'Mamu' to New Delhi to stay with him in 2004! Vajpayee also visited Tarteji at RSS Mahal Karyalaya in Nagpur in 2004 to enquire about his health. Later Tarteji was honoured with national award for journalism given by the Hindustan Samachar in Delhi.
Vajpayee also attended the concluding ceremony of birth centenary of second Sarsanghchalak of RSS late Sri M S Golwalkar alias Sri Guruji at Nagpur in 2007. He shared the dais with the then RSS Chief K S Sudarshan and recited a poem after his speech.
Besides Tarteji, Atalji's personality was influenced by RSS stalwarts like Deen Dayal Upadhyay and Bhaurao Deoras, the younger brother of third RSS Sarsanghchalak Balasaheb Deoras. He was also impressed by Babasaheb Apte, the first 'Pracharak' and 'Bauddhik Pramukh' of RSS. "Apteji was very soft-spoken. We were soon drawn towards him. I had talked with him for only a few minutes," Atalji wrote.
Atalji had undergone the rigours of RSS training as he completed his first year training camp in 1940 and was fortunate to have the glimpses of founder Dr Hedgewar who had gone there against the medical advice and addressed the swayamsevaks. He attended the second year training camp in 1942 and the third year camp in 1944 while he was doing his graduation. He also decided to dedicate his life as a full time worker of RSS.
Atalji wrote "the RSS does not change only individuals. It changes also the collective mind. This is the beauty of the RSS ethos. In our spiritual tradition an individual can attain a great height. Even self-realisation is possible if one undertakes the right 'sadhana' and also attains 'nirvana.' But what about the society? Nobody thinks about his obligation to the society in general. Now for the first time the RSS thought about it and concluded that by changing individuals we shall change the society."
Vajpayee recognised the two-fold task before the RSS, the foremost being organising the Hindus, to build a strong Hindu society well-knit and rising above the caste and other artificial differences but maintaining the variety as the RSS did not want to destroy this diversity of the society.
The other task was to assimilate the non-Hindus, like Muslims and Christians in the mainstream. They can follow the faith of their own conviction. No one can object to it. We worship trees, animals, stones, and what not. We have hundreds of ways of worshipping God. They can go where they want. But this country must be looked upon as the Motherland for them. They must have a feeling of patriotism for this country. But the Islamic division of the world into 'Darul Harab' and 'Darul Islam' comes in the way.
Atalji was convinced that the Hindu society has been regenerated which was the prime task of the RSS. In the aftermath of demolition of the disputed structure at Ayodhya in 1992 he wrote, "Earlier Hindus used to bend before an invasion but not now. This change in Hindu society is worthy of welcome. So much change must have come with the new-found self-assertion. This is a question of self-preservation. If the Hindu society does not expand itself it will face the crisis of survival. We have to expand ourselves. We have to take others along with."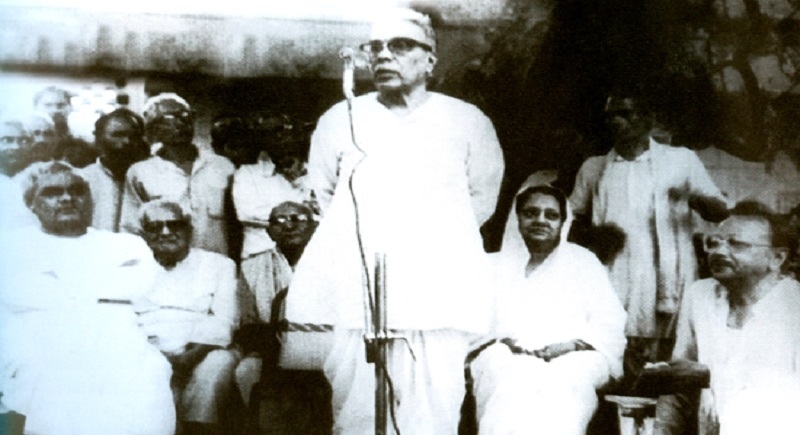 Vajpayee with Balasaheb Devras and Rajmata Vijaya Raje Scindia
Atalji stated very candidly that he had long association with the RSS because "I like the Sangh". He wrote, "I like its ideology, and above all I like the RSS attitude towards people, towards one another which is found only in the RSS. I remember an incident, when I was in Lucknow. The Socialist movement was its peak. Suddenly a senior socialist activist fell ill. He was lying alone in his house, and nobody went to enquire after his well-being. Then Acharya Narendra Deo came to know and he went to his house to see him. The Acharya then said, "What fraternity is this in the Socialist Party? Nobody has come to see you. It can never happen in the RSS. If a swayamsevak does not go to the shakha only for one day the same day friends will promptly reach his house to enquire about his well-being."
For him the Sangh was like a family. During the 1975 emergency he was in jail. Even his close relatives dared not visit him then. Only the RSS workers helped him. Recalling this he wrote, "See, how much living contact and fraternal feeling is in the RSS. Actually the Sangh is our family. We are all one."
"In the beginning we could not spread our work in all sections of the society because we did not have enough workers. "Man-making" is the prime job of the RSS. As we now have more workers, we are covering all sections of the society in all fields of life. Changes are taking place in all spheres. But the work of man-making will not be discontinued, it will go on. It must go on. That is what the RSS movement is", he concluded.
Atalji's approach towards Pakistan and other neighbours of India reflected how deeply he ingrained the RSS ideology. The RSS stand on 'Akhand Bharat' is well-known but many perceive this as an expansionist view. However, as the late Balasaheb Devras had said, the RSS wanted some kind of lose federation of countries that once were part of the 'Akhand Bharat' without compromising their interests – a view that Vajpayee endorsed. The RSS considered partition of India as artificial and illogical. In all the confidence building measures (CBMs) Vajpayee tried to improve relations with Pakistan, he was guided by this all comprehensive ideology of the RSS. But he equally demonstrated his resolve to deal with Pakistan in the wake of Kargil war, thus sending the clear message to Pakistan that he can be soft on peace measures he could also be tough and uncompromising.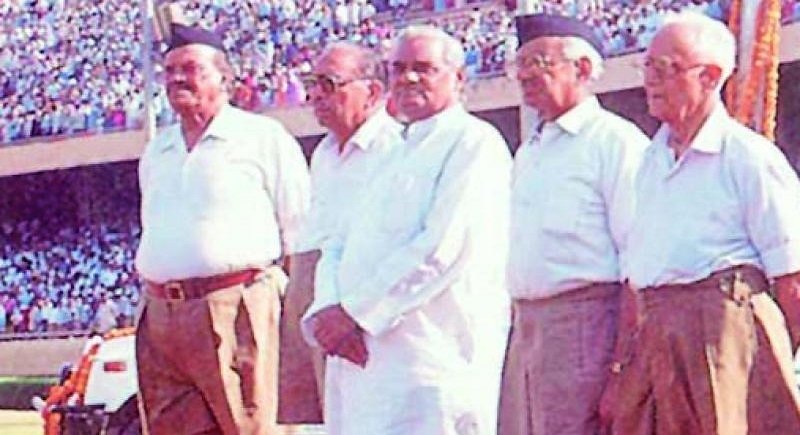 Atalji with Sri K Suryanarayana Rao and other RSS dignitaries
Atalji was also instrumental in pursuing the Chinese to open up the Kailash-Mansarovar pilgrimage held sacred by the millions of Hindus but he never claimed the credit for it. As a foreign affairs minister in Morarji Desai cabinet he visited Chine in 1979 and suggested the Chinese foreign minister Hunag Hua to extend adequate facilities to Indian pilgrims to visit Kailash and Mansarovar. This gesture would be seen as a symbol of China's interest in improving relations with India, he said.
Today, the entire country mourns on loss of this true swayamsevak of RSS. Sarsanghchalak Dr Mohanrao Bhagwat very aptly described him as "Sangh's dedicated Swayamsevak, who ruled over the hearts of countless Indians and will continue inspire generations."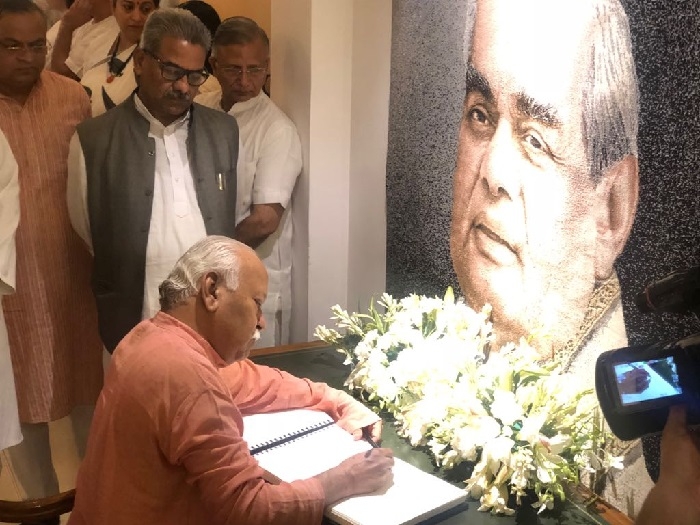 RSS Sarsanghchalak Mohanrao Bhagwat paying tributes to Vajpayee
In his condolence message Bhagwat said: "Along with the ideological commitment, he will always be remembered as an ideal dedicated life who achieved an unfading niche in the political and social fields through his hard work and efficiency. Atal ji was the name of a poet with the sensitive heart, a visionary with a clear sense of future and a great personality adored by the masses. True to his name, he was 'Atal' throughout his life.
RSS weighs ideals over personalities. But in this case it nurtured the persona of Atal Bihari Vajpayee blossoming it into a globally acceptable face of Hindutva ideology making him the first swayamsevak to become the Prime Minister of Bharat.
We are all proud of this First Swayamsevak Prime Minister!