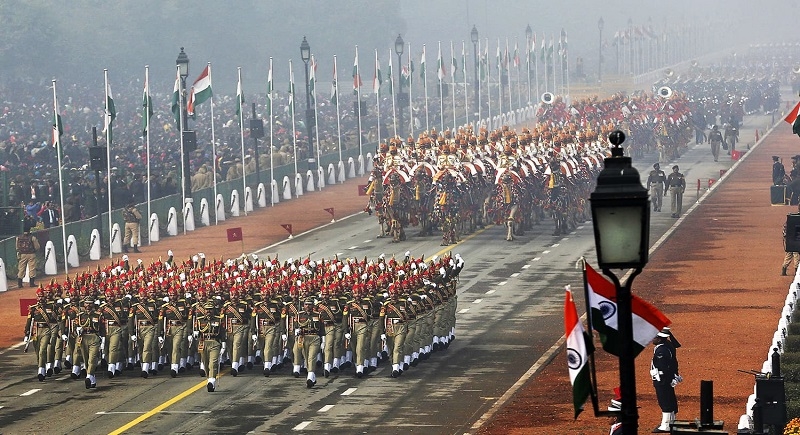 Admit and accept Oh, Blindmen of Hindustan! that the term "Security Forces" includes not only the Indian Armed Forces (Army, Navy, Air Force and Coast Guard - 14, 43,921) but also 781 battalions of the Central Armed Police Forces with sanctioned strength of 11, 54,393 personnel – CRPF, BSF, ITBF, CISF and SSB) and Central Paramilitary Forces with sanctioned strength of 74,797 personnel (CPMFs – Assam Rifles and National Security Guard) and even other specialized security agencies. For errors of conception are costly that ultimately end in self-destruction.
Since "Law and Order" is a state subject, State Police Forces are left out of consideration what with their total sanctioned strength of 24, 64,484 State Police including 470 Armed Reserve Battalions, Home Guards (5, 73,793 virtually totalling 573 battalions), and 175 India Reserve Battalions. Also, 12 National Disaster Response Force (NDRF) Battalions and other specialized units have been left out.
Financial outstretch beyond nations economic sustainability is real. The Defence Budget Allocation for 2018-19 is Rs. 2, 79,305 crore for 2018-19 with GDP% at 1.49 (Revenue Expenditure - Rs. 1, 85,323 crore; and Capital Expenditure - Rs.93, 982 crore with capital acquisition costs budgeted as Rs.74, 224 crore. In contrast, the Home Ministry allocation is Rs.92,679.86 crore to include: allocation of CAPFs amounting to Rs. 62,741.31 crore out of which Rs. 20,268 crore is to the CRPF.
More importantly, the character of Gen 5 war - "hybrid warfare" - must determine why tomorrow's security forces cannot be like today from both internal and external threat dimensions. Gone is the past character of warfare based on clearly delineated battle lines - fronts, flanks and rear areas - with people left out of battle. Today's and tomorrow's wars are circular environment battles fought by ubiquitous forces. Future warfare will be super-technology driven covering the full spectrum of environment – space, sub surface, cyber, along with land, sea and air.
Modern security forces must be, therefore, leaner, thinner and flatter, multipurpose and cost effective capable of multi-role performance – elitist and awe inspiring in operational effectiveness.
Stating the obvious is inescapable imperative to approach modernization in "Holistic and Integrated" ways and means, which must be inclusive of all coercive arms of the State vis-a-vis exclusivist in water tight compartments. Any meaningful study by "Experts Committees" must establish "Role Overlaps and Complementarities" both during peace, war, counter terrorism/insurgency scenarios besides the need for a whole range of numerous command control, training and logistic structures to identify and determine duplicity and redundancy.
Reforms, if meaningful, must be initiated simultaneously at four levels: 1) Cabinet Committee on Security (CCS) (based on Joint Parliamentary Committee Recommendations); 2) Ministries of Home and Defense; 3) Apex Headquarters of all armed and police forces; and 4) most importantly at operational art, directional and functional levels. Otherwise, isolationist view of refinements may remain superficial.
As per media reports, the Defense Planning Committee under the Ajit Doval, the National Security Advisor, (with least military professional expertise), has been constituted to author the national security strategy, plans for building a defence manufacturing system and boosting defence exports, and priorities capability development plans. The committee will have four sub-committees to look at four key areas – policy and strategy, plans and capability development, defence diplomacy and the defence manufacturing system. These are to be submitted to the defence minister who will presumably seek the approval of the Cabinet Committee on Security to authorize action on them.
Next, until date, the Ministry of Defence (MoD) had only constituted under the chairmanship of Lt. Gen. (Retd) DB Shekatkar to recommend measures to enhance combat capability and rebalance defence expenditure of the armed forces. The Committee submitted its report in December 2016. Although the MoD claims to have initiated action on its recommendations, its results are not visible on ground. For example, the Military Dairy Farm in Secunderabad continues to function even today.
As per the latest media reports, Gen Bipin Rawat, the Chief of Army Staff, has constituted study groups (25 members headed by Lt Gen to broadly include: (1) Reorganization of the Indian Army; (2) Review of Army Headquarters; (3) Cadre Review for officers (being done after the AV Singh Committee report, 2001); and (4) Review of Terms of Engagement. And, the reports will be reviewed during the forthcoming Army Commanders Conference.
Meanwhile, former Air Force and Army senior officers have articulated their views on various aspects of modernization of armed forces. For example, former Chief of Air Staff S. Krishnaswamy believes that the creation of integrated commands would seriously hamper the effective application of air power due to availability of limited resources (31.5 squadrons). As per Arjun Subramaniam, another former Air Force officer, "Air Force would be the decisive arm offering a viable alternative by shaping 'battle spaces' adequately before the other services enter combat."
Former Lt. Gen. HS Panag has suggested regrouping of army units as "All Arms Battle (Combat) Groups" tailor made - missions and terrain oriented - with varying number of units/sub units based on interoperability. Former Maj General G D Bakshi has suggested augmentation of army's force levels by 3 Mountain 'Corps" and an "Army Aviation Corps" among others.
Hardly any studies have been ordered by the Navy and the Air Force. Of course, myriad of reports by commissions/committees intended to modernize police forces are collecting cobwebs in cupboards at various government agencies.
Liddell Hart, military strategic emeritus, had carried out in depth analysis of modernization options in Chapter XX – How to quicken Manoeuvre and Gain Flexibility – of his book "Defence of the West" published in the aftermath of World War II. Liddell Hart stated "Nothing more cumbersome could be conceived than such absurdly long and narrow chains of command (five levels from Army to Battalion). They fettered mobility and flexibility". Advanced nations are applying his prescription in their respective armed forces.
Importantly, Liddell Hart had analysed the analogy of "five finger fist" (five tanks in a troop; five troops in a squadron; five squadrons in a Regiment) providing greater flexibility and 'punch' than "three or four finger fist", and so on. He had concluded that 8-10 sub divisions were the proper number for a higher commander to handle, and 4-5 for a lower commander with a smaller staff. Two basic principles enunciated by him include: "fluidity in dispersion is the essence of concentration at the desired point"; and "Speed is the mainspring between surprise and security".
Undeniably, political leadership is responsible for determining the trade-off between roles, force levels, combat systems, structures and processes - inter service weightage and allocations. They also determine final choices between fighter aircraft vs. missiles, tanks vs. anti-tank missiles, aircraft careers vs. sea control ships/missile boats/submarines, which are not easy to resolve not only within each service but also with each other. Such a force must be structurally organised based on the availability of state-of-art weapons and force multipliers; and manned by highly skilled personnel cross-trained to perform multi-roles, capable of alternating between high-tech warfare and counter insurgency, to deliver results.
Let me also highlight that the debate on Revolution in Military Affairs can be traced to post World War II era. In 1950s and 1960s, the US Army made an attempt to transform from "Triangular" to "Square" to "Pentomic" structure; but abandoned later. And, a number of permutations and combinations are currently in vogue in various armies suited to their roles, missions and tasks.
Advanced nations, both the West and the East, are downsizing their armies due to financial and manpower constraints. USA and its allies, besides Russia have already carried out massive force level reductions in the post-Cold War era. China too has been modernizing since Deng's era of 1984 – reduction of force level from over 4 million to current half its size – 2.28 million. Most importantly, China has identified reliable, survivable, interoperable, and integrated C5ISR (Command, Control, Communications, Computers, Combat Systems, Intelligence, Surveillance, and Reconnaissance) systems essential for coordinating joint operations and for successful employment on the modern battlefield. The drastic reduction of seven military regions into five strategic zones is underway.
In retrospect, lack of professional military and technology expertise among political and bureaucratic leadership and their phenomenal lack of will to overrule, dictate and guide security forces professionals to reorient military strategies to conform to future 'Technology Age" battles is responsible for the persisting status quo ante. Surely, Gen 5 wars cannot be fought with Gen 3 structures, doctrines and processes. Reforms are vital to counter challenges of "Technology Age" threat scenarios. Yet, they are maintaining 'legendary ostrich' posture out of fear of triggering major inter and intra service rivalries.
Ipso facto, even before the latest 'Gen system" becomes operational more advanced versions are in making or design board. Gen 6 systems are set to antiquate Gen 5 systems. Redundancy baffles policy makers at Apex levels to make choices. Furthermore, costs of 'sun rise or frontier' technologies - delivery platforms, multiple kill weapons systems and C5ISR capabilities - are astronomical. Lack of indigenous advanced technologies is a key inhibiting factor. 'One-on-One' replacements are a virtual impossibility. Optimisation through fine-tuned calibration is an imperative.
For tradition and custom bound Generals, Admirals and Marshalls surrounded by sycophants, pomp and show, mired in inter and intra empire building rivalries, integration, both in thought and action, is anathema through forging consensus on downsizing of force levels and redesigning force structures accompanied in tandem with modernisation of thought (strategies, doctrines and concepts). Hopefully, one expects the current breed of professionals to sink their parochial affiliations and adopt flat structures due to C5ISR enabling, instead of allowing status quo rot due to "Psychology of Military Incompetence".
Let me make an attempt to indicate a road map in outline pertaining to the 'holistic and integrated' approach to modernization of security forces, particularly macro level conceptual issues. For example, the BSF, ITBF and SSB are primarily meant for "Border Security Management" of specific sectors of borders. Their missions/tasks also include counter infiltration, terrorist and insurgency in their respective operational areas. In the case of war, they automatically are placed under the armed forces for defence of less threatened areas and localities.
Merger and integration of units with the Indian Army, is therefore, an imperative for reducing the "Top Heavy" command, training and logistics force extravaganza. Yet, none of the analysts are debating the issue. To persist with self-delusional paranoia of "army taking over" the country is antiquated and archaic in today's context.
Furthermore, MoD must decisively act on redundant colonial era inherited structures manned by civilians like Military Dairy Farms, Military Engineering Services, Peace time structures like Area and Sub Area Headquarters meant for supporting "Expeditionary Forces" in under developed colonies, Central Ordnance and Vehicle Depots etc.; besides PSUs behemoths and so on. By ruthlessly cutting the "tail" only, the "teeth" can be augmented as suggested by domain experts in each service.
Next, the MoD must demonstrate political will to direct 'different services' to enforce "Joint Operational Theater Commands". For the MoD to resolve the objections by the "Air Force" top brass to move ahead towards integrated commands, it is an imperative to forge consensus on three issues: character of future of wars; integration of the MoD; and the appointment of a Chief of the Defence Staff. Let me point out that the concept of "Joint Theater Commands" does not eliminate the need for "Chiefs" of the services at their respective Headquarters at New Delhi.
By appointing an "Air Chief Marshal" as the Chief of Defence Staff (long pending) with "Air Marshals" appointed as the "Theatre Commanders" of Western and South Western Commands could restore their confidence. That leaves the Navy with the Southern Maritime Command with 3 Fleet Commands (no shore based commands) and the Andaman and Nicobar Maritime Command. In the case of Army, Generals be appointed as the "Theatre Commanders" of the mountainous border, that is, the Northern, Central and Eastern Theatre Commands.
Of course, the staff of "Theatre Command Headquarters" would have a "Chief of Staff from the other service along with "Directors – Brigadiers and equivalent ranks" – heading operational executive branches to perform planning, directing, controlling and coordinating execution of operational plans. Also, the details of other staff components can be tailor made to suit specific requirements.
Next, the in house restructuring of each service falls under the realms of the respective "Chief's". And, they too must shed their narrow parochial "Empire Building" ethos and genuinely identify reforms to reduce the "teeth to tail" ratios. For example, there appears strong justification to eliminate the "Divisional Headquarters" by placing "5 x All Arms Combat Commands" directly under Corps Headquarters. Alternatively, eliminate the "Combat Command" and place 5-7 "All Arms Combat Groups" directly under the Divisional Headquarters thereby eliminating "All Arms Combat Commands.
Importantly, the grouping of "All Arms Combat Commands" at directional level (Task Forces) are reinforced with specialist elements including artillery, engineer, air defence, army aviation units and comprising of 5 All Arms Combat Groups (Regiment/Battalion sized). In the alternative option, specialist sub units must be suitable grouped with the "All Arms Combat Groups" tailor made – mission and terrain oriented. To amplify, mission (offensive and defensive) and terrain (desert, semi desert, canal-cum-DCB-Riverine and mountain oriented must form the basis of reorganization of structures. After all, today's C5I capabilities and GPS technology allows the modern commanders at all levels to exercise command and control with more number of formations and units.
Yet another significant issue concerns the grouping of nearly 64 armoured regiments and 48 Mechanized Infantry Battalions. Those units which still are not integral to offensive and defensive formations/Combat Commands/All arms Battle Groups and integral to infantry formations must be reorganized into RAPID Combat Commands for both offensive and defensive roles.
Similarly, there is a need to carryout in-house and in-depth review of modernization of structures in the navy and the air force.
Not to be glossed over is the need to create "Integrated Logistics Support System (ILSS)" – single command structure - for integration of the functional specialists within a single support organization that has direct access to the most vital logistic information including: quantity, condition, authorized stock levels, location and items in transit. An ILSS specialist, provided with a single command structure, should be able, upon direction, to redistribute assets anywhere within his command on a priority basis within a very short time frame. After all, India is no more a under developed colony. The armed forces logistic needs can be met by the civilian industry and services in situ.
Finally, never too late to learn from the lesson of mankind: "Security forces over extension can precipitate self-destruction." From Hannibal to Napoleon to Hitler to Soviet Union to now USA and China, the pitfalls of security forces over extension are glaringly obvious. Thus, the approach to modernisation needs a dramatic shift: abandon classical approach; and shift to dynamic (Roll On) holistic and integrative approach. Wake up "Oh, Blind men of Hindustan!" and abandon the inherited "Elephantine" syndrome/obsession.