Mumbai, September 12: Creativity at its best! India is enriched with a rich heritage of cultural history that takes us to a tour where we can explore our eminent customs and traditions from the past.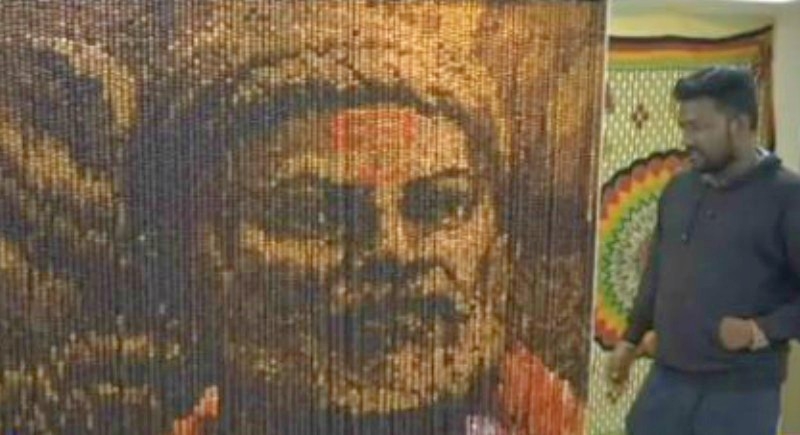 Keeping the aura and charisma alive, people of Maharashtra have timely bowed to the heroic magnetism of Chhatrapati Shivaji Maharaj. Chhatrapati Shivaji Maharaj had coined the term of Swarajya and to enlighten the theme back among the people, this Mumbai based artist Chetan Raut has created a mosaic portrait of the great ruler.
The mosaic portrait of Chhatrapati Shivaji Maharaj is made using 14,000 'rudraksha'. The painting has been created using 28 color shades. Chetan Raut and his team together worked in completing the unique portrait.
Chetan is a follower of Chhatrapati Shivaji and says that youth should to draw inspiration from the ruler. Speaking about the portrait, Chetan Raut said, "In today's scenario where there are clashes among people because of casteism, there is need for Swarajya feeling among the people. Chhatrapati Shivaji Maharaj had opined on Swarajya where there was no space for casteism and people lived together with a feeling of brotherhood.
He further said, "The young generation especially needs to imbibe thoughts and views of the great ruler about time management. Chhatrapati Shivaji Maharaj has very swiftly and perfectly managed time among the people of that time which our present generation needs right now."
And when you got talent, you should flaunt it. Not for yourself benefit but for the world to know the ability you possess. This is Chetan Raut's 5th world record. This mosaic portrait has been named in India Book of Records & Unique World Record.