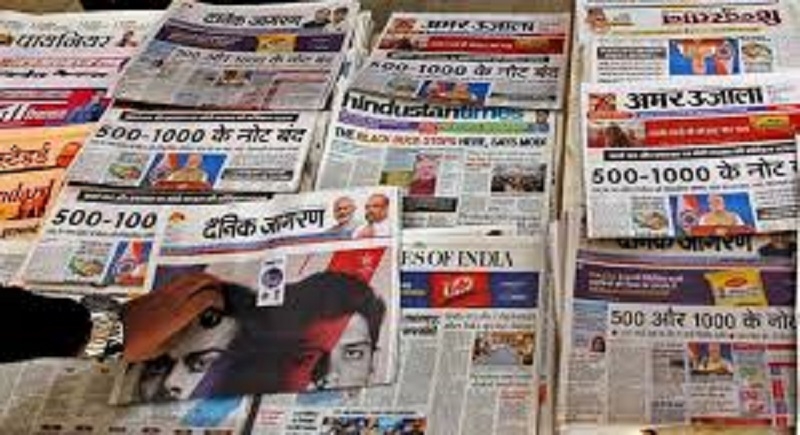 Crisis in journalism and media is an irrefutable fact in India. The only solace is that it is also a worldwide phenomenon, particularly in democracies. Is it existential internal security threat in being?
Today, the media landscape is extraordinarily complex. Internet and social media networks offer opportunities to spread "fake or fraud news" capitalizing on the highly divisive nature and chemistry of our pluralist society based on prevailing social discontent by distributing misinformation for financial gain.
Many media "Head Honchos" enjoy partisan political patronage. And, their "Gangs" of editors, anchors and journalists cannot but help donning the role of "Pied Pipers".
Two recent media news exposes the fraud committed in the name of "freedom of press".
For example, K V L Narayan Rao, Director and Executive Vice Chairperson, Group CEO, NDTV, has purportedly confessed before Income Tax about floating shell companies in Netherlands, Cayman Islands, British Virgin Islands and launder and illegal routing of money by violating the FDI norms in India. Pranoy Roy and his gang in NDTV to include Radhika Roy, Managing Editor Vikram Chandra, former Director Barkha Dutt and Sonia Singh are all involved in illegal money routing.
All the names mentioned comprising the NDTV gang are most strident anti-Modi bashers.
Yet another damning media report exposes names of around 68 journalists, writers, bureaucrats and film stars hired by Cambridge Analytica which is allegedly paying Rs 2-5 Lakh/month to write against PM Modi. This news was discussed on Republic TV which said that many journalist names were listed in the disclosed Emails of Cambridge Analytica.
Sam Pitroda, the architect of Rahul Gandhi's (RG) recent US trip to establish his intellectual credentials among the American opinion leaders, is believed to be brains behind digital PR and social media strategy including appointment of communication consultants, Cambridge Analytica.
Christopher Wylie, Cambridge Analytica whistle blower in his testimony to the UK Parliament alleged that he believed that Congress party was a client of the firm but that the firm had done all kinds of projects in India including with JD(U) in the 2010 Bihar Assembly Elections.
As per the latest news on Republic TV, the Congress Party has hired this company for the upcoming 2019 elections based on evidence of 8 top political leaders meeting with Cambridge Analytica founders in the year 2017. The documents also showed that an NGO was opened by these political parties through which payments were made to the Cambridge Analytica company. An estimated of Rs 800 crore is said to be paid by the political party to strategize for the upcoming 2019 elections.
In sum, such media coverage must sound alarm bells at the internal subterfuge to politically destabilize modern India. Surely, our adversaries like Pakistan and its 'all season ally and brother China, besides Islamist radicals who are beneficiaries of petro dollars would certainly be joining such inimical forces to hasten the process of disintegration of modern India through low cost information war.
Surely, it must be a matter of great concern that a National Party hired a foreign company to breach into the private information of millions of Indians just to win elections jeopardizing the security of people.
The question is why government agencies are waiting to take action even after the point-blank confession by top NDTV officer K V L Narayan Rao and investigate the journalists named in the report.
Is it just because media is hailed as one of the four pillars of a healthy democracy? So what? Surely, media's internal mechanisms must ensure very high standards of responsibility and accountability from journalists and panellists participating in discourses in the name of broadcasting real news. However, what is on view is manufactured fake or fraud news or hate speeches based on partisan patronage and misinformation for financial gain.
Neutrality, free and independent in coverage is the most fundamental principle of honest and trustworthy journalism. By such criteria, majority are demonstrably unfit for participation in debates.
It is irrefutable that democracy relies on the free flow of good information and human connection. Undeniably, today media coverage are mostly highly vitriolic, disruptive, divisive and self-destructive on narrow sectarian lines exacerbating political polarization instead of promoting and consolidating "Unity in Diversity" depending on political patronage they enjoy.
Ipso facto, what we are witnessing currently in latest 2019 election cycle is fabricated stories published solely for profit or personal gain circulated widely in social media. For example, the false and fake stories spread as news published and sensationalized online, consumed, shared and viewed by millions of people driving truth flying out of back doors is happening 24X365 around.
In reality, millions of visual media viewers and internet users have no way to quickly assess whether claims are true or false. Importantly, information spread online has the power to influence people's understanding of real world events. Cumulatively it builds up to loss of trust in media institutions as a source of good information and trustworthy community. If people believe they can't trust anyone due to misinformation, democracy weakens.
For example, the fabricated and false stories spun around the "Rafale" fighter jet row are certainly contra national security interests.
Where are the honest and neutral investigative journalists hiding? After all, the list of "Add-ons" is available in public domain and so also their latest costs. If media houses want to do honest review of the data available for a 5-year back up, the truth about lies and fabricated fake news will get exposed. Some may contend that national security requirements negate such an exhaustive coverage. It is lame duck excuse. For example, the cost of AL-31FP engine costs roughly Rs.70 crore. If so, the cost of reserve engines for Rafale would cost more than Rs.100 crore. So also, costs of missiles are available.
In retrospect, one is dismayed, disgusted and worried about the decline or decay of ethics of journalism almost amounting to traitorous.
Is media an existential threat to democracy that can be categorized as a heinous internal security threat – fountainhead of crises proliferation? In retrospect, journalism, sans ethics and neutrality, is part of the problem of internal security threat concern.
Quite frequently, the news gets blown up over government attempts to strangle or gag media. In particular, by electronic media, which has no regulatory authority, despite clarifications issued that it does not have any plans to regulate TV channels.
It is well known that Press Council of India (PCI), set up on 4 July 1966 resulting from the recommendations of the First Press Commission of India (1952-1959) and Second Press Commission of India (1978) after the Emergency, is viewed as a toothless regulator. The laudable objectives of the PCI were "to help newspapers maintain their independence" and to prevent "lowering the standards" through a code of conduct, maintaining the "highest professional standards" and "low standards of public taste", besides for a "cordial relationship between the government and the press".
In contrast, visual media news channels are facing credibility crisis of the worst order. No regulatory authority; self-regulation (standards prescribed by News Broadcasting Standards Authority, merely guidelines and Cable Television Rules) failed dismally; and need exists to convert the Press Council into the Media Council so that it has jurisdiction over the electronic media.
Even the enforcement seems largely restricted to "warnings, advisories and orders" by the ministry of information and broadcasting, drawing upon the Programme Code. In some cases, transmission can be fully prohibited.
Some recent examples of enforcement include the case of Aaj Tak, which had broadcast a sting operation around the Muzaffarnagar riots (they were issued an advisory), Janmat TV-Live India, which had broadcast a sting operation on prostitutes and Aaj Tak and ABP, which broadcast a conversation allegedly between terrorists.
Unlicensed channels, without permission to downlink, have also been found to be broadcasting in India (such as Peace TV, which in 2016 was issued an advisory). This case "highlighted the government's limited capacity for monitoring the illegal telecast of unlicensed television channels. In one case, when the government cancelled the registration of an operator, the Madras high Court held that the government did not have that power.
In other incidents, the Broadcast Editors' Association told channels that the government's advisories on their coverage were "not mandatory." When the government has attempted to use Programme Code to censure content, the Delhi High Court ruled in one case (Star India Private Limited vs. Union of India) that the inter-ministerial committee set up by the ministry was not appropriate to adjudicate on programming.
In sum, journalists and media, quite a few evil geniuses, today can be compared to "rogue missiles" roaming around society with utter disregard to its peace and national security.
Can the nation survive such a pernicious internal security threat environment promoted, consolidated and advanced by media? Why hold such a vicious media working at cross purposes with national security interests on the highest pedestal of "Fourth Pillar of Indian Democracy" is a moot question to answer by self-regulatory authorities lest there be a backlash on them too in posterity?