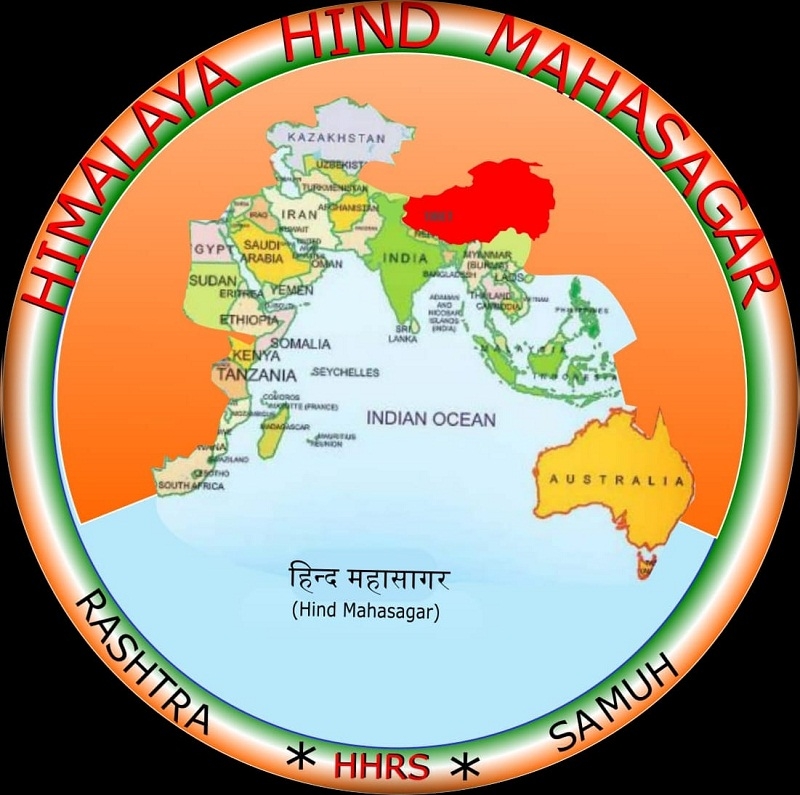 Imagine the sheer scope and expanse of this initiative! It is mindboggling!! No one would have thought on such an initiative that would take the world and humanity to an altogether different direction promising durable peace and sustainable development. It is not a romantic idea or a simple day-dreaming. Those who conceived this wonderful idea strived to make it a reality. And the two-day international seminar that concluded at Agra endorsed their efforts to make it a success story.
Bharat is an ancient civilisation, which has a glorious past and a bright and shining future. Historically, Bharat has played a decisive role in the Himalayan ranges and the Hind Mahasagar. It is the only country from which an ocean borrows its name: the Hind Mahasagar or Indian Ocean. Archaeological evidences have proven that economic and cultural exchanges flourished between Bharat and the peripheral states of Himalayan ranges and the coastal regions of the Hind Mahasagar through myriad trade routes.
Historically and culturally, Bharat is a rich and diverse peninsula situated in the heart of the eastern hemisphere of the globe. It is geographically divided from the rest of Asia by the insurmountable Himalayan ranges. The Hind-Mahasagar not only acts as the maritime boundary but also provides a passage for the world's most important Sea Line of Communication (SLOC) for trade. In addition to this, the Himalayan ranges also offer enormous possibilities for trade and cultural exchanges.
In ancient times, Bharat was connected with the other parts of the globe through trade. For instance, textiles, spices and artefacts from Bharat were famous in the countries in the far-west. Cultural exchanges lead to travelling tales as well as the birth of similar mythological stories and further amalgamation of art and culture. The most remarkable aspect of this phenomenon was the spread of Indian culture and civilisation in the region of the Himalaya-Hind Mahasagar.
Himalaya-Hind Mahasagar Rashtra Samuh is cartographically spread beyond the colonial concept of South Asia. Studies in the trade and cultural exchanges of Ancient and Medieval India have proven amicable and strong relations among fifty-four countries of the Himalaya-Hind Mahasagar Rashtra Samuh through sea and snow routes. In recent times, these countries are looking towards India to re-establish these ancient trade routes to explore new economic avenues. The aggressive geopolitical situations in these regions make it imperative for us to lay the foundation for the re-formulation of Himalaya-Hind Mahasagar Rashtra Samuh.
To revive the past glory of Bharat, the Forum for Awareness of National Security (FANS) has planned to host this unique event in Agra to deliberate on the importance of the emergence of New Bharat and its implications on the rest of the world.
As many as 54 nations of the world were represented in this event with the presence and participation of 276 delegates including 136 delegates from 31 countries outside India. Twenty-two ambassadors and diplomats of various nations were conspicuous by their presence in this seminar besides 160 Indian delegates drawn from various states.
Political observers are looking at this first of its kind non-government level attempt to bring 54 nations of Himalaya and Hind Mahasagar (Indian Ocean) area on one platform as heralding formation of a new union of nations on the lines of the European Union (EU) in this region.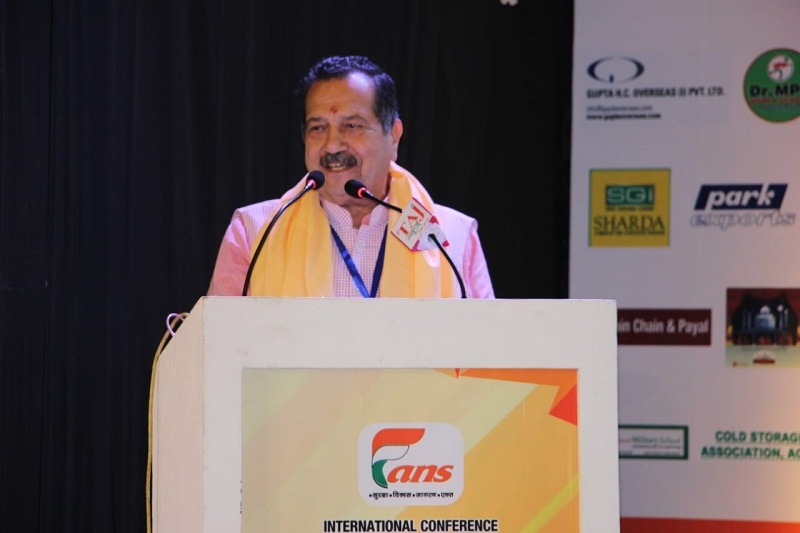 Indresh Kumar, patron and guide of FANS, launched the official website of HHRS in presence of research scholars, professors and counsellors on this occasion.
Besides the inaugural and valedictory sessions, four technical sessions were organized in this two-day seminar held on September 28-29, 2019 in Agra. Scholars and learned speakers delivered their speeches on socio-cultural relations, commerce and trade relations, science and technology development and climate change, environment, etc.
Giving a new slogan of 'Jai Bharat - Jai HHRS - Jai Jagat' Indresh Kumar underlined the objective of HHRS to dedicate this initiative for the creation of a new world ensuring welfare of mankind and nature. He was making this important epoch-making announcement in the presence of over 500 representatives drawn from various parts of the world. The seminar also saw presence of 22 diplomats and 146 delegates from 31 countries across the globe. These countries account for population more than that of the entire European Union nations put together.
Representatives and diplomats of Mozambique, Kenya, Tanzania, Nigeria, Kazakhstan, Kirghizstan, Rwanda, Papua New Guinea, Indonesia, Malaysia, Vietnam, Thailand, Myanmar, Afghanistan, Tibet, Nepal, Iran, Iraq, Laos and other countries of the Himalaya-Hind Mahasagar area participated in this two-day seminar.
Addressing the seminar Indresh Kumar said that the HHRS nations can reduce the expenses on border security if they adopt a mutually friendly attitude and utilise that fund to improve education and health care of their nations. He said once upon a time the entire world politics was revolving round Rome and Greece, and later the focus shifted to France and England and after the WWII it had become either the US – Centric or the USSR Centric.
Later, after the breaking of USSR, the US has remained the only pivotal point around which the global politics is revolving. However, in last some years, the world politics is slowly shifting towards India. He pointed at the success Prime Minister Narendra Modi could get in such a short time at the international level that his predecessors failed to get in last 70 years. Now India is poised to assume an important role in the world politics under the leadership of Prime Minister Narendra Modi as it has emerged as a strong force to carry on its responsibilities at the regional and global levels.
In his valedictory address Indresh Kumar congratulated all the participants and narrated how the resolve of some Muslim women against the evil practice of 'triple talaq' bore fruits with a sustained campaign. He appealed the scholars and researchers to undertake serious research to facilitate mutual trust, brotherhood, peace and sustainable development in the HHRS region nations.
Indresh Kumar said that HHRS was necessary for the development and progress of the world. He said that foreign students are pursuing their studies in 100 out of 836 universities in India. He called for introducing syllabus on subjects related to HHRS nations and setting up of HHRS Chair in these universities to undertake studies related to them. Public education and awareness can be achieved by organising small conferences and seminars on these issues, he said.
He said that in the coming days contacts will be established with statesmen, diplomats, industrialists and intellectuals to seek their active association and participation in the HHRS movement. He also appealed to the delegates to undertake efforts to save water, trees and environment on personal and collective levels. He said that the government was making smart cities; we should make them cities of love, peace and brotherhood. He appealed to them to ensure the success of HHRS movement through mutual cooperation.
Indresh Kumar stressed the importance of fraternity amongst the nations. He made the timely definition of Bharat and explained the geographical as well as cultural, social and religious dimensions of these nations. He said that there are 54 countries in HHRS and we have formed the group by connecting each and every nation. The HHRS will cater to 314 crore people of the world which is 41% of the total world population; it has 50% market economy share and it handles 80% energy trade. The population of these nations is 314 crore of which India alone accounts for 133 crore people.
Indresh Kumar analysed the strategic, economic, and socio-cultural dimensions of these nations. Expressing his views on the global expansion of Indian culture Indresh Kumar said that world that moved towards Greek, Roman, England, the USA, Russia, and China in the past will move closer to India in days to come.
FANS President Lt Gen (Retd) R N Singh inaugurated the event and welcomed the delegates. He explained the aims and objectives of FANS stating that it is a non-political, non-government and non-religious organization that has devoted itself to spread and propagate national pride, historical and contemporary happenings to create public awareness on issues of national security, reviewing the historical mistakes of the past and learning lessons from them to make our future bright.
UP Handloom and Handicrafts Minister Udaybhan Singh emphasized on regaining the lost national identity. Vice Chancellor of Mahatma Gandhi Gramodaya Vishwavidyalaya, Chitrakoot, Dr N C Gautam said that the country is experiencing a new pride and prestige. Such events should be organised frequently, he added. Rajkumar Chahar, MP from Fatehpur Sikri analysed the HHRS countries in the historical perspective and said that these nations had mutual trade relations in the past. VC of Dr Bhimrao Ambedkar Vishwavidyalaya, Agra, Dr Arvind Dixit narrated ten features of Dharma and said that Hindutva or Bhartaiyata is a way of life.

Former Home Minister of Central Tibetan Administration, Dharmashala, Geyri Dolma chaired the session related to Socio-Cultural relations. In her presidential address she congratulated Indresh Kumar for this initiative and hoped that HHRS would become the most competent global organization to deal effectively with strategic, cultural and economic matters.
FANS former president Air Marshal (Retd) R C Bajpai referred to 'Vasudhaiva Kutumbakam' legacy of India and appealed to the HHRS countries to join hands with Indian Prime Minister to fight with climate pollution, water conservation and global terrorism to ensure sustainable development and durable peace.
Former union minister Dr Sanjay Paswan hailed Indresh Kumar for this initiative and said that three 'P's i.e. Planet, People and Peace are the most threatened in today's world. The HHRS must be vigilant against these threats, he said.
Dr Nooryanti from Centre for Political Studies, Indonesian Institute of Science, Jakarta (Indonesia) referred to continuity of socio-cultural relations and said that three major issues should be taken care of while honouring and respecting the social, cultural and religious diversity of HHRS nations. These three aspects are Unity in Diversity, Secularism and preserving national identity.
Professor Sampa Dorjee, retired professor of Buddhist University of Varanasi said that similarity of thoughts and urge to lead an independent life are the driving forces behind HHRS formation. He said though Buddhism reached Tibet late, it has a huge treasure of Buddhist scriptures and literature as it was translated and converted into local language as compared to other countries.
Dr Mohammad Khalid, Professor of Political Science in Punjab University, Chandigarh underlined the importance of HHRS nations and said that we need to give a new look and dimension to our relations with them in view of the increasing pressure from China. The island nations in this group are main axis of strategic, economic and geo-political environment.
Speaking as main speaker Dr Shashibala of Bhartiya Vidya Bhavan, New Delhi pointed to the contribution of Sanskrit in cultural development of Bharat and the world and said that the foreign scholars came to India, learnt Sanskrit and propagated the language in their lands. We worship our goddess of knowledge, strength and money which consolidates the concept of 'Satyam, Shivam, Sundaram' which is common to all these nations.
Strength is the basis of peace. She said that the literature born in geographical varieties in India is based on principle of peace and co-existence and harmony while that was of the desert lands is aimed at encouraging conflicts and confrontations.

During the session on commerce and trade deliberations were held on commercial and trade relations and research papers were presented. Dr Seshadri Chari, Director of Institute of National Security Studies said that traces of Indian culture are visible in countries of Himalaya and Hind Mahasagar area. We need to concentrate on poverty in this region in addition to diversities of culture, language, and religion. It is necessary to think about improving communication management, agreements and currency for banking system in this region. He appealed to all the delegates to work hard to ensure success of HHRS initiative.
Prof. Dr Aslam Khan of Bahirdaar University, Ethiopia spoke on 'India-Africa Policy: Opportunities and Challenges'. He said that the Indo-African relations date back to a period prior to Gandhi who gave a new dimension to them. But in the later days, the relations were weakened. Post-1990 the trade has gone in the private hands and the only visible change is seen with the advent of Prime Minister Narendra Modi when Indo-African relations assumed major slot in Indian foreign policy. Agra MP Prof. S P Singh welcomed the delegates and said that India had a glorious past and it will again become a 'Vishwaguru' in future.
First session on the second day of the conference was devoted to Science and Technology in the HHRS countries. Dr Rajiv Nayan, Senior Research Associate of Institute for Defence Studies and Analysis, New Delhi, chaired this session. He said that security is the major challenge for India and there is a need to develop technology for this. He suggested that Bharat should make a new brand in this sector. Former Director of DRDO Dr Sudarshan Kumar expressed thoughts on technological seniority and said that in the present international scenario it is most important to adopt newest technology if India were to become a superpower in future.
Cyber Security expert Jiten Jain explained various facets of cyber security and said that the US is dominating this field. India can perform well in this sector. China is indulging in cyber spying through its companies. In coming days the importance of data is sure to increase and it will be the strength. Next revolution would be 'Data Revolution' he said adding that we must work in a planned way in this sector.
Dr J P Sharma, Scientist of Pusa Institute, Bihar said that India accounts for 2% land of the total world but we are feeding 18% of the global population. Agricultural production has increased post green revolution and we are producing excess food grains but there is need of proper management. The farmers must be trained in marketing and selling along with production techniques as he is not getting proper remuneration for his products for the lack of this training.
The fourth session of this international conference was the valedictory session which was chaired by Colonel (Retd) A K Singh, President of FANS Agra Chapter. This session was dedicated to climate change, environment and bio-diversity and ecology. Launching this session Mukesh Tyagi said that India has a best of ability for development and this will make it a world leader in future.

Former Ambassador in Kirghizstan and Chairman of Ladakh International Centre P. Stobden said that the entire Central Asia upto Madagascar is culturally one. The entire area of Himalayas and Hind Mahasagar is interdependent. He said that water from Tibet goes to entire South Asia to Laos and Vietnam. He warned about the Chinese attempts to create conflicts by highlighting shortcomings in Buddhist religion. He said that there are certain aspects of ancient India that can conjoin entire Asia, Africa and Australia. He also highlighted the threat from China to Himalayan environment. He stressed for forming a Trans Himalayan Authority.
Prof. P V Neel Ratan expressed concern over environment and said that threats to environment are increasing in India. Developed countries are facing the challenge of Green House Gases he said emphasizing on the joint efforts to save environment.
Dr Uttam Kumar Sinha, Senior Fellow of Nehru Museum and Library, New Delhi, pointed to changing nature of Monsoon. Many Asian countries are worried over this change, he said adding that India can be path-finder and guide in dealing with these challenges. Dr Manoj Kumar Pateria of CSIR underlined the threats to internal security and called for adopting scientific approach to deal with them.
This HHRS Conference was attended by local MP Prof S P Singh Baghel, Agra mayor Dr navin Jain, RSS leaders and senior leaders of BJP and ministers of UP Government. Rajneesh Tyagi,. National Secretary of FANS and the entire FANS Team of Agra Chapter deserved the credit of successfully organizing this first ever international event.