New Delhi, November 2: Roping in Jammu and Kashmir under the purview of Central government, the new Union Territories Jammu and Kashmir and Ladakh have sought to look forward to a new dawn. On the National Unity Day, uniting and knitting the entire country in one thread, the Central government on Saturday released the new political map of the Indian Union. This new map comprises of 28 States and nine Union Territories, and a map showing the administrative boundaries of the newly formed UTs of Jammu and Kashmir and Ladakh.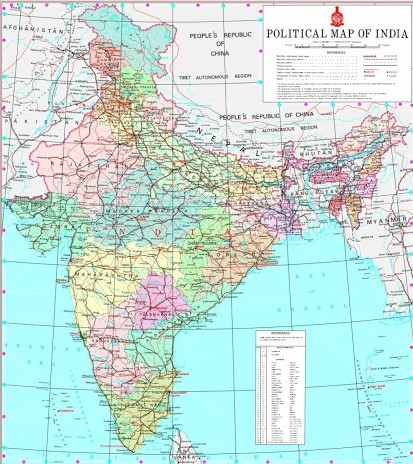 Stepping into the record books as the first lieutenant governors of two new union territories, G C Murmu was on Thursday sworn in as lieutenant governor of Jammu and Kashmir and R K Mathur of Ladakh. The union territories of Jammu and Kashmir, and Ladakh, have been carved out of the state of Jammu and Kashmir, in accordance with the government's August 5 decision to revoke the special status of the state under Article 370 and bifurcate it into two UTs.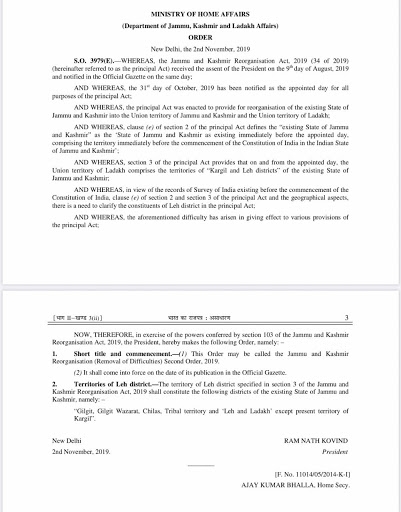 This means that the Republic of India will now have 28 states and two Union Territories. This is the first time a state has been converted into two Union Territories. While union territory of Jammu and Kashmir will have an elected legislative assembly and council of ministers headed by the chief minister for a period of five years, Ladakh will be directly governed by the Union Home ministry through the lieutenant governor. Both the union territories will have a common high court.
Ladakh shall come under the ambit of the Union Public Service Commission (UPSC)for the recruitment of officers. Jammu and Kashmir will continue to have the Public Service Commission (PSC) as the recruiting agency for the gazetted services. Government employees of the new union territories will start getting salaries and other benefits according to the recommendations of the seventh Pay Commission.
The Constitution of Jammu and Kashmir and the Ranbir Penal Code have ceased to exist from Thursday, when the nation celebrates 'National Unity Day' to mark the birth anniversary of the country's first home minister Sardar Vallabhbhai Patel who is credited with the merger of over 560 states into the Union of India.
This is the first time that a state is being converted into two UTs. The total number of states in the country will now be 28, while the total UTs will go up to nine.