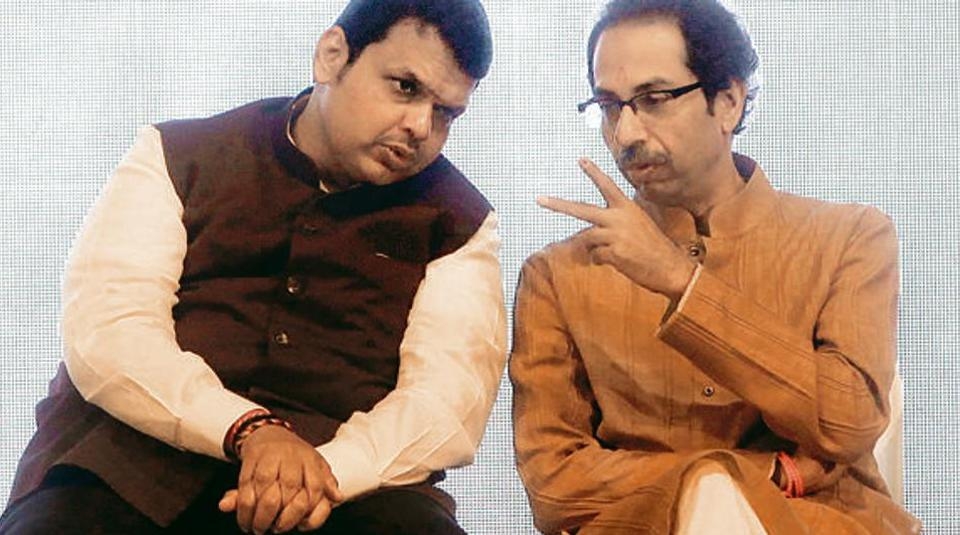 Being a soldier, I am at most a defence analyst and not a political observer/commentator. But since I have done my MBA, I cannot resist commenting on present political situation in Maharashtra and relating it to an "Army War Game". In Army, we often play this War Game when we have to make all out efforts to put our immediate Adversary/Neighbour in such grim situation to see the outcome.
What the Shiv Sena is doing in Maharashtra today is called the Grim Trigger Strategy in Management Jargon. It is developed to analyse how Adversaries strategies to gain at the other player's expense. The strategy was tried in 2008 by the CPI (M) with its senior partner, Congress, over the Nuclear Deal. At that point of time, CPI (M) wanted to blackmail Prime Minister Man Mohan Singh over the deal which his Government has signed/inked with America. They threatened to pull out of Government and make it hapless. It lost. Congress accepted the challenge and won the 2009 election. The CPI (M) and its boss, Prakash Karat, went into oblivion. They are a "Non Entity" now. Now it is Uddhav Thakrey who wants to see his son donning Chair of Chief Minister of Maharashtra.
Basically the game consists of Two Players and there are NO EXITs. It is a special case of Non Cooperative Strategy in which cooperation will leave everyone better off and non cooperation will leave everyone worse off. But in the extreme form, you get only ONE CHANCE to play it. The problem arises when a Unilateral Deviation from a Cooperative Strategy is seen as being so profitable that there is no way of Ensuring Cooperation. It becomes a fight unto death.
The Separatists like Jammu Kashmir Liberation Front and Huriyat Conference in Kashmir played it with Indian Government and Army and have Lost Forever. In Maharashtra, Shiv Sena is fighting for survival. In a span of over two decades the Bharatiya Janata Party "Has eaten the proverbial lunch of Shiv Sena". In 1995, it was Junior Partner in Coalition Government. In 2014 it gained an upper hand but it was Shiv Sena who was "Calling the Shots". Until just five years ago it was the Junior Partner in the Government. It is now the Senior Partner in the Maharashtra.
But there a catch in this Game. If the game is played repeatedly, you can get some sort of cooperation because mechanisms exist for doing that. These mechanisms are called "Punishment Strategies", and involve the threat of action if there is continuing non cooperation. Man Mohan Singh showed this to Prakash Karat of CPI (M) in 2008 and Amit Shah/Devendra Fadanavis are showing the same to Uddhav Thakrey now. These are "Deadly Punishments" for the player who first pulls the Trigger. Once the trigger is pulled by adversary, the game/play continues forever and the Grim Trigger Strategy makes sure that the player who deviated gets decimated.
The key to the success of such a strategy lies in the Credibility of Threat. The player, who uses this key, has to commit credibly to it totally. There is no halfway house and Shiv Sena thinks "It's Threat is Credible". The player who fails to show that his or her threat is credible is a goner. Nikita Khrushchev of Russia and the Cuban Missile Crisis of 1962 is a case in example. Khrushchev's threat to strike America with Nuclear Weapons was not credible and he lost everything. From that point onward, no one took Russia seriously. The same thing has happened to CPI (M) in India.
This problem now confronts Shiv Sena. Having made the threat, that it will not settle for anything less than post of Chief Minister for them/son of its Chief, it must now show that it's committed to the "Strategy of Not Giving In" and that its threat is credible. That is why its Spoke Person Sanjay Raut went to call on NCP President Sharad Pawar. Shiv Sena is trying to show that it means business.
In Maharashtra, there is an additional complication. There are two hecklers who can force the deviating player to make a mistake. They are the NCP and the Congress. This is what we are witnessing now "A player who is being encouraged to pull the trigger by hecklers who have no stake in the play". In 2008 it came down to ego of Prakash Karat who did not want a Nuclear Deal with America and for that he was ready to go to any extent. As on date, everything depends on ego of Shiv Sena Chief Uddhav Thackray and his blind love for his son. He has pulled "Grim Trigger" in the Game after analysing how he could strategies to gain at the expense of Bharatiya Janata Party. How long it would take for it to go into oblivion, only time can tell.