Lucknow, February 27: A special bus with 'Ladies Only' board and in pink colour will be seen soon on the roads of the state as the Uttar Pradesh State Road Transport Corporation has completed the preparation of 17 AC women special 'Pink Express' buses from Lucknow. The responsibility of running them on eight routes has been entrusted to the Avadh Depot.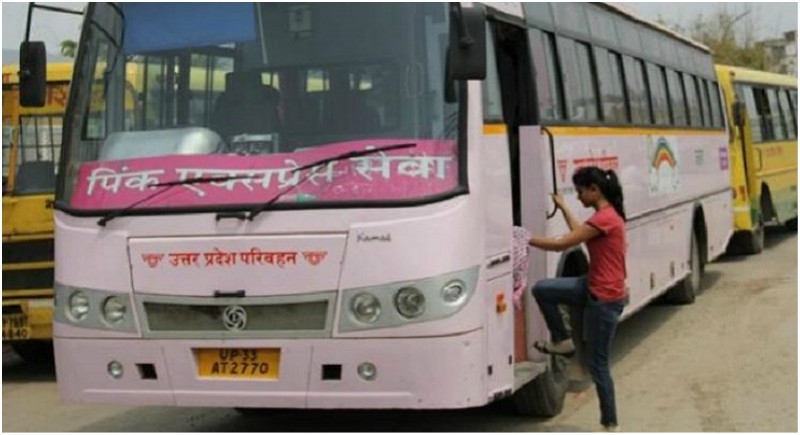 About one and a half dozen buses will be operated in the first phase from Lucknow. These buses will run from Lucknow to Delhi, Agra, Varanasi, Haldwani, Prayagraj, Jhansi, Kanpur, Azamgarh etc. The routes and fare of buses have been fixed. Area allocation of Pink services has also been done. Time has been sought from the Chief Minister for the inauguration.
It has been decided to operate Pink services on 26 routes of the state. All the circle services have been allotted and their circle allocation has also been done.
Half a dozen buses have been allocated for the Lucknow region. Buses will be run from Alamgam terminal. These include Lucknow to Delhi (Four), Haridwar (2), Agra (2), Jhansi (2), Haldwani (2), Prayagraj (2), Varanasi (2), Kanpur Via Lucknow-Ghazipur-Azamgarh (One) Pink Bus Will go.
Women will be able to use panic buttons on emergencies such as a fire, accident, unsafe and illegal occupation, serious condition of the passenger, looting and hijacking suspected material.
To prevent the unnecessary use of panic buttons, penalty of two hundred rupees has been made. Pink buses will be connected to the UP police 100. If there is a small problem then he can tell the driver and the operator.