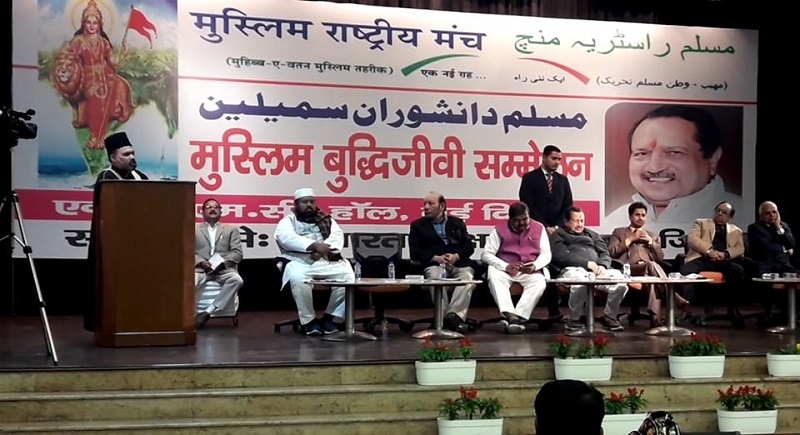 New Delhi, Feb 5: Appealing the Muslims to come out of the atmosphere of fear and threat built by the Congress, Left and Secular parties, senior RSS functionary and Patron of Muslim Rashtriya Manch (MRM) Indresh Kumar alleged that these political parties were responsible to keep Muslims backward and live in the constant fear and threat.
He was addressing the day-long conference of Muslim intellectuals gathered from across the country at New Delhi's NDMC Convention Centre on February 2. The conference was hosted by Muslim Rashtriya Manch Intellectual Cell.
The conference was attended by former vice-chancellors of major universities including JNU, Jamia Milia, Hamdard University, Nagpur University, Aligarh Muslim University, Jiwaji University, Gwalior, Shia and Sunni Maulanas, cancer specialists, university and college teachers, retired bureaucrats and advocates and journalists and editors. A total of 395 intellectuals participated in the conference.
Indresh Kumar said that now the Muslims need not live the atmosphere of fear. They are not minority community and should be proud of being Hindustani and participate in the nation-building process with full confidence and mite.
Accusing Congress and other Left-Secular parties of alienating Muslims from the BJP and RSS, he said that these parties were squarely responsible for the backwardness of Muslims and the Sachchar Committee report has exposed the injustice they had meted to the Muslim community over these decades.
Muslims are not minority in India by any standard, he said adding that they are the second largest community and should come out of this minority complex. They might have changed their way of worship some centuries ago but that does not alienate them from the cultural and traditional milieu of India, he said assertively.
How and why the Muslims have accepted the myth that they are minorities? Whether they want to live as owners or outsiders? They may have accepted religion of a different country but they belong to this culture and tradition. Why they want to carry on the load of this wrong concept?
Referring to Ramjanmasthan Ayodhay issue he said when Kaaba, Vatican, Golden Temple, Deekshabhumi and Bodhgaya are honoured by the world people why there is continuous insult heaped on Ramjanmasthan? Babur had snatched away 'Khuda' and gave 'Babri' to the Muslims. Hajrat Adam had visited Ayodhya and not Faizabad.
The Congress had linked this issue with elections and not the BJP, VHP or RSS. Congress leaders had demanded that the hearing on this issue be deferred till 2019 elections. If justice is delayed indefinitely it will lead to anarchy of judiciary therefore, there should be speedy justice on this issue.
Advising the Muslims to be strong, true and faithful he said don't be fundamentalist because there is no such word in the Quran. 'Kattar' (Fundamentalist) is word of Satan while 'sachha' (True) and 'nek' (honest) are the words of 'Khuda'.
Recalling his efforts to strike dialogue with Muslims while he was RSS Pracharak in Jammu and Kashmir, Indresh Kumar recounted how a senior Maulana had said that India is a God-created land (Khudai Mulk). It has no date of birth and therefore no death either.
During the last 15-16 years he had interacted with some lakhs of Muslims in India and abroad and the only truth he could understand is that each one is identified in the world by his motherland (madar-e-watan).We must accept the truth.
Initiating the discussion Muslim Rashtriya Manch (MRM) National Convener Mohammad Afzal explained how the previous Congress governments had not done anything worth to raise the standard of the Muslim community. He said that the present Narendra Modi government is serious on bringing the Muslim community at par with others and have initiated efforts in this direction.
The budgetary provision for the minority education and development has been raised by 70 to 75 percent by this government as compared to the earlier governments. He said that the country is passing through a critical stage and it is pertinent to discuss the issues influencing the social fabric of our nation.
The country that once was ranked as 'world teacher' or "Vishwa Guru" stands divided now thanks to the petty politicians who just cannot look beyond an election. Though we are Hindus and Muslims, our identity is by our nation i.e. Hindustan and therefore we are all "Hindustanis". We might have changed our way of worship but not our culture, tradition and forefathers. Then why we are divided into majority and minority? Muslims are certainly not the minority in India today.
Afzal said that Ayodhya is another contentious issue. If the Supreme Court opened its doors midnight for a terrorist, why can't it expedite hearing and give early justice in this case of national pride? Why did it say that this issue was not on their priority list? There are 22 other mosques in Ayodhya but the lakhs of Karsawevaks did not even touch them. Islam vouchsafes the arrival of 1.24 lakh nabis on this earth to guide the humanity from time to time and Sri Ram is certainly one amongst them.
Even Allamma Iqbal had described Sri Rama as "Imam-e- Hind". Muslims in India today will not be misled by the false narrative of the political leaders. They will work to make India a strong and prosperous country.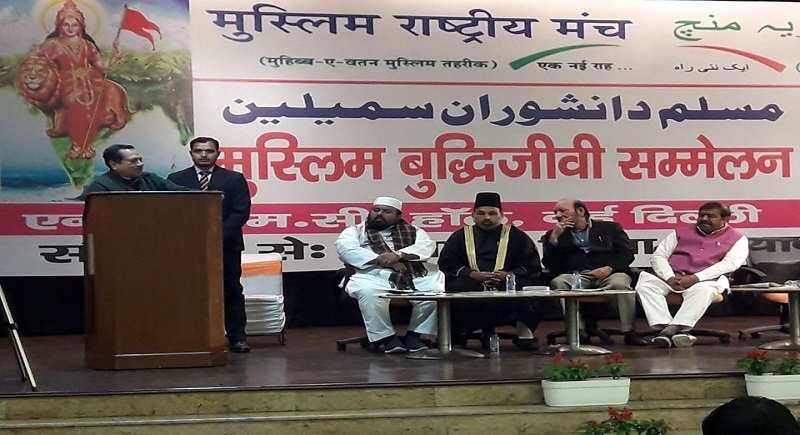 Underlining the role of educated Muslims Prof Ainul Hasan of JNU said that it is important that we must understand the issues in their right perspective rather than looking at the people behind them. He said two thousand years ago one Pundit Vishnu Sharma wrote "Panchtantra" which was adopted by Iran and Arabia followed by the entire world endorsing the fact that Hindustan had influenced the entire world in the past. In Iran mosques are shifted easily while widening of roads but in our country it becomes a contentious issue. We should not fall prey to attractive slogans.
Prof Mujahid Kidwai, former Vice-Chancellor of Jiwaji University of Gwalior declared that Muslims in India are not minority and to brand them so is a grave injustice to them. He said Islam teaches us nationalism "Hubbul Watani". He urged the Muslims to believe in this government for better results. Supporting Ram Mandir at Ayodhya he said that the temple would do more good to the Muslims.
Former Vice-Chancellor of Rashtrasant Tukdoji Maharaj Nagpur University (RTMNU) Prof S N Pathan welcomed the move by Muslim intellectuals to come together to thrash out the burning issues before the nation and the society. He said we are fortunate to have taken birth in this country called Bharat where Hindus and Muslims live happily in villages. But he lamented the inertia of Muslims to stand up against terrorists killing innocent people in the name of Islam. This has created a wrong perception about Muslims in the majority community.
The character and life of Sri Rama is exemplary for every Indian and according to Islam the 'dua' is not accepted if offered at the disputed place. You cannot construct a mosque at a disputed place either. This is the question of 100 crore Hindus and intellectual Muslims should take initiative to end this animosity and hatred. That is the Janmasthan of Sri Ram and temple must be built on the entire land.
Prof Pathan said that Hindutva is not anti-Muslim. On the contrary it is the integrating concept. It connects and integrates all Indians because it is the inspiration of the country. Hindutva is the identity of our nation and people.
Former Vice-Chancellor of Aligarh Muslim University and ex-member of the All India Muslim Personal Law Board (AIMPLB) Dr Mohammad Shabbir said that our constitution has accepted the diversities and ensured the protection of their rights. Ram Mandir is a thorny issue and it is taking undue delay. This inordinate delay has caused anxiety and judiciary should be persuaded to resolve this matter at the earliest.
The government initiative to regain the control of land it had acquired in the past is welcomed. Judiciary and the judges are not above the law and the social mind. Ram is one of the 1.24 lakh nabis and we must accept this fact. When Mecca, Medina, Vatican etc. are honoured same treatment should be given to Ramjanmasthan and Muslims should respect the sentiments of Hindus and show their large-heartedness.
If Muslims remain backwards how can the country progress, he asked and alleged that they were kept backward by branding them minority since last 70 years. They are not minority and have equal rights and duties as Indian citizens.
Maulana Suhaib Qasmi said that this land has accepted, respected and adored all faiths. When Allamma Iqbal described Sri Ram as Imam-e-Hind why most learned Imams of his time did not oppose? We must go to the people and explain things to them in the right perspective.
Maulana Kaukab Mujtaba said that Quran talks of human being and not of Muslims only. We must take initiative to resolve the Ayodhya issue to bridge the gap between the two communities. Be aware of those leaders who try to pose as messiah of Muslims and behave exactly opposite.
MRM National Convener Dr Tahir Hussain compered the proceedings while MRM National Convener Dr Shahid Akhtar proposed vote of thanks.
Earlier, 'Tilawat-e-Quran was recited by Maulana Rafiqul Islam from Assam. The MRM Dua was read out by Dr Imran Chaudhary and Vande Mataram was sung by three Muslim girls Alina, Ayesha and Adina.