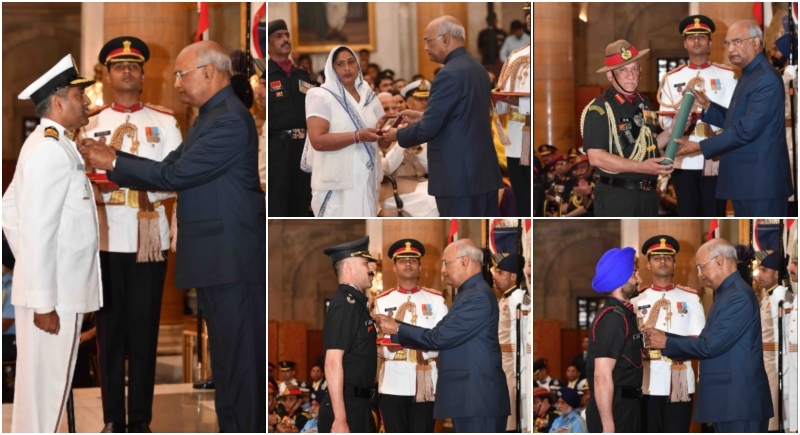 New Delhi, March 14: In honouring their unstoppable force and courage, The President and Supreme Commander of the Indian Armed Forces, Ramnath Kovind conferred three Kirti Chakras and fifteen Shaurya Chakras to Armed Forces Personnel at Rashtrapati Bhavan today.
The honours were bestowed on the brave army personnel for displaying conspicuous gallantry, indomitable courage and extreme devotion to duty at a solemn ceremony.
Two Kirti Chakras were awarded to Sepoy Vrahma Pal Singh and Rajendra Kumar Nain posthumously, while one Shaurya Chakra was given to Ravindra Baban Dhanawade posthumously. The honours were received by their family members on their behalf.
The President also conferred fifteen Param Vishisht Seva Medals, one Uttam Yudh Seva Medal and twenty five Ati Vishisht Seva Medals to senior officers of the Indian Armed Forces for distinguished service of an exceptional order.
The heart-clenching stories of the awardees' bravery were also narrated in the ceremony.
The Defence Investiture Ceremony was also attended by Prime Minister of India, Narendra Modi and Defence Minister Nirmala Sitharaman.