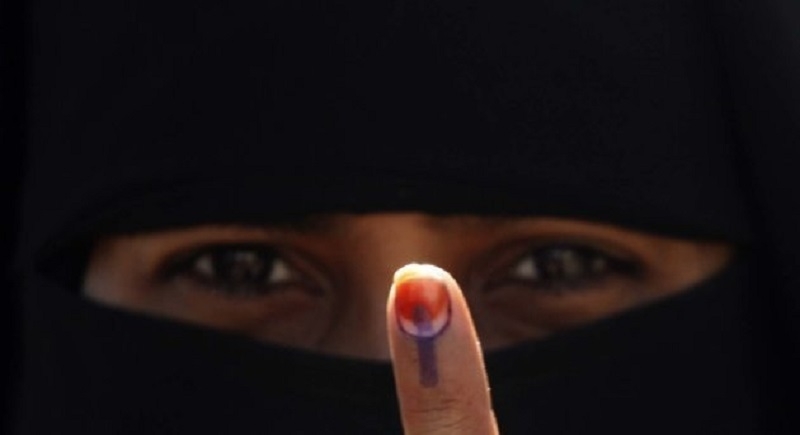 Come election season and talks about votes of the minority community get going. From the first general election in 1952 to the 2014 elections the Congress Party wielded considerable influence over the minority (read Muslims) votes. It is also true that the Christians too were loyal vote banks of the Congress party since the first elections.
The media too make its own calculations with the minority votes, especially Muslims, because there had been swing and shift in their votes in the recent past, more so after the 1967 elections. This swing and shift was witnessed more profoundly after the 1992 Ayodhya incident and its violent aftermath. While the Christians remained loyal to the Congress thanks to the leadership of Catholic Sonia Gandhi, the Muslims kept switching loyalties from Samajwadi Party to Bahujan Samaj Party to Congress and to Lok Janshakti Party of Paswan and to many other local political outfits.
The jinx of Muslim vote bank was first broken in 2014 general elections when the Bharatiya Janata Party (BJP) secured full majority on its own and crossed the 300 mark with the help of its allies as NDA under the leadership of Narendra Modi. According to estimates of the Urdu media, some 7 to 15 percent Muslims had voted for the BJP in 2014. And this was not a small number!
The party had not fielded any Muslim candidate in Uttar Pradesh which has 19 percent Muslim population and yet won 73 seats in 2014, many of which had domination of Muslim voters. This was probably for the first time after independence that the Muslim majority constituencies in UP returned the Hindu candidates of the BJP to the Lok Sabha.
The Muslim Rashtriya Manch (MRM), a social reform movement among the Muslims had also conducted a massive voter awakening campaign in 2014 which helped BJP in garnering a large chunk of Muslim votes in its kitty.
When Narendra Modi became Prime Minister and BJP government came to power in New Delhi with comfortable majority, the secular, left and liberal parties tried to impress upon the Muslims that their 'bad days' have started. They will be harassed, intimidated, and even persecuted by the Hindu majority with their majority government firmly in saddle, they would say.
To their surprise, nothing happened. On the contrary, Prime Minister Modi succeeded in turning the opinion of the Muslim countries in favour of India. So much so that even Saudi Arabia, the staunch supporter of Pakistan, had agreed to increase the quota of the Haj yatris to two lakh and released 850 Indians languishing in Saudi jails during the recent visit of the Saudi crown prince to New Delhi. This was something unexpected for the Muslims in India.
The Organisation of Islamic Countries (OIC), the apex body of Muslim countries which always supported Pakistan, this time ignored it and invited India's Sushma Swaraj to its conference post Pulwama attack and subsequent Indian air strike into Pakistan to destroy the terrorist camp at Balakot.
The Modi government had withdrawn the Haj Subsidy and the opposition had made a hue and cry over this. But the money withdrawn was utilised in improving and providing better education facilities to the Muslim boys and girls benefitting the common Muslim families. The Modi government has also enhanced the amount of scholarship for Muslim girl students from Rs 10,000 to Rs 50,000.
The Modi government has enhanced the budget for promotion of Urdu language by 28 per cent through the National Council for Promotion of Urdu Language. Besides, the scholarships for research in Urdu have also been increased. Recently at the International Urdu Conference in New Delhi, senior RSS leader and Patron of Muslim Rashtriya Manch Indresh Kumar said that India was the home of Urdu, and it will remain so forever. This statement came as a surprise for many Urdu scholars attending that seminar. The media too highlighted this statement.
The BJP Government has taken a very humane view of the evil social practices of Triple Talaq, Halala and polygamy in vogue in Muslim Community and passed a legislation banning triple talaq. It is a different thing that the Congress did not allow that bill to be passed in the Rajya Sabha twice forcing the government to issue an ordinance. But this resolve of the Modi government has earned praises and goodwill of the 8.5 crore Muslim women across the country. They are most likely to vote for the BJP this time.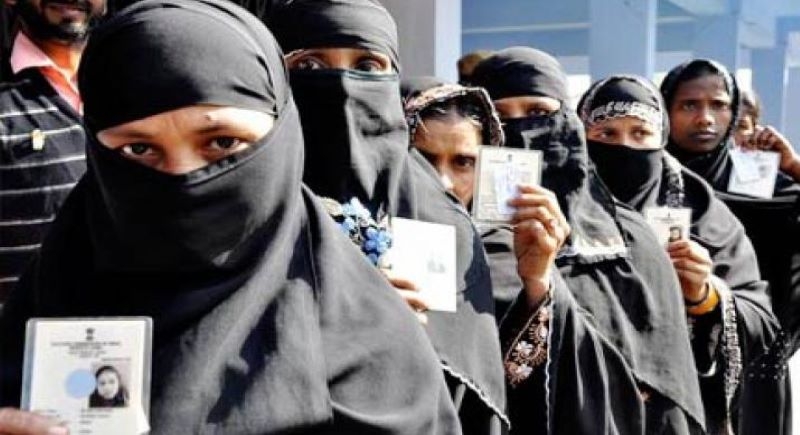 With the various development schemes like Ujjwala Gas Yojana, Pradhan Mantri Awas Yojana, Beti Bachao-Beti Padhao Yojana, the average Muslim is benefitted and he has reposed faith in the leadership of Prime Minister Narendra Modi. How that faith and positivity can be changed into votes for the party is a matter of strategy and patience the BJP has to show.
There are roughly around 200 Lok Sabha constituencies that have either Muslim domination or sizeable number of Muslim voters who can tilt the balance, and some where they are as around 30 to 40 percent. Among them in nearly 74 seats the Muslim voter is a decisive factor while in 57 constituencies they are more than 30 percent.
Lok Sabha constituencies where Muslims voters are most dominating are: Baramulla – J & K (97% Muslim population), Anantnag – J & K (95.5%), Lakshdweep (95.47%), Srinagar – J & K (90%), Kishanganj – Bihar (67%), Behrampore – West Bengal (64%), Ponnani – kerala (64%), Jangipur –W Bengal (60%), Murshidabad- West Bengal 59%), Waynad- Kerala (57%), Raiganaj- W. Bengal (56%), Dhubri –Assam (56%), Mallapuram-Kerala (69%), Rampur- UP (50%), Sambhal-UP (47%), Laddakh – J & K (46%), Muradabad – UP (46%), Karimganj- Assam (45%), Bashirhat- W. Bengal (44%), Katihar- Bihar (42.53%), Bhopal North-MP (42%), Nagina –UP (42%), Hyderabad-Telangana (41.17%), Sikanderabad –Telangana (41.17%), Araria-Bihar (41.14%), Malda North –W Bengal (50%), Malda South – W Bengal (53.46%), and Bhiwandi- Maharashtra (40%).
Lok Sabha constituencies where Muslim populations is above 30% but less than 40% are: Sahranpur – UP (39.11%), Bijnaur – UP (39%), Barpeta – Assam (39%), Amroha – UP (38%), Gurgaon – Haryana (38%), Purnia- Bihar (38%), Muzaffarnagar – UP (37%), Kozikode –Kerala (37%), Birbhum – W Bengal (36%), Vatkaara – Kerala (35%), Bahraich – UP (35%), Bareili- UP (34%), Jadavpur – W Bengal (33.24%), Mathurapur- W Bengal (33.24%, Krishnagar – W Bengal (33%), Nagaon-Assam (33%), Diamond Harbiour – W Bengal (33%), Kasargod – kerala (33%), Shravasti – UP (31.34%), Udhampur – J & K (31%), Meerut- UP (31%), Joynagar – W Bengal (30%), Kairana – UP (30%), Silchar –Assam (30%), Kaliabor –Assam (30%), Baitul- MP (30%), Mandsaur – MP (30%) and Faridabad – Haryana (30%).
In the following 28 Lok Sabha constituencies Muslim population is between 20 to 30 percent. They are: Araria –Bihar (29%), Jammu – J & K (28%), Dumriaganj – UP (27%), Godda-Jharkhand (25%), Rajmahal- Jharkhand (25%), Bolpur – W Bengal (25%), Guwahati-Assam (25%), Madhubani- Bihar (24%), Mangaldoi – Assam (24%), Kaisarganj – UP (23%), Lucknow – UP (23%), Koch Behar – W Bengal (23%), Darbhanga- Bihar (22%), Shahjahanpur – UP (21%), Barabanki – UP (21%), Sitamarhi – Bihar (21%), West Champaran – Bihar (215), Uluberia- W Bengal (22%), Mathurapur – W Bengal (21%), Northeast Delhi (21.6%), East Champaran- Bihar (20%), Jamshedpur – Jharkhand (20%), Jadavpur – W Bengal (20), Bardhman- W. Bengal (20%), Mumbai North-West (20%), Mumbai South (20%), Aurangabad (20%), and Gulbarga – Karnataka (20%).
According to 2011 census the population of Muslims in India is 14 percent of the total population. In proportion to this there should be 77 Muslim MPs in the Lok Sabha. But in the 16th Lok Sabha returned only 23 of them which accounted for just 4.2 % of the total Muslim population.
The Muslims had been voting tactically to defeat the Bharatiya Janata Party as they were influenced by the anti-BJP propaganda unleashed by the Congress party. But in the 2014 Lok Sabha elections, they have shifted their loyalty to a certain degree towards the BJP. Now with a number of schemes launched and implemented seriously by the BJP Government for their benefit the change in the Muslim voters' mind set is slowly getting visible. At the recently concluded meeting of the Muslim Rashtriya Manch the Muslim delegates vouched that this time "Muslim will vote to ensure victory of BJP and if anyone appeals to vote for defeating BJP, he or his group or party will be isolated". Now this is a new trend and if this persists, the results of the 2019 elections may surprise many poll pundits.
*:-References-:*
1-https://www.indiatoday.in/india/muslim-representation/story/fact-sheet-muslim-representation-in-parliament-184338-2014-03-10
2-https://www.indiatoday.in/magazine/cover-story/story/20130923-power-and-reach-of-muslim-vote-assembly-elections-lok-sabha-polls-767654-2013-09-12
3-https://m.timesofindia.com/india/Muslim-representation-on-decline/articleshow/48737293.cms
4-http://citizensamvad.com/72-सीटें-ऐसी-जहां-मुस्लिम-मत/
5-https://www.google.com/amp/s/hindi.oneindia.com/amphtml/news/india/profile-of-sambhal-lok-sabha-constituency-489661.html
6-https://www.dnaindia.com/analysis/standpoint-lok-sabha-elections-muslim-voters-appear-divided-hindus-voting-en-bloc-in-uttar-pradesh-1980291
7-https://newsplanet.org/muslimselections/