Lucknow, March 5: In Uttar Pradesh, Kumbh 2019 the largest religious congregation in the world, concluded on Monday with over one crore devotees taking the holy dip at Sangam in Prayagraj on the occasion of 'Mahashivratri'.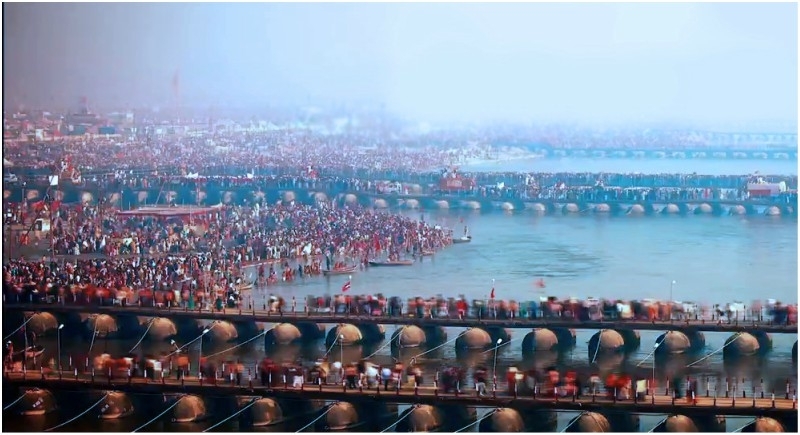 Chief Minister Yogi Aditynath will formally conclude the Mela this afternoon. 49 days long Kumb Mela 2019 concluded on Monday with the auspicious sanan of Mahashivratri while devotees continued to do snan till late night since it was the last snan.
Branded as 'Divya Kumbh, Bhavya Kumbh' (grand Kumbh), the Uttar Pradesh government had made elaborate arrangements to enable the pilgrims as well as other visitors to have a comfortable stay at Kumbh.
Around 24 crore devotees from across the world took the holy dip at sangam. Many Prominent personalities, who visited the Kumbh included prime minister Narendra Modi, President Ramnath Kovind, PM of Mauritius Pravind Jugunath, BJP president Amit Shah, Chief Minister Yogi Adityanath, Samajwadi Party supremo Akhilesh Yadav. Chief Minister Yogi Aditynatah will reach today at Mela area and attend the closing ceremony of Kumbh.
Kumbh also created number of memories like Guinness World of longest bus chain by rolling out a fleet of 500 buses at the ongoing Kumbh Mela in Prayagraj, the Uttar Pradesh government broke existing Guinness World Record. The record of largest parade of buses is currently held by Abu Dhabi of 390 buses. A 5.8 km-long convoy of 390 buses had traveled a stretch of 4 km on the Sheikh Khalifa bin Zayed Highway in Abu Dhabi. The record attempt was to celebrate UAE 39th national day.
Around 7500 colorful handprints were painted in just 8 hours. The handprint community engagement activity, a part of "Paint My City" initiative, saw participation from 7,664 people, breaking a record previously held by South Korea.
Third Guinness World Record attempt by Prayagraj Mela Authority was declared that Swachh Kumbh was a triumph. Kumbh2019 has officially swept world record off its feet! 10,000+ Swachhakarmi sweeping simultaneously for 2 minutes across 4 venues.